Therapy on the run: how to move forward mentally - and physically
"Movement creates movement - a sense of possibility and change," says psychotherapist William Pullen. Is taking therapy away from the couch a step in the right direction?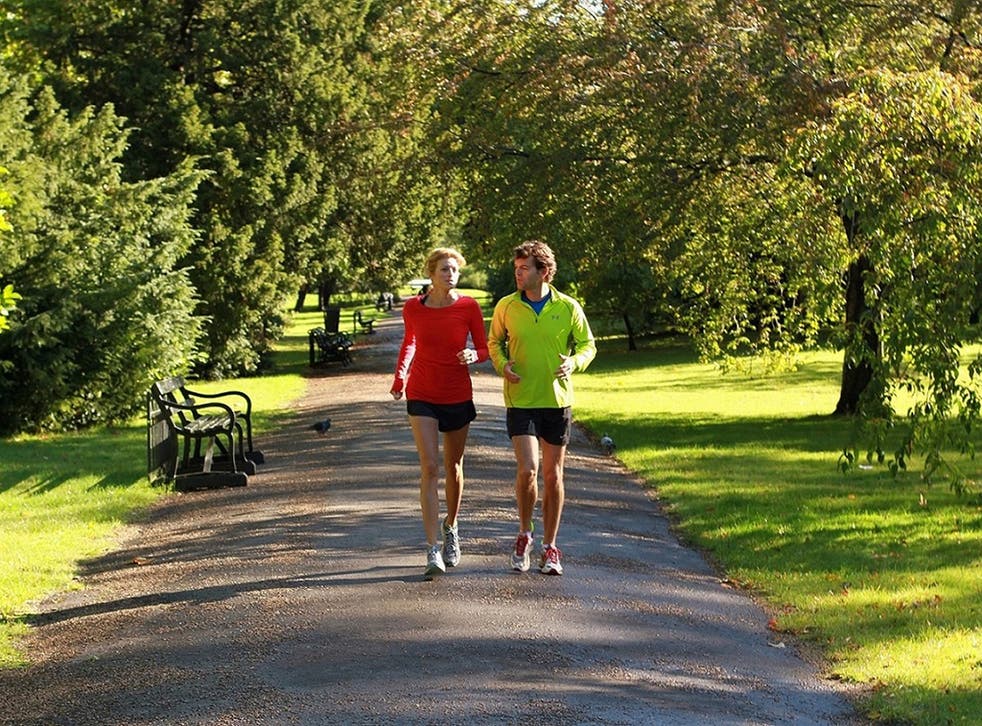 Picture yourself in a therapist's office before your session is about to begin. Perhaps you see yourself in a clinical environment, or maybe you're surrounded by medical tomes and reclined on a rug-draped chaise longue like that in Sigmund Freud's office.
Imagine, then, if you started your appointment sitting on a park bench, staring at a lake full of ducks.
That's where I find myself today with psychotherapist William Pullen, to try a technique he has developed and named "Dynamic Running Therapy" (DRT).
The practice sees the therapist and the client emerge from what Pullen calls the "static atmosphere of the therapists' office" into a natural environment. Pullen currently conducts the sessions, which are only available privately for £150 a pop, in the parks of west and central London.
As well as harnessing the therapeutic powers of nature, Pullen uses the outdoors as a neutral ground to rebalance the power he would hold facing a patient in his office.
By linking movement with traditional talking therapy techniques, DRT harnesses tangible progress in physical activity - like completing a lap of a park - to encourage psychological breakthroughs.
However, theory is one thing and practise another. Despite the relaxing surroundings and Pullen's warm and easy-going manner, I can't help but feel nervous about my first therapy session.
Preparing for an article has never involved compiling a list of my deepest issues, some of which I'm too embarrassed to even write down in full.
But he's very accommodating when I tell him I'm apprehensive. And when I admit that I'll likely pass out if I run for an hour we agree to walk.
As we watch the birds drift on Hyde Park Lido, Pullen starts the session by asking me to place my hands on the bench and describe how my breathing feels, so I focus on the present. I quickly reply, so he doesn't interpret my silence as a problem, and it's no surprise in hindsight that he quickly advises me to stop worrying so much about what other people think of me.
"When I run alongside a client, by watching their speed and the flow of their steps, I discover what's happening internally. If someone is stopping suddenly, we can consider why. Does this mean they stop suddenly in their daily lives or quickly abandon things?" Pullen explains.
"As I walk or run with a client, we are talking about what they want to gain, and we are already physically moving forward. We are taking decisive steps towards addressing their issues."
Of course, it's hardly fair to compare my lap around Hyde Park with the journey to health which Pullen's clients take - many of whom are dealing with diagnosed depression, anxiety, serious upheavals in their lives, motivational and relationship problems, and addiction.
But the session makes clear the importance of considering physical and mental health as connected, as well as taking each equally seriously.
While it is easy to accept that you may catch a common cold from time to time, it is still very troubling for some to grasp that one in four of us will struggle with at least one diagnosable mental health problem in any year, with one in six experiencing this at any given time. In one week alone, 250,000 people will visit their doctor about mental health problems.
In addition, people with a mental illness are almost twice as likely to die from coronary heart disease as the general population, four times more likely to die from respiratory disease and are at a higher risk of being overweight or obese.
And there is much evidence to suggest that physical exercise has a positive impact on those who are dealing with mental illness. A recent study shows that exercising in a natural environment can make a person feel revitalised and more energetic, as well as less tense, confused, angry, and depressed.
When asked about DRT, a spokesperson for the British Association for Counselling and Psychotherapy praised Pullen's approach.
"We are keen to dispel the myth that counselling is something which must involve the client lying on a couch. Our 40,000 members specialise in a variety of fields – including outdoor therapy and adventure therapy - which demonstrate the versatility of counselling in terms of the environment in which support is offered."
However, other experts suggested that stepping outside can in fact have a negative impact on a patient's treatment and recovery.
Dr Carly Reagon, a lecturer for the School of Healthcare Studies at Cardiff University, has been running for over a decade and like many others says it not only keeps her fit, but also clears her head.
"DRT is part of a growing trend towards client centred therapy rather than something that is completely novel.
"But potential difficulties might include the client feeling self-conscious or inexperienced in running, in which case the therapist might been seen as the 'expert' runner only serving to reinforce the traditional therapist client hierarchy.
"The other problem is that many people suffering from depression and other mental health conditions have very low motivation. To put on a pair of running shoes and get outdoors may simply be too much for some. As with all therapy, I think it is an approach that would suit some people better than others. Basically it needs to be offered to the right people at the right time."
But Pullen agrees that all patients are different, and that for some DRT may not be an option. He stresses that patients who are severely ill need emergency help to stop a condition from debilitating their lives, and talking therapy can factor into the later stages of their recovery.
However, he argues that his approach is useful in a climate where medications - including anti-depressants - are over-prescribed, and for clients who are suited to it, DRT can be extremely helpful.
"Sometimes a person is in a rut, and they are not able to escape. This needs to be confronted, and as a therapist I try to see how that can be addressed."
"I had a client who got out of a dead marriage, has a child with his new partner and has given up smoking. Things have moved in his life - DRT gave him confidence and momentum. Movement creates movement - a sense of possibility and change.
"What seemed immovable moved. The inertia was broken. Together we got to know his "stuckness" and moved through it."
And when within an hour he has taken me from a state of nervousness to happily facing some of my deepest anxieties, I can't pretend he's not onto something.
Register for free to continue reading
Registration is a free and easy way to support our truly independent journalism
By registering, you will also enjoy limited access to Premium articles, exclusive newsletters, commenting, and virtual events with our leading journalists
Already have an account? sign in
Register for free to continue reading
Registration is a free and easy way to support our truly independent journalism
By registering, you will also enjoy limited access to Premium articles, exclusive newsletters, commenting, and virtual events with our leading journalists
Already have an account? sign in
Join our new commenting forum
Join thought-provoking conversations, follow other Independent readers and see their replies