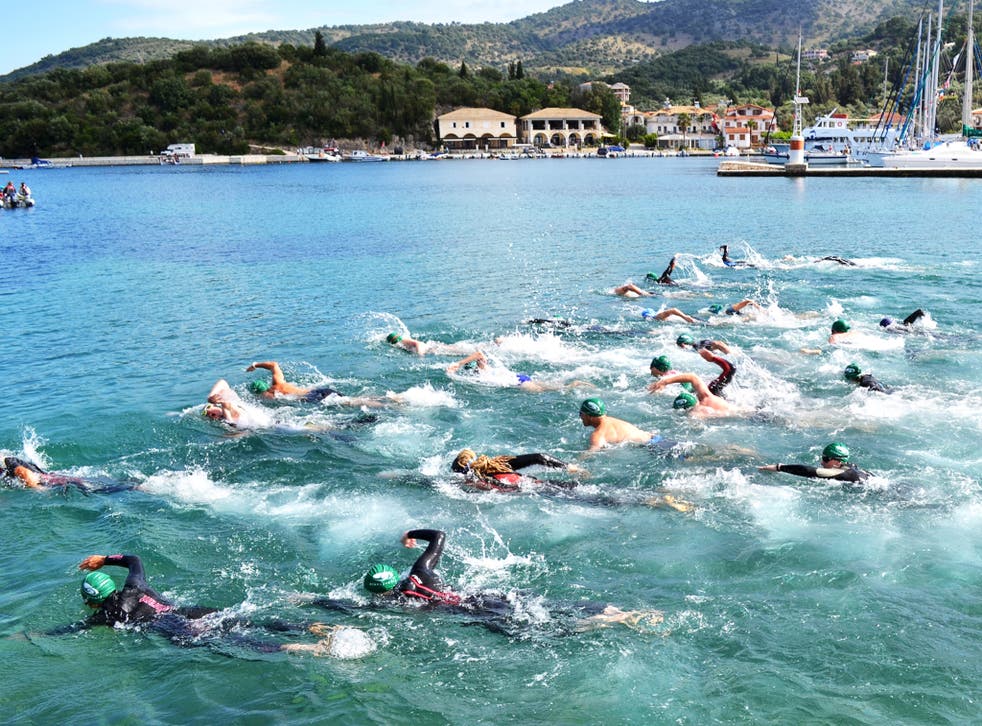 Tri, tri and tri again: get race fit in the sun
How does a self-confessed rookie get ready for the London Triathlon? Sign up for a training camp in Greece, says Edmund Vallance
"Good for you," said a close friend, pulling hard on his cigarette, when I told him I was going to Greece to train for a triathlon. I wasn't feeling hugely confident about my own fitness either. I enjoyed swimming, but tended to avoid running whenever possible. And I hadn't owned a bike since the Eighties when they were called "racers" rather than road bikes.
So why sign up to train under the searing Mediterranean sun? Firstly, the race I would be taking part in – a sprint triathlon – was one of the shortest: a 750 metre swim, 20km bike ride and 5km run (there are six categories, the pinnacle of which is the ironman: a 3.8km swim, 180km bike ride and 42km run). And as a complete rookie, the prospect of some professional guidance courtesy of Neilson's triathlon training camps offered reassurance and comfort, with the bonus of some balmy Grecian weather. Guests receive professional one-on-one coaching in swimming, running and cycling at Neilson's Retreat Beach Club in Sivota on the north-west coast of the mainland, and finish the week with a bona fide race: The Sivota International Sprint Triathlon.
Open to all abilities, the retreats can serve as a complete introduction to triathlon fitness, or get you race-fit for your next ironman. Established in 2009, the camp caters for groups of between 10 and 40 adults. Classes take place outside – in the pool, by the beach, or on the coastal roads surrounding the hotel – and those with energy to spare are free to sail, windsurf, mountain bike or waterski in between sessions. Sivota is the official training camp of the London and Blenheim triathlons – I'd signed up for the former and was treating the week as a dry run for the London race. The deal was done, I was ready to face the challenges of the week ahead.
Day one started promisingly, with a 9am lie-in. However, it wasn't long before I was wondering what I'd signed up for. I hadn't competed in a sport for 20 years – what had I been thinking? Still, at breakfast, I could at least feel justified in loading up on carbs.
A 1.5km morning swim in the calm, emerald sea put me in better spirits. Our camp was small – only 10 of us– which meant that everyone received plenty of attention from the expert coaches. We were scheduled for a three-hour bike ride to the mountaintop village of Perdika, so I gulped down some lunch and readied myself. Freewheeling down a winding coastal road, past fragrant sage bushes and neon bougainvillea, I really started to enjoy myself. Our coach, professional triathlete Steve Worthington, demonstrated how properly to negotiate a turn. By jutting out my knee and swapping my weight from one leg to the other, I found I could manoeuvre around the bends without wobbling.
That evening, I caught up with some fellow tri-campers over a well-earned beer. Michael, 52, a management consultant from Hampshire, had been involved in the sport for 10 years. He told me he raced about once a month over the summer, and had signed up for the camp to kick-start his training. "Don't sweat it," he grinned. "As long as you can swim a few lengths, ride a bike without stabilisers, and jog without falling over, you can do a triathlon."
Day two started earlier, at 7.30am, this time with a 2.4km swim around Goat Island, a tiny, uninhabited islet directly opposite the resort. The camp was split into two groups, and five of us set off with training director and camp founder, Rich Allen. Rich is a nine-times UK champion, so when he suggested ways of improving my technique, I listened carefully. "You're crossing your arms when you swim. But don't worry, everyone does that. Just relax." By following his instructions, I found that I moved more quickly through the water and tired less easily, too. I was almost smug, until Rich cruised past me like a turbo-charged dolphin.
After the swim, he explained the benefits of triathlon and the background of the Sivota camp. "It's a great sport to leap right into. You don't need to do heaps of training in any one discipline; you can switch around. And for that reason you're much less likely to get injured. We're open to every level: beginners, veterans – we get the full spectrum."
With Alistair and Jonathan Brownlee winning gold and bronze medals at the Olympics last year, and the ITU world championships taking place in London this September, triathlon is becoming increasingly popular in the UK. "This year we're doing four camps. In previous years we've only done two. There's definitely a growing demand," Rich said.
I was beginning to understand the appeal. By day four, the endorphins were kicking in. I was losing weight, too: towards the end of the week I was down to the last hole in my belt.
On the final afternoon before the race, I rewarded myself with an hour's lounging by the pool and a one-on-one physiotherapy session with Ali Rose. She has worked with world-class athletes including the Brownlee brothers, Jessica Ennis and Kelly Holmes. As Ali casually realigned my hip, she talked about her own experiences of triathlon. "My first race was a super sprint. I was high as a kite for about 10 days. There's a huge endorphin release and a sense of achievement after something as tough as that."
And she was right. When it was all over I felt fantastic – full of raw energy and adrenalin. I won't tell you my race time. Let's just say that it wasn't particularly good or disastrously bad. In any case, I'll be attempting to beat it at the London Triathlon in July.
The Sivota Tri Camp was a transformative experience that left me furtively leafing through fitness magazines. Although I may never understand the meaning of a "lunge and reach matrix" or a "gluteal monster walk", I'm excited about racing in London in a few weeks. And who knows, maybe in a year or two, I'll be up for the challenge of the ironman.
Travel essentials
Getting there
Edmund Vallance travelled with Neilson Activity Holidays (0844 879 8155; neilson.co.uk) on the seven-night Richard Allen RnR Tri Camp (rnrtricamps.com) in Sivota, Greece. The camp costs from £868 per person, including Thomas Cook flights (flythomascook.com) from Gatwick or Manchester, coaching and physio sessions, breakfast, lunch and four evening meals, bike transit fee and transfers. The next departures are 30 June and 6 October.
More information
The Virgin Active London Triathlon (thelondontriathlon.co.uk) takes place on 27-28 July.
Register for free to continue reading
Registration is a free and easy way to support our truly independent journalism
By registering, you will also enjoy limited access to Premium articles, exclusive newsletters, commenting, and virtual events with our leading journalists
Already have an account? sign in
Register for free to continue reading
Registration is a free and easy way to support our truly independent journalism
By registering, you will also enjoy limited access to Premium articles, exclusive newsletters, commenting, and virtual events with our leading journalists
Already have an account? sign in
Join our new commenting forum
Join thought-provoking conversations, follow other Independent readers and see their replies