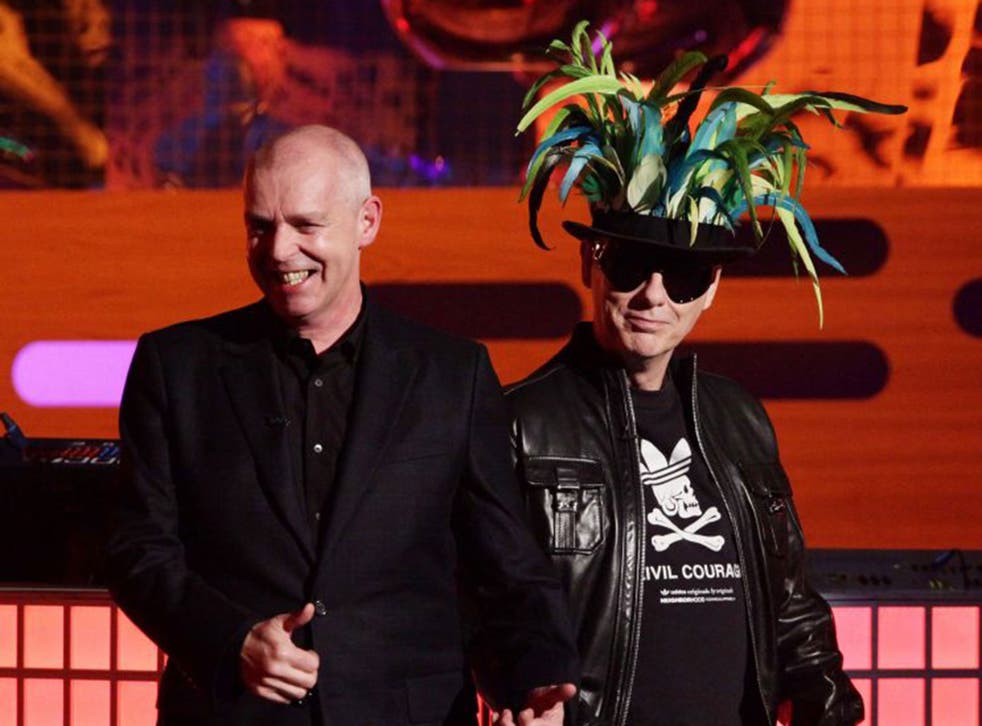 Unjust for Alan Turing, unjust for the 50,000 others: Pet Shop Boys call for mass pardon for 'gross indecency' convictions
As the Pet Shop Boys call for pardons for thousands of gay men with historic convictions for 'gross indecency', Simon Usborne finds that the repressive laws are still blighting lives today
On the day that a "teenage" robot reportedly passed Alan Turing's test for artificial intelligence, the pioneering mathematician's name was elsewhere being invoked in the pursuit of more human progress. Six months after the Queen posthumously granted him a pardon for his 1952 conviction for "gross indecency", the Pet Shop Boys have reignited the campaign for thousands more to be offered the same justice.
Neil Tennant and Chris Lowe will perform A Man From the Future, a new orchestral work, at the Proms next month. The last song will be called "The Pardon", in honour of the wartime code-breaker and many more like him. "So very many lives were ruined over such a long period," Tennant told The Sunday Times.
Campaigners have joined the renewed demands. "It is completely unsatisfactory for the Government to single out Turing just because he was a famous scientist," Peter Tatchell says. "If conviction under any anti-gay law was unjust for Turing, then surely it is also unjust for the other 50,000 men convicted under the same law."
Turing was pardoned in December after a request by the Government, almost 60 years after he died from cyanide poisoning. He had been arrested two years earlier for having a relationship with a man. His conviction led to professional ruin and chemical castration, which he accepted in lieu of a prison sentence.
The Sexual Offences Act 1967 decriminalised homosexual acts in private between men aged 21 or older, but laws concerning "gross indecency" still left gay people vulnerable to discrimination until 2004. "Convictions under that law soared in the homophobic atmosphere of the 1980s," Tatchell says. "In 1989, more than 2,000 men were convicted, which is almost as many as in 1955."
Nick Antjoule is a specialist at Galop, an anti-violence and abuse charity that was only yesterday responding to alleged homophobic attacks in south London, in which three men were sprayed with a liquid, thought to be ammonia. "I still speak to lots of people who these laws directly impact," he says. "People who have stayed in the same job since the 1980s because they don't want to go through the indignity of having to explain it all again." Those in jobs that require criminal record checks – social workers, teachers, nurses – are often the worst affected, Antjoule adds.
Police seeking to make easy arrests to meet quotas were notorious in the Seventies and Eighties for targeting places where men met. "They were mostly young, attractive officers who loitered and lured them into committing offences," Tatchell says. Fear stopped many men putting up a defence. "They thought it would be easier to go along with it and pay a fine, not realising it would have a huge impact on their lives," Antjoule adds.
Alan Clark, the author of Rory's Boys, a 2011 novel about a gay retirement home, recalls the experience of a friend. "He went to some lay-by about 15 years ago. A guy in another car approached him and when my friend showed an interest, he was promptly arrested. The policeman had done the same thing several times before, in order to raise his arrest rate."
Clark says he encouraged the man to kick back, "but he wouldn't – he worked in education and the scandal would have been horrendous. He pleaded guilty and quietly retired".
Neil Tennant went on to criticise Stonewall, the leading gay rights group. "Frankly, it rather disappoints me that Stonewall has not done more," he said. "So we're making the statement ourselves." Ruth Hunt, the charity's acting chief executive, responded in a statement: "Our priority has always been those who are living with these appalling convictions. That's why we campaigned to allow men to apply to repeal those historic convictions, which they can now do."
But, as The Independent revealed in March, the new Home Office scheme to delete such criminal records, launched in 2012, had resulted in just 40 so-called "disregards", representing less than a third of applications. As well as recognising the plight of all those who were discriminated against, a general pardon would also, Tatchell adds, "avoid the necessity of going through each individual case".
Register for free to continue reading
Registration is a free and easy way to support our truly independent journalism
By registering, you will also enjoy limited access to Premium articles, exclusive newsletters, commenting, and virtual events with our leading journalists
Already have an account? sign in
Register for free to continue reading
Registration is a free and easy way to support our truly independent journalism
By registering, you will also enjoy limited access to Premium articles, exclusive newsletters, commenting, and virtual events with our leading journalists
Already have an account? sign in