We're dreaming of a black Christmas
Millions of African-Americans, including the Obamas, will celebrate Kwanzaa next month. Will Britons join them? By Sophie Radice
Tuesday 17 November 2009 01:00 GMT
Comments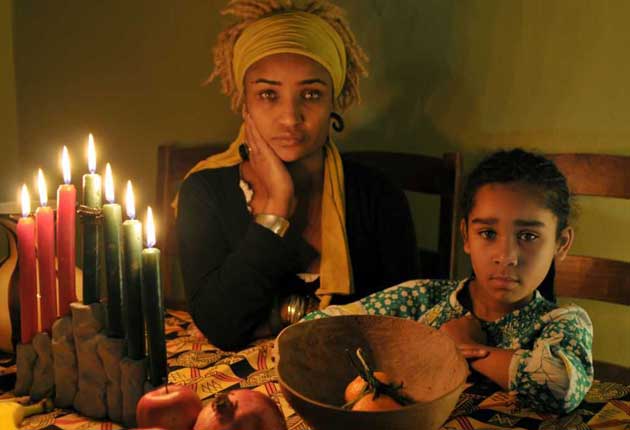 When most of us will be slumped in front of the telly eating leftovers or stuck on a motorway going to see those relatives we didn't want to spend Christmas with, increasing numbers of black British families will be making Boxing Day the start of their celebrations. It's only been around for forty-three years, but for millions (The official festival website puts it at 40 Million) of black westerners, the seven days of Kwanzaa is fast becoming a more significant winter festival than Christmas.
Kwanzaa was established in 1966 by Dr Maulana Karenga, the former chair of the black studies department at California State University and a militant civil rights leader in the 1960s. A controversial figure, who led an LA-based militant cultural organisation called US (United Slaves) and who spent time in prison, Karenga's aim was to knit together black communities pulled apart by racial injustice and isolated from their African heritage. Karenga turned to West Africa and the language of Swahili to coin the term for a holiday celebration that means "first fruits of the harvest".
In North London, Marcia Laycy will be celebrating Kwanzaa for the third year running, and named the youngest of her three children Nia after the fifth Kwanzaa day ("and yes she is very purposeful"). She sees it as "a lovely way for the kids to calm down, turn off the telly and gather their thoughts, particularly after all the activities, family visits and overexcitement of Christmas. Kwanzaa gifts are hand-made, so my kids think a lot about what they're going to make for each other and for me. I always appreciate these gifts so much more than presents from a shop, because of the time and effort the kids put into them. They have a lot of fun doing the presents, then decorating the house with African cloth and statues, and streamers and balloons in red, black and green. I want my kids to carry on with Kwanzaa, celebrate it with their families and reflect with pride on the values of family and community that are so important for us all."
Those values are entrenched in Kwanzaa's seven principles. The first day is dedicated to Umoja, unity in good times and bad; the second day Kujichagulia, self determination; followed by Ujima, collective work; next is Ujamaa, cooperation; then Nia, purpose; Kuumba, creativity; and the last day is to practice Imani, faith. These are collectively called Njuzo Sapa, and each day a coloured candle is lit and a homage made by the whole family to each principle and the memory of their ancestors with a pouring of the libation from the unity cup. On the last day, a feast is prepared and home-made gifts handed out.
The election of President Obama has got the US thinking and talking about Kwanzaa. Although former Presidents Clinton and Bush thought it important enough to offer a Kwanzaa greeting from the White House, there has been lots of discussion in the press and on the internet about how the first black president will handle Kwanzaa, particularly as the festival has critics among black Christians and right-wingers. Ann Coulter, the commentator who is the darling of the neo-cons, called it a "communist, made-up holiday" while the Reverend Jesse Lee Peterson of the Brotherhood Organisation of a New Destiny said: "Kwanzaa was designed to separate blacks from Christmas and Christianity. Kwanzaa is anti-white and anti-American. Black Americans need to choose between the Prince of Peace and the Marxist Karenga."
It's not only religious conservatives and the right that are hostile. When I ask black American life-coach and agony aunt Jenni Trent Hughes whether she celebrates it, she laughs and says: "The only thing I can compare it to is if you started saying how morris dancing was something you were going to take up because it is part of your heritage. It has great comedy potential – you only have to watch Chris Rock's Kwanzaa episode on Everybody Hates Chris, where his dad tries to save money by introducing Kwanzaa and awful home-made gifts. Kwanzaa is so folksy and cringe-making, and even Obama, one of the coolest men in the world, can't change that."
M K Asante Junior is the director of The Black Candle (2008), the first feature film on Kwanzaa, narrated by Maya Angelou, which looks at how the festival developed from the black power festival into an established celebration with Hallmark greeting cards, special stamps and gift-shops.
He says: "It will be interesting to see what Obama does for Kwanzaa. What makes Obama different is not just his skin colour, but his cultural exposure to Kwanzaa and the African-American community. While at Trinity United Church of Christ in Chicago for 20 years, a church whose mission statement begins with 'We are Unashamedly Black and unapologetically Christian', the Obamas were undoubtedly exposed to Kwanzaa. Chicago is a hotbed of Kwanzaa activity and Trinity has hosted Kwanzaa celebrations. The African-American community expects Obama to go beyond what the previous two presidents have done."
In the UK, playwright Kwame Kwei Armah thinks otherwise. "He and Michelle will probably be filmed attending a Kwanzaa event and handle it in their usual elegant, understated way. The Right are always looking for ways to undermine him and there will be critical comments, but I'm sure he'll take it in his stride.' Kwei-Armah has celebrated Kwanzaa for 15 years and has stopped celebrating Christmas, although his kids continue to celebrate with their grandparents.
"I am person of faith who got tired of the commercialisation of Christmas. Kwanzaa is not a religious festival but a cultural one, so it fits any religion. I understand why Kwanzaa is mocked, because people are embarrassed and self-conscious about cultural events, particularly when they are comparatively new. Kwanzaa is an important part of my family life. My kids become very creative and thoughtful and write about the principles. It's a great time for us."
Sophia Macdonald from Birmingham will be celebrating with her family for the fifth year, starting off the events at her local community centre on boxing day. Although she was sceptical when she first heard about Kwanzaa, she says there are elements of it that bring her family together in a more powerful way than Christmas.
"When I first heard about it I thought it was too American and a bit too hippyish. I couldn't dress up in African clothes like a lot of people do, but I take the family values and the lighting of the candles seriously. What I enjoy is the simplicity of it – in America it is really commercialised and quite mainstream, so perhaps here in England we are truer to the original ideals. When people say it's made up, I answer that all celebrations and rituals were made up at some point. Just because it's new doesn't mean it's not relevant and important for the black community."
The symbols of Kwanzaa: What they mean
Mazao: fruits, nuts, vegetables
Mazao, the crops, symbolises work. It represents the foundation for Kwanzaa, the gathering of the people patterned after African harvest festivals. Celebrants place nuts, fruit and vegetables, representing work, on the mkeka.
Mkeka: place mat
The mkeka, made of straw or cloth, comes from Africa and expresses history, culture, and tradition.
Vibunzi: ear of corn
Represents fertility and the family's hopes. If there are no children, two ears are still set on the mkeka because each person is responsible for the children of the community.
Mishumaa saba: seven candles
A single black candle symbolises umoja (unity), the basis of success, and is lit on 26 December. Three green candles, representing nia, ujima, and imani, are placed to the right; three red candles, representing kujichagulia, ujamaa, and kuumba, are placed to the left. During Kwanzaa, a candle is lit each day.
Kinara: the candleholder
The centre of the Kwanzaa setting; many celebrants create their own from natural materials.
Kikombe cha umoja: unity cup
A special cup used to perform the libation (tambiko) ritual during the Karamu feast on the sixth day. Family members and guests drink from it to promote unity.
Zawadi: gifts
Imani is celebrated on the seventh day of Kwanzaa, when meaningful gifts are handed out to encourage growth, self-determination, achievement, and success. Handmade gifts are encouraged.
Join our commenting forum
Join thought-provoking conversations, follow other Independent readers and see their replies