Welcome to the hospital of the future: New management structures, revolutionary medical training and a 'buck-stops-here' culture

Show all 2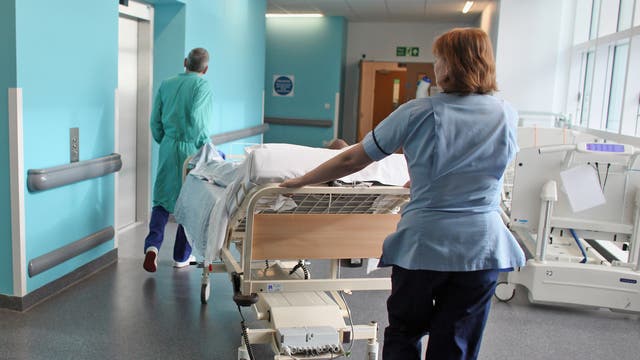 Welcome to the hospital of the future: New management structures, revolutionary medical training and a 'buck-stops-here' culture
A landmark report by the Royal College of Physicians in response to the NHS crisis has outlined 50 measures to modernise the service to cope with the demands of an ageing population, but critics question if there is the political will or money to make it a reality
The life expectancy of the average Briton may be 12 years higher than when the NHS was established in 1948 but in recent years being sick has rarely seemed so fraught with peril. Ageing patients often enter hospital with a range of complex conditions that the system is poorly designed to cope with. Patients complain they are being passed about "like parcels" between doctors, while care standards for those who are sent home are often poor.
Click image above to enlarge graphic
Meanwhile, mounting concern about the safety of out-of-hours services and scandals such as Mid Staffordshire, where more than 1,000 patients may have died due to poor care, have eroded public confidence in the system.
Now a landmark report for the Royal College of Physicians (RCP), which was commissioned last year in response to the deepening health crisis, is calling for a radical rethink of hospital care in the UK. The Future Hospital Commission will today set out 50 recommendations which it says would put an end to outdated practices, such as moving sick people between beds, and eliminate weekend admissions.
If implemented, the changes could lead to the closure of some existing services but also result in the overhaul of hospital management structures, revolutionise medical training and create a "buck-stops-here" culture in which senior clinicians take responsibility for patient welfare.
At the core of the proposals is a move away from specialisation among doctors. Greater emphasis will be placed on general medical skills designed to treat a rapidly ageing population suffering from a wide range of conditions, ranging from Alzheimer's to diabetes.
It is estimated half of all Britons over the age of 60 now have a chronic condition, with nearly a quarter of all hospital beds occupied by the over-85s – a proportion of the population set to double in the next two decades – who have the most complex and demanding health needs.
"Our hospitals are struggling to cope with the challenge of an ageing population and increasing hospital admissions. All too often our most vulnerable patients – those who are old, who are frail or who have dementia – are failed by a system ill-equipped and seemingly unwilling to meet their needs," the report says.
One of the most eye-catching proposals is to bring care (and specialist doctors) to the patient rather than the other way round, even if it is the middle of the night. Patients will only be transferred to other wards and beds to receive treatment if it is absolutely necessary.
It is estimated that 36 hours is added to the average patient's hospital stay each time they are moved between beds. Where possible, the plan also recommends treating patients at home or in the community.
The report calls for the adoption of 24-hours-a-day, seven-days-a-week, working practices, with diagnostic and laboratory services always available. The authors also recommend that patients and relatives be assigned a named consultant who is responsible for co-ordinating their treatment throughout their stay in hospital.
The report claims this way of working would allow patients to be discharged from hospital at weekends, while closer links between community and social care providers would enable greater continuity of care at home.
Health Secretary Jeremy Hunt, who in July placed 11 hospital trusts in special measures because of major failings, welcomed the report, which he said built on steps by the Government to drive up standards.
"Their focus on patient experience and a 'buck-stops-here' approach for senior clinicians is bold and refreshing," he said. But doctors' leaders warned that with many parts of NHS running at capacity, the proposals would require more cash.
Dr Mark Porter, chair of the British Medical Association Council said: "A move to routine seven-day services would require... not just more doctors but also specialist nurses, diagnostic services and support staff. At a time when the NHS is having to make significant efficiency savings, it's unclear as to how this would be funded."
Katherine Murphy, chief executive of the Patients Association, welcomed the report but feared it might never be implemented. "There remains no clear time frame, or even commitment, by the Government to deliver the recommendations of the Francis inquiry (into Mid Staffordshire) and in light of that, we remain unconvinced that the funding and political will is available to deliver the findings of this report, and to ensure that patients are treated safely, and with dignity and compassion, in the future," she said.
The RCP will now consider the report in full before piloting some of the recommendations with an NHS trust or clinical commissioning group.
Candace Imison, acting director of policy at the King's Fund think-tank said it had "thrown down the gauntlet" to other professional bodies to come up with solutions to the care crisis.
"If implemented the result could be a step change in the quality of care delivered to some of the most vulnerable users of the NHS," she added.
Join our new commenting forum
Join thought-provoking conversations, follow other Independent readers and see their replies