What does your GP really think of his patients?
The medic and comedian Dr Phil Hammond reveals all to Jeremy Laurance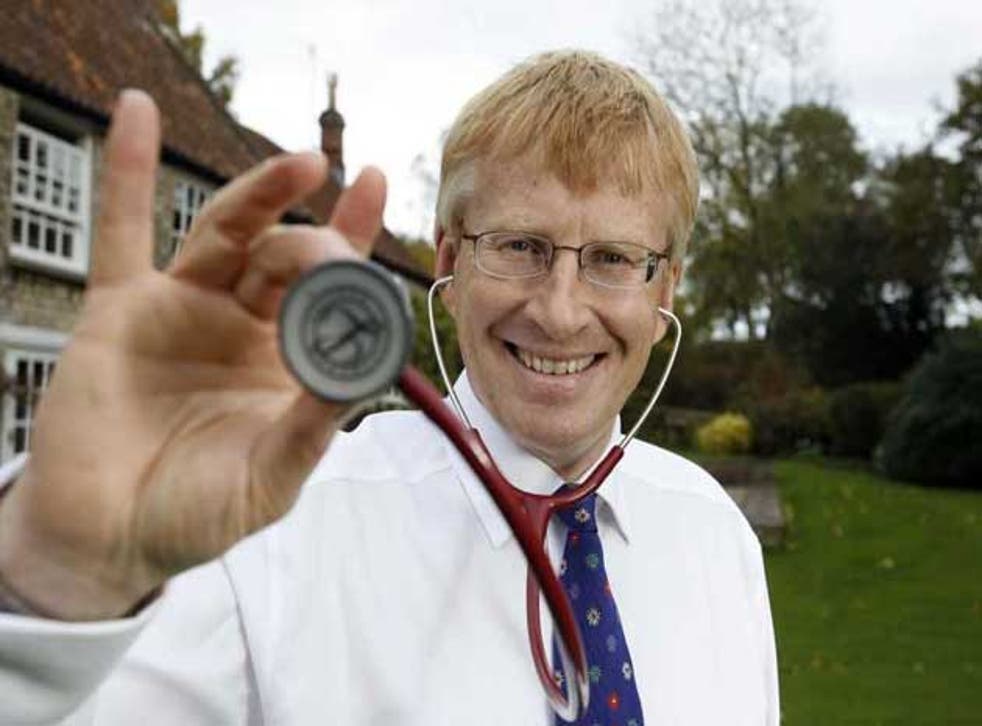 There is, says Phil Hammond, something missing from medicine. It is pleasure. Pleasure gets just two mentions in the Oxford Textbook of Medicine, and none whatever on the website of the National Institute of Clinical Excellence (NICE). Doctors rarely tell patients to pleasure themselves, for fear of getting struck off, but something a little less directive might actually improve all our lives.
"Our media are negative, our politics is adversarial and medicine is obsessed with frightening us into compliance and accentuating the negative rather than helping people to be happy. GPs should be pleasure coaches. There should be more social prescribing. Happiness and enjoyment involve connection with friends and family and communities," he says.
If you think that sounds quaintly idealistic, consider the career of the man who is saying it. Dr Hammond has spent a good part of his medical life working in sexual health – where the general objective is to increase people's pleasure, or at least make it possible for them to rediscover it.
In his non-medical life, as stand-up comedian, writer, speaker and TV presenter, he has invested considerable energy in making people laugh, think and stop crying, not necessarily in that order. One of his great themes is embarrassment. "Comedy is a Trojan horse to get people not to be embarrassed," he says. Countering embarrassment can not only enhance pleasure, but save lives.
Like all GPs he is a performer, but unlike most his shows have spilled out beyond the surgery. His next stand-up appearance is in Bath, near where he lives, on 7 December and he has a tour planned for next autumn. He has a show on Radio Bristol, is frequently on Radio 4 and is best known for his TV appearances on Have I got News for You and Countdown. He is also in demand as a public speaker, both of the after dinner variety, and for chairing heavyweight conferences for Nice, the NHS Alliance and the like.
But the work of which he is proudest is the fortnightly column he has contributed to Private Eye since 1992, where he broke the story of the Bristol children's heart surgery scandal in the mid-Nineties which led to the biggest shake-up of medical regulation in a century. In his third and latest book – "My publisher told me you have got to write at least three to get any shelf space" – he romps around the themes of sex, sleep and scrabble, concentrating mainly on sex. And much of it is eye-poppingly rude.
But in these extracts he provides a unique insight into what goes on in the mind of your doctor, while he or she is poking, prodding and tapping at your nether regions. What he finds there is intriguing, funny and sad. "So much of medicine now is about staring at a computer and not looking patients in the eye," he says. And where's the pleasure in that?
Do doctors take the same advice and drugs they dish out to patients?
Not always. I know plenty of doctors who are overweight, drink too much alcohol, cycle without a helmet, eat bacon sandwiches, have no idea what their cholesterol level or blood pressure is and refuse to have a flu jab. We do this because we know that if you've got a good job in a country that disposes of its shit properly, you're likely to live to 80 unless you're unlucky. And we're prepared to accept a few risks in return for pleasure and freedom.
The drugs and advice we dish out sound impressive applied to the whole population, but the benefits to an individual seem far more marginal. And some of the things that are bad for you in excess (sun, alcohol, wrestling with labradors) are good in moderation. The trick with risk is to suss out the pros and cons of whatever you fancy, and enjoy it without guilt. But if shit happens, accept it, turn it into a good story and move on.
Why do some GPs buzz you and some fetch you?
How doctors summon you is a good indication of how they're going to treat you. Since the invention of electricity, buzzing has been the norm for doctors who considered it too secretarial to fetch and carry patients from the waiting room.
Many practices use technology to avoid human contact. Some have a big machine that you put your date of birth into when you arrive, and you're summoned automatically without having to trouble the receptionists (who are far too busy helping the anxious and confused key their dates of birth into the machine).
Personally, I always try fetching in person (FIPing). The early eye contact and cheesy smile can do much to assuage the anxiety of embarrassing itch. FIPing also allows the doctor to secretly observe his next patient through the crack in the waiting room door. Mrs Bishop is doing "unobserved" handstands in the toy corner but assumes a look of chronic world-weariness the moment a doctor appears. Why?
I usually see if patients can pass me on the corridor – as much to suss out my level of fitness as theirs – but a colleague is convinced he can dictate the pace and style of his consultations by the manner in which he leads the patients to his room. A leisurely stroll if he's not too pushed for time, a brisk trot if he is. The brisk trot looks like he's concealing a tuberous vegetable, but there might be something in it.
What do GPs do between patients?
When patients finally leave the room, GPs have on average a 30-second turnaround time, but most of that is spent typing frantically into the computer to claim money for treating whichever disease we're being paid for this week. In the old days, I used to knock off a few pages of something like Tales of the City in turnaround time. At 800 words a chapter, there's something very satisfying in polishing off a whole story in-between the worried well. On a bad day, you play catch-up. No time to breathe between patients.
Years ago, a stressed GP would be writing the previous patient's notes up as you walked in. So no eye contact and a bad start to the consultation. These days, we're hunched over a keyboard and behind a screen. So no eye contact and a bad start to the consultation. That's progress for you.
Do doctors ever pretend to hear noises with a stethoscope?
No, no, no. Yes. Some doctors, especially when we're late, have decided whether you're getting antibiotics or not for your cough before we lift your shirt up. This isn't necessarily bad medicine – diagnoses are usually made by chatting, and the examination is often for show. If a doctor wants to justify giving you antibiotics when she shouldn't but you've made it clear you're not leaving without them, she'll invent "a few crackles at the base". On the other hand, if he only gives out penicillin for syphilis, he may choose to ignore the wheezing, rubbing and crackling that's keeping the neighbours awake.
The stethoscope has huge cultural significance Some doctors wear one at the pub, just so you know. One year it's cool to let it hang from your neck, the next you drape it round your shoulders, or if you're cocky, swirl it in large circles to attract the nurses (it never worked for me).
What do doctors do with patients they hate?
Put them into football teams. I once worked in a practice where all the toughest patients were put into a team of the week, displayed in the coffee room. If you got a really difficult bugger, you were pleased because you could run in and put him straight in at left back. But before you could make a substitution, you had to justify it to the other doctors, which was a clever way of getting you to articulate what was so tough about the consultation.
GPs used to talk about "heartsink" patients (who make your heart plummet the moment you spot them on your morning list) and a psychiatrist called Groves even split them into four groups (manipulative help-rejecters, self-destructive deniers, entitled demanders, dependent clingers). But there are heartsink doctors too, and when a consultation goes tits up, there are issues on both sides.
Why do men become gynaecologists?
In the days when all doctors were men, all gynaecologists obviously were too. A few may have chosen the specialty for dubious motives but, having done a few gynaecology outpatient sessions myself, there's nothing remotely titillating about it. Most male gynaecologists just have a fascination for the subject.
This enthusiasm was first documented by J Marion Sims, a bloke who practised surgery in Alabama in the 19th century and is credited as the founder of modern gynaecology. Of one patient with a fistula (an abnormal connection between vagina and bladder) he wrote: "Introducing the bent handle of a spoon I saw everything as no man had ever seen before. The fistula was as plain as the nose on a man's face." You might query his note-taking but Sims enjoyed his work. He may have liked looking, but with detached objectivity not lust. He invented a speculum, a catheter, several new surgical techniques and kept a straight face when a patient "was embarrassed by an explosive sound of air". A true professional.
There are now far more women in medicine and gynaecology, and you've got a good chance of being treated by a female doctor – more so if you ask. But the sex of a doctor is far less important than the manner.
'Sex, Sleep or Scrabble' by Dr Phil Hammond, Black and White Publishing, £9.99
Register for free to continue reading
Registration is a free and easy way to support our truly independent journalism
By registering, you will also enjoy limited access to Premium articles, exclusive newsletters, commenting, and virtual events with our leading journalists
Already have an account? sign in
Register for free to continue reading
Registration is a free and easy way to support our truly independent journalism
By registering, you will also enjoy limited access to Premium articles, exclusive newsletters, commenting, and virtual events with our leading journalists
Already have an account? sign in
Join our new commenting forum
Join thought-provoking conversations, follow other Independent readers and see their replies