What if the drugs don't work?
Research repeatedly shows that antidepressants give little benefit – but serious side effects. Yet millions who take them regard them as lifesavers. Markie Robson-Scott reports on the controversy that is dividing psychiatrists
Tuesday 25 October 2011 18:29 BST
Comments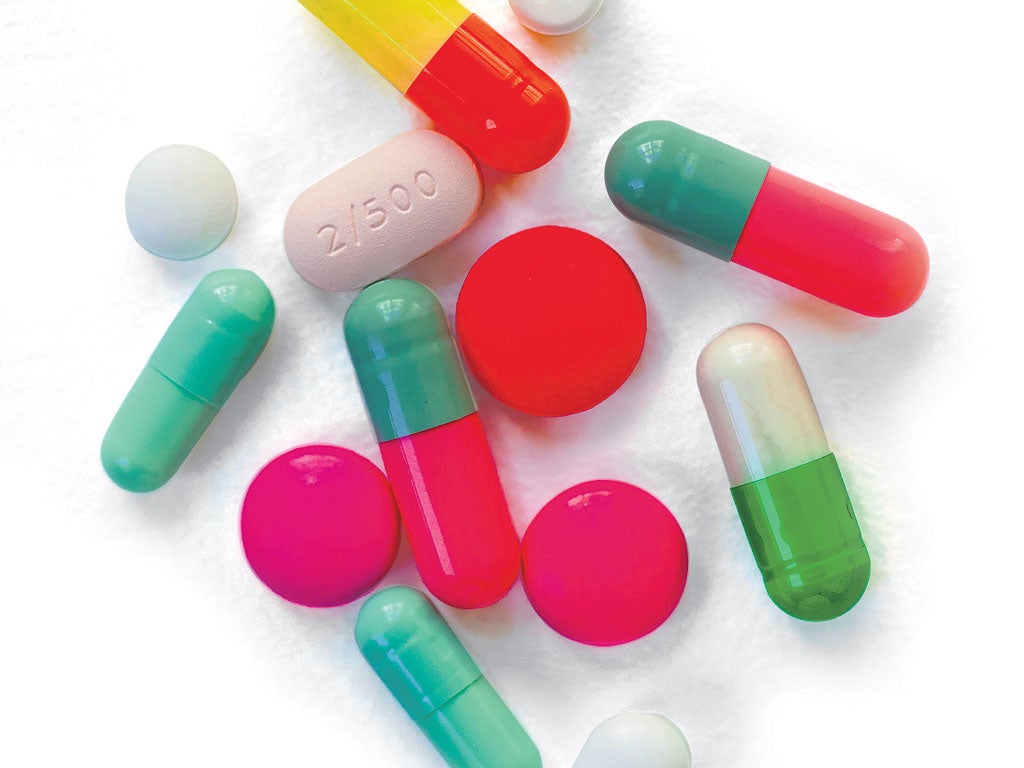 When my American friend Bill, who'd been on SSRI antidepressants for 22 years (Prozac, followed by Paxil, Lexapro, then Celexa), read a two-part article by Dr Marcia Angell in The New York Review of Books recently about the crisis in psychiatry and the inefficacy of antidepressants, he stopped taking his meds (tapering off gradually, monitored by his doctor). "The article brought on enough doubt to push me over," he said. Since then, his moods have become more volatile – more anger, more emotion, such as crying at the end of the last Harry Potter film (he's in his 50s). But he's got his libido back after years of "muffled response" and that seems a worthwhile trade-off.
Instead of listening to Prozac, have we been listening to placebo all along? Research repeatedly appears to show that: antidepressants are little more than placebos, with very little therapeutic benefit but serious side-effects (70 per cent of people on Celexa and Paxil report sexual dysfunction, and in some, it carries on even when they stop taking the pills). The theory of chemical imbalance as a cause of depression is an unproven hypothesis; and doctors are prescribing the drugs mainly because of the "juggernaut of pharmaceutical promotion", as the US psychiatrist Dr Daniel Carlat calls it.
It's not surprising there's a US media furore – about 10 per cent of Americans over the age of six take antidepressants. In the UK, prescriptions for the drugs went up 43 per cent in the last four years to 23 million a year.
Professor Irving Kirsch, associate director of the programme in placebo studies at Harvard Medical School and author of The Emperor's New Drugs: Exploding the Antidepressant Myth, says the theory of chemical imbalance – that there is not enough serotonin, norepinephrine and/or dopamine in the brain synapses of depressed people – doesn't fit the data (lowering serotonin levels in healthy patients has no impact on their moods). Chemical imbalance is a myth, he says. It follows that the idea that "antidepressants can cure depression chemically is simply wrong". His meta-analysis of 38 clinical studies – 40 per cent of which had been withheld from publication because drug companies didn't like the results – involving more than 3,000 depressed patients, shows that only 25 per cent of the benefit of antidepressant treatment was due to the drugs and that 50 per cent was a placebo effect. "In other words, the placebo effect was twice as large as the drug effect," though the placebo response was lower in the severely depressed.
This is not quite as damning as it sounds: placebos are extraordinarily powerful and can be "as strong as potent medications". Placebo response is specific: placebo morphine eases pain, placebo antidepressants relieve depression. It's a question of expectancy and conditioning: if you expect to feel better, you will, even if you're getting negative side effects, because side effects, Kirsch says, convince people that they've been given a potent drug.
Psychotherapy boosts the placebo effect and is "significantly more effective than medication" for all levels of depression, he says. Antidepressants should only be used "as a last resort and only for the most severely depressed".
Of course, not everyone agrees. Ian Anderson, Professor at psychiatry at the University of Manchester, who is to debate whether "antidepressants are useful in the treatment of depression" with Kirsch at a conference in Turkey next month, thinks we're in danger of throwing the baby out with the bathwater when we say antidepressants are rubbish. Antidepressants are part of a doctor's toolbox, though probably most useful for the most depressed; some people don't take to talking therapies; it's not an either/or situation, he says.
Professor Allan Young, chair of psychiatry at Imperial College London, agrees. "Depression is such a huge category of illness – there are multiple types, and each type responds differently." Of course, the brain and the body are inextricably linked, he says, and placebo effects are greater in the less-severely ill.
To make things more complicated, there's the nocebo effect. If you expect to feel bad when you come off antidepressants, you will, because "we tend to notice random small negative changes and interpret them as evidence that we are in fact getting worse", Kirsch says.
Lucy, who was suicidal, took Cipramil (Celexa in the US) on and off for 10 years. She says the drug "gave me back myself, it was like a ray of light shining through fog", but the side effects – nausea and lost libido among others – forced her off it. Then "it was like a clock ticking, a twitch in the back of my mind. I lived in fear of the depression coming back. The only thing that kept me alive was knowing the pills were there. But was it because I believed I was a depressive so when I had the negative feelings I panicked?"
For Judy, lofepramine, a tricyclic, worked well. "First I was given Prozac, which gave me huge anxiety, like a bad trip, and made me horribly aware of all my nerve-endings. But lofepramine worked from the first day. When I took it in the morning I'd get a chemical lift, like a switch being turned on: it was a fabulous rush of joy."
She stopped taking it after six months. Several months later, she felt low, though not depressed – "I feel depression like a stone in my solar plexus, and it wasn't like that. But still I thought it would be nice to have that short-cut to happiness, so I took a lofepramine and it had no effect whatsoever – because I wasn't really depressed. So to me the placebo theory makes no sense." Neither does it to Hannah, who took Prozac for 10 years and says "it was absolutely fantastic and saved my life".
Daniel Carlat, a psychiatrist in Boston and author of Unhinged: The Trouble with Psychiatry – A Doctor's Revelations about a Profession in Crisis says that prescribing is a hit-and-miss affair. "Unfortunately we know a good bit less about what we are doing than you might think," he writes. "When I find myself using phrases like 'chemical imbalance' and 'serotonin deficiency', it is usually because I'm trying to convince a reluctant patient to take a medication. Using these words makes their illness seem more biological, taking some of the stigma away."
Most lay people, he says, don't realise how little shrinks know about the underpinning of mental illness, though he's not as convinced as Kirsch about the placebo effect and makes the point that the patients who turn up at his office are different from those recruited into clinical trials because drug companies, desperate to get their product to outperform a placebo, are picky about who they choose.
You have to have "pure" depression, unblemished by alcohol use, anxiety problems, bipolar disorder, suicidal thoughts, mild or long-term depression – which, says Carlat, would exclude most of his patients. Yet, as Marcia Angell, author of The Truth About the Drug Companies: How They Deceive Us and What to Do About It, says: "It's true that clinical trials do not tell you about the outcome in an individual patient, but they are the best we have. And, of course, if a clinical trial shows an antidepressant is on average no more effective than a placebo, then for every individual patient who does better on the drug, there must be one who does worse. We never hear about them!"
If there's one thing that's clear among the contradictions, it's that the brain remains mysterious. As Carlat says: "Undoubtedly, there are neurobiological and genetic causes for all mental disorders, but they are still beyond our understanding." All we really know is that depression exists and that sometimes the drugs seem to work – even if it's a placebo effect.
Antidepressants: the guidelines
* Never stop taking antidepressants without discussing it with your doctor, because abrupt cessation of SSRIs can cause withdrawal symptoms that can be both physical and mental.
* If you do decide to stop, you'll need to reduce the dose gradually rather than stopping abruptly.
* If you're happy with your antidepressant and you feel it works for you, then keep on taking it. Regular use is what works: if it ain't broke, don't fix it, says Professor Irving Kirsch.
Further reading: Anatomy of an Epidemic: Magic Bullets, Psychiatric Drugs, and the Astonishing Rise of Mental Illness in America by Robert Whitaker
Join our commenting forum
Join thought-provoking conversations, follow other Independent readers and see their replies