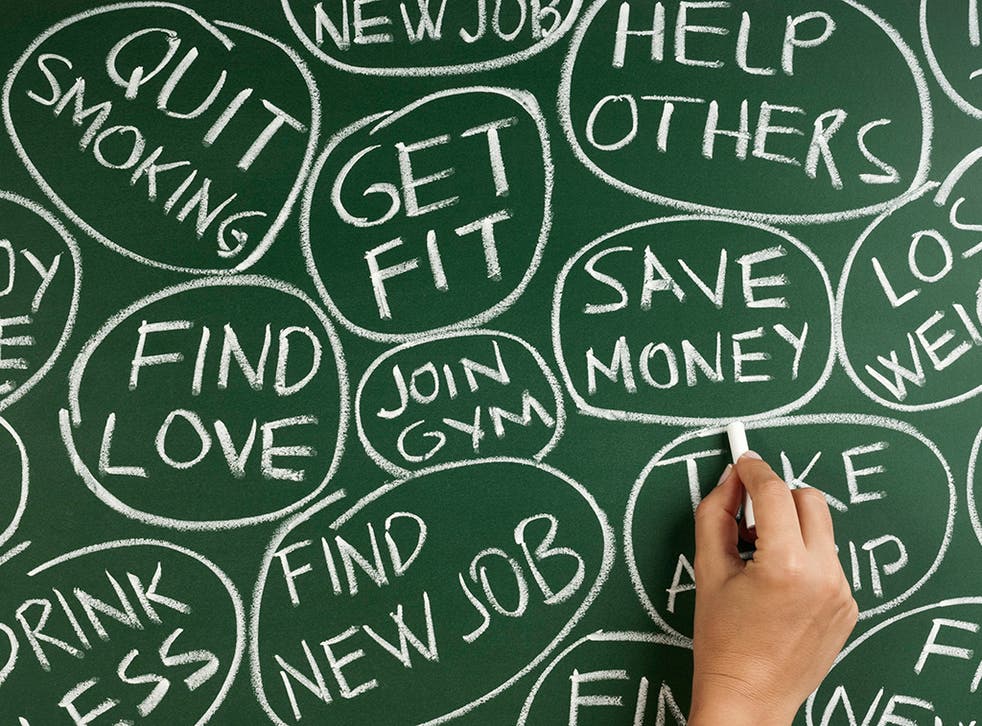 Why we make (and break) our New Year's resolutions – and how to stick to them
Just one in 10 of us will achieve our goal in 2015
Siobhan Norton
Thursday 01 January 2015 08:00 Comments
On the 31 December every year, my father solemnly tells me that next year will be the one where he will finally crack the habit, turn over a new leaf. He will, he bravely declares, bottom lip a-quiver, give up hang-gliding. Or bungee jumping, wearing sombreros or being a criminal mastermind. So far, he has achieved every goal he has set himself.
For the rest of us mere mortals, with real goals to stress less, lose weight, be healthier, be more organised, following through on our new year resolutions is not so easy.
How many of us vow that this will be 'my year', where we will shed our bad habits and become better people? How many of us succeed?
The answer is… not many. Just one in 10 of us will achieve our goal, according to a study by Professor Richard Wiseman from the University of Hertfordshire - with most of us scrapping the good intentions as early as January 23rd.
So why do we continue to make them? Ringing in the New Year with a pledge to ring the changes is far from a modern phenomenon. The ancient Romans began each year by making promises to lead a better life to Janus, the God after whom January is named. The Babylonians, too, would vow to their gods at the turn of the year to pay back their debts. And the theme of self-improvement carries across different cultures and religions - along with fasting and atonement for sins.
Nowadays, of course, our main resolutions tend to revolve around health - to lose a stone, quit smoking, drink less, eat that sometimes elusive five-a-day. Holistic health is coming into play more and more too, with people resolving to get outdoors more, cut stress, meditate, lose the smartphone addiction. But, come February, few of us are walking around in a cloud of zen modelling our perfect figures and glowing skin. In fact, after the long dark month of January, we can hardly be blamed for reaching for the odd comforting slice of cake or glass of wine - and perhaps a month of freezing rain is not the best time to decide you're now an 'outdoorsy' person.
So what's the answer? Scrap the resolutions and resign ourselves to another year with a tarnished halo? Or change our attitudes - and even the goals themselves - to achieve real results? Here's some advice from the experts:
Set a target
Have a very clear dateline for your goals. They should be set at 2 weeks, 6 weeks, 12 weeks and 1 year, and each one should have a specific target to achieve in order to avoid "drift" in your programme.
Matt Roberts, personal trainer www.mattroberts.co.uk
Make it about more than you
Rewrite your resolution or goal into a "vision" that benefits someone else you care about, not just you. Ie if its "to get fit", turn it into "get fit so I can run around with my kids". We are less likely to sabotage our resolutions if it means hurting or hindering people we love.
Nick Seneca Jankel, Author of Switch On: Unleash Your Creativity and Thrive with the New Science & Spirit of Breakthrough www.nickjankel.com
Remind yourself
Keep a visual reminder of your resolution handy, whether it be a picture of your football idol on your phone or an inspirational message in your wallet. The only thing that stops you from sticking to your resolutions is yourself.
Dr Georges Petitjean, founder of Arthur Coaching, whose mission is to promote the coaching of young people. https://arthurypcs.wordpress.com/
Think what you'll gain
The real issue with goal setting for most of us is that we tend to state them in the negative: I will give up smoking or I will give up drinking, for example. To stand the greatest chance of succeeding, we need to think about the benefits and focus our mind on those: When I give up smoking I will be healthier, fitter and richer. It is really important to give our brains something positive to focus upon, rather than suggesting we are about to lose something.
Carol Fox, life coach http://www.carolfoxcoaching.com/
Pick the right resolution
When choosing a health resolution for the New Year, quitting smoking is the single best thing you can do to protect your heart. Research has shown that a smoker who gives up smoking on January 1, will see their risk of coronary heart disease cut in half by the end of the year. No Smoking Day is on March 11, 2015 and we urge smokers who want to quit to speak to their GP about NHS stop-smoking services.
Dr Mike Knapton, Associate Medical Director at the British Heart Foundation http://nosmokingday.org.uk/
Manageable goals
Build up gradually to what you want to achieve rather than setting yourself a goal that is unrealistic. For instance, start with 10 minutes exercise per day, building up to 20 minutes until you eventually increase to a full hour.
Ailsa Frank, hypnotherapist and author of Cut the Crap and Feel Amazing http://www.ailsafrank.com/
Don't over-commit
Two words: baby steps. And I mean seriously baby steps. If you want to create a habit that sticks, try breaking down your goal into the smallest possible pieces, then choose the easiest one to start with and allow yourself some time. The trick is to avoid the perilous cycle of over-commitment, misery, overwhelm and defeat.
Alison O'Leary, life coach
Think how good you'll feel
Forget about losing weight; it's not about how you look (that comes later), but how you feel. Eating a healthy and balanced diet will improve your immune system, organ function and general wellbeing, which results in shiny hair, bright eyes, clear skin, improved energy levels and a smaller waist.
Lily Simpson, founder of The Detox Kitchen delis and food delivery http://www.detoxkitchen.co.uk/
Prepare
The best way to make a training or fitness goal stick in the New Year is to really try to make it part of your lifestyle. That way it becomes an integral part of what you do rather than something additional that you're trying to squeeze in around everything else. If unhealthy snacking is an issue, make sure you buy some healthy snacks such as fruit, nuts and yogurt to keep at work that become your habit rather than a trip to the office vending machine. Planning your nutrition,whether that's lunches at work, food shopping in advance or having your dinner ready to go in a slow cooker will help you avoid last minute panic buys when you're hungry and are more likely to make poor choices.
Emma Barraclough, Senior Sports Nutritionist at SiS http://www.scienceinsport.com/
Don't put it off
Remember people used to say life is three score years and 10? Imagine each decade is a day of the week: if you are between 20 and 30 you are already on Wednesday, and for many of us we are into the weekend! If there is something that's important to you that you have resolved to do, when you feel it slipping ask yourself: 'given that I'm on day X, if not now - when?'
Janey Lee Grace, holistic life coach www.janeyleegrace.com
Plan in advance
Fail to Plan, Plan to Fail – this statement is so true. Plan your week out in advance, make sure that you have put your workout kit in your car the night before, and be realistic - there is no point saying you will go to the gym every single day when you know, realistically, that is unlikely to happen.
Graeme Penny, Regional Manager of PureGym London http://www.puregym.com/
Make it enjoyable
Boredom can be demotivating so trying new things - maybe a new class, signing up for an event or hiring a personal trainer - can help keep you focused and motivated. Even better, rope in a friend - having a regular date in the diary with a workout buddy makes you more likely to enjoy and stick to it!
Jordan Roye, Nuffield Health Wellbeing Personal Trainer http://www.nuffieldhealth.com/
It's probably not impossible
Henry Ford once said that "Whether you think you can or you can't, you're probably right." Before Roger Bannister broke the four minute mile, for example, athletes thought it an impossible feat. Yet as soon as he did, others followed suit and times got shorter and shorter. When you truly believe that something is possible and you're convinced it can happen, you will - as a result - take massive action and see phenomenal results.
Simon Alexander Ong, life designer and success strategist http://www.simonalexanderong.com/
Think about your actions
Be mindful – is the food you are eating nourishing or junk food? Is the portion size right? Are you eating when you are full? Are you eating for reasons other than hunger? Keeping these questions in the forefront of your mind can help with making choices about what you eat.
Chris Cheyette, NHS dietician and author of 5:2 Diet Photos www.52dietphotos.com
Reward yourself
It is so important to reward ourselves on the way to achieving our goals as well as once we achieve them. This will help us stick to the resolution without having to wait until we achieve our ultimate goal. You hold the keys to your success so it's important to allow yourself to tap into your potential and to recognise when we have done so.
Penny Davenport, career mentor and coach www.pennydavenport.co.uk​
Don't expect instant results
It can be overwhelming to simply state you want to have six packs abs or lose numerous dress sizes, so instead set mini and achievable goals. Too big a goal and you'll likely give up when making miniscule steps towards achieving it, but achieving 2lb/week weight loss for a month or being able to run that 5km morning run 30 seconds faster than you could the month, are all realistic goals. Remember, it takes approximately four weeks for you notice changes to your body, your partner about eight weeks to notice and twelve for the outside world, so stick at it!
Tom Routly, GoNutrition.com fitness expert http://gonutrition.com/
Make it measurable
The devil's in the detail. Make your resolution really specific: 'I want to be able to run for 30 minutes non stop by week 6 of my program' rather than some vague 'I want to start jogging'. Many people just say 'I want to get fit'. What does that mean? 'I want to be able to cycle to work and back 4 times a week' gives yourself a tangible goal which you are more likely to stick to.
Julia Willmott, fitness trainer and pilates teacher www.juliawillmott.com
Register for free to continue reading
Registration is a free and easy way to support our truly independent journalism
By registering, you will also enjoy limited access to Premium articles, exclusive newsletters, commenting, and virtual events with our leading journalists
Already have an account? sign in
Join our new commenting forum
Join thought-provoking conversations, follow other Independent readers and see their replies