Will fist bumps replace the handshake?
Fist bumps are officially the most hygienic way of saying hello, but where did this greeting originate? Simon Usborne knuckles down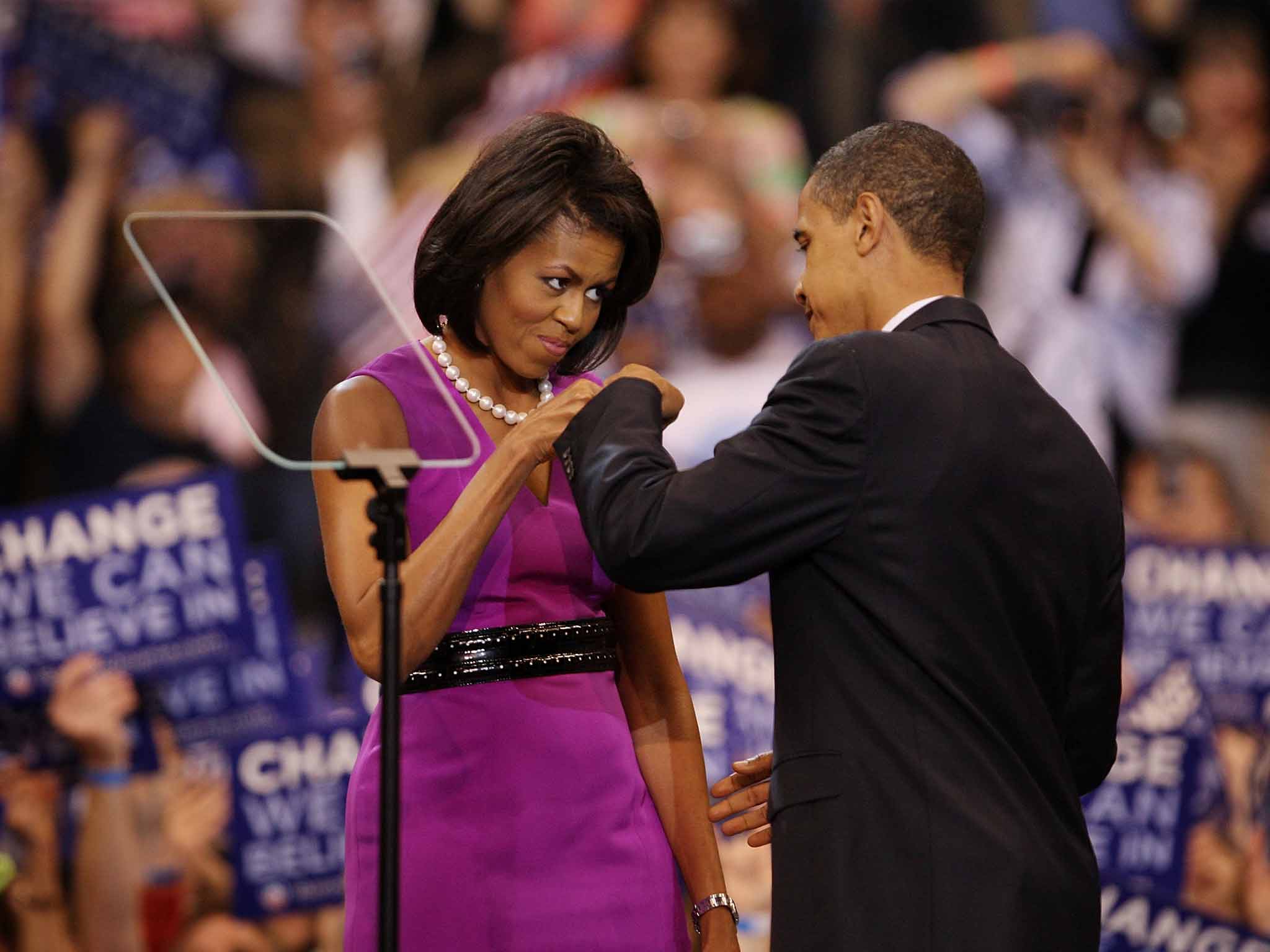 A study of the hygienic implications of manual greetings has concluded that it is better to nudge rather than to shake. The fist bump, also known as the pound or dap, greatly limits the potential exchange of bacteria, according to research at Aberystwyth University in Wales. But as two middle-aged, white scientists demonstrated in the photos released with their work, it can be a tough greeting to pull off without looking silly. Why?
The answer can be found in the social history of alternatives to the handshake, their roots in black culture, and the sometimes fraught burgeoning of that culture across generations and communities. Prominent pound practitioners in recent years have included knuckle-knockers as diverse as George W Bush, Ali G, the Obamas, the Dalai Lama, and countless company execs at cringey corporate events.
Judging by the media hysteria at the time, the fist bump dates back only as far as 2008, when Michelle Obama nudged her husband, Barack, during a presidential campaign speech in Minnesota. As paranoid conservatives grappled with the meaning of this strange gesture, one online commenter called it a "terrorist fist jab", later prompting a satirical yet controversial cartoon on the cover of the New Yorker magazine.
Meanwhile, media across the political spectrum struggled sometimes with terminology, (a "closed-fisted high five" offered the New York Times). Regardless, the pound boosted the Obamas' popularity among voters of all colours; the Washington Post called it "the fist bump heard 'round the world'".
But the nudge was big way before its presidential endorsement. The ensuing frenzy helped inspire, and earned a chapter in, Articulate While Black: Barack Obama, Language, and Race in the US, by black American academics Samy Alim and Geneva Smitherman. They first define the pound as "a gesture of solidarity and comradeship… also used in a celebratory sense and sometimes as a nuanced greeting among intimates and/or those with a shared social history".
They trace that history in mainstream black culture to the Sixties, when African-American soldiers fighting in Vietnam used the dap, a variation on the pound in which the fists meet vertically, one above the other.
The pound itself became popular as hip-hop culture began its global spread from New York City in the Seventies and early-Eighties. It has followed a similar trajectory to that of the high-five, which the authors trace back much further, via the Deep South and the slave trade, to the communication styles of various West African ethnic groups.
Confusion among "white folks" about the pound, the authors go on, reveals that "racism yet plagues the republic as it moves into the second decade of the 21st century… Racist perspectives are usually evident not in folks' inability to decode Black cultural signs but, rather, in the kinds of interpretations one makes when faced with the blank page of their own ignorance."
Ignorant or not, can it be appropriate, therefore, for people without this shared social history to use such a symbolic gesture? And if so, what is the etiquette of the fist bump?
Lola Adesioye is a British writer and commentator of Nigerian heritage based in New York. She characterises the pound or "mini hug", as she calls it, as a male gesture, but welcomed its use by Michelle Obama, and not only because she is a woman.
"It took something that is very urban and elevated into the middle class, which I think is cool," she says. "They were saying, this is what we did at school, and we can do it now, too, because we're proud of our culture."
As for white people bumping fists, whether or not for hygienic reasons (Chrissie Hynde revealed last weekend her preference for a bump because it is easier on her arthritic hand), "I have no problem with it," Adesioye adds. "I don't see it as an appropriation but as just the latest product of black culture to go mainstream."
Would-be pounders should proceed with caution, however. "If someone [white] came up to me and did it, I might find it a bit weird, and think, are you fist bumping me because I am black?"
It would also be wrong to use the bump while "pretending to be black", she adds. "But I don't think they are. I think they're emulating people they admire. There's something nice about aspects of a minority culture going mainstream."
Join our commenting forum
Join thought-provoking conversations, follow other Independent readers and see their replies