With friends like these...The difficulty of dividing up the friends after a divorce
Nicolas Sarkozy's ex-wife Cécilia says she lost her social circle after her divorce. And she's not alone. Sophie Morris discovers the true cost of divided loyalties
Tuesday 16 September 2008 00:00 BST
Comments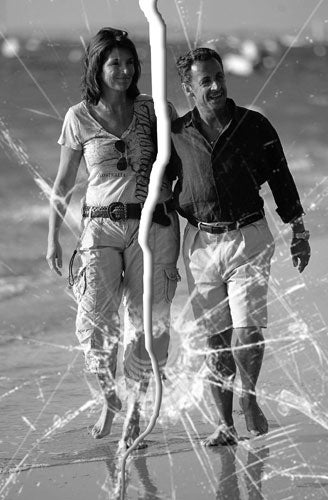 It is not unusual for post-divorce bitching and sniping to continue long after the legal papers have been signed and new lives embarked upon. However, after complaining about the way the media revelled in the venom thrown in both directions during her divorce, Cécilia Attias, ex-wife of Nicolas Sarkozy, mentioned the unmentionable during an interview with a Swiss newspaper at the weekend.
The former Madame Sarkozy explained that what had hurt her the most about the breakdown of her marriage was not who had cheated on whom, or anything to do with the size of a financial settlement.
No, it was a lament over the great number of friends that she has lost since her split from the French President.
"I was betrayed by close friends," she revealed. "I don't hold it against them. Such is human nature." Cecilia sounds rather forgiving, but the word "betrayed" brings with it strong connotations of trust and loyalty and implies that she believed these friends to be rightly hers, before adding a devastatingly sharp afterthought: "I understand that the gold of the French Republic could tempt more than one."
Every time a married couple falls out of love they have shared friends who each will believe to be as rightfully theirs as certain material clutter. Poor Cécilia was up against a powerhouse of an ex-husband, who can offer not only his company and good humour, but also the key to the Elysée Palace and the status conferred by being friends with a world leader.
But how can such priceless objects as friends be divvied up if a relationship goes wrong?
Relationship expert Judi James says most couples will experience something similar to Cécilia, and will find many of their friendships dissolve with their marriage. "Even if a couple have been together for many years and the friends have become mutual friends, it is amazing how people pull rank when you go through a divorce and say, 'They were my friends originally.'"
Such behaviour should leave both parties with a pool of friends but, says James, one of them will probably have ditched their friends in favour of the relationship. "It is quite rare that a couple will both keep their friends when they get together. Often, something of a selection process goes on and it is usually the more obnoxious character who keeps their friends."
Cécilia Attias was well known for her influence over her ex-husband's political appointments and is credited with introducing him to Rachida Dati, who she described as her "sister" and has gone on to become the French Justice Minister. James says that in a situation such as that of the Sarkozys, where Nicolas had the dominant career, Cécilia was never going to walk off with the larger tranche of friends. "She must have been acting as a politico wife and didn't stand a hope in hell of picking up any of those friends at all.
"She may get the initial calls of sympathy but there will be a weeding-out process."
Unfairly, it is often the victim or weaker party in a divorce who will ultimately end up with fewer friends. The Complete Idiot's Guide to Surviving Divorce has a chapter on how to hang on to your friends, which points out that if you need a shoulder to cry on, it is best to spread your woes out over a few shoulders, so that none feel too burdened.
James agrees, explaining that after the initial round of sympathetic phonecalls, all friends will drift towards the person they enjoy socialising with, regardless of where the blame – if there is some to be apportioned – lies.
Sandra Davis is the head of family law at top divorce firm Mischon de Reya (which acted for Heather Mills, Princess Diana and Jerry Hall) and feels that friends should steer clear of the details of a divorce altogether because determining who is guilty of what – if anything – is such a nebulous area.
"Divorce is a painful, emotionally draining process where there is his truth and her truth and somewhere in the middle lies the objective reality," she explains. "The anecdotal experience of clients I have seen over the years is that their friends find it very difficult to remain totally impartial and non-judgemental. Very few friends have the requisite skills to manage the conflict and stay on good terms with both husband and wife."
Peter Morris, head of family law at Irwin Mitchell in Leeds says he has never been asked to negotiate who keeps which friends as part of a divorce settlement but, given the range of incredible demands he has dealt with, he wouldn't rule it out. He has been asked to get hold of the address book containing all the contacts for a couple's mutual friends.
Most people, though, are not so diplomatic and even-handed as to be able to remain friends with both halves of the divorcing couple. Remember when Brad Pitt left Jennifer Aniston in 2005? The split had Hollywood – celebs and civilians alike – rushing out to display their allegiance on their chests with "Team Aniston" and "Team Pitt" and "I'll Have Your Baby, Brad" T-shirts, which were soon followed with "Camp Brangelina" and "Camp Vaughniston" slogans.
Why are friends forced to pick and choose? Divorces are rarely amicable, even when they are described and presented as such. Trying to balance a friendship with a divorced couple will usually prove too exhausting, because even a mere mention of one of the divorcees to the other might well be taken down and used as evidence against them. "You get involved in the warfare whether you want to or not," says James. "It is much better to take one side and have one person you can be loyal with."
In which case, perhaps by losing her shared friends, the former Mme Sarkozy is better off.
Join our commenting forum
Join thought-provoking conversations, follow other Independent readers and see their replies