Zen and the art of bedtime: How we turned to meditation to stop the children's evening tantrums
With three young children, two of them twins, evenings used to be a battleground for Rebecca Hardy. But that was before the entire family took up meditation...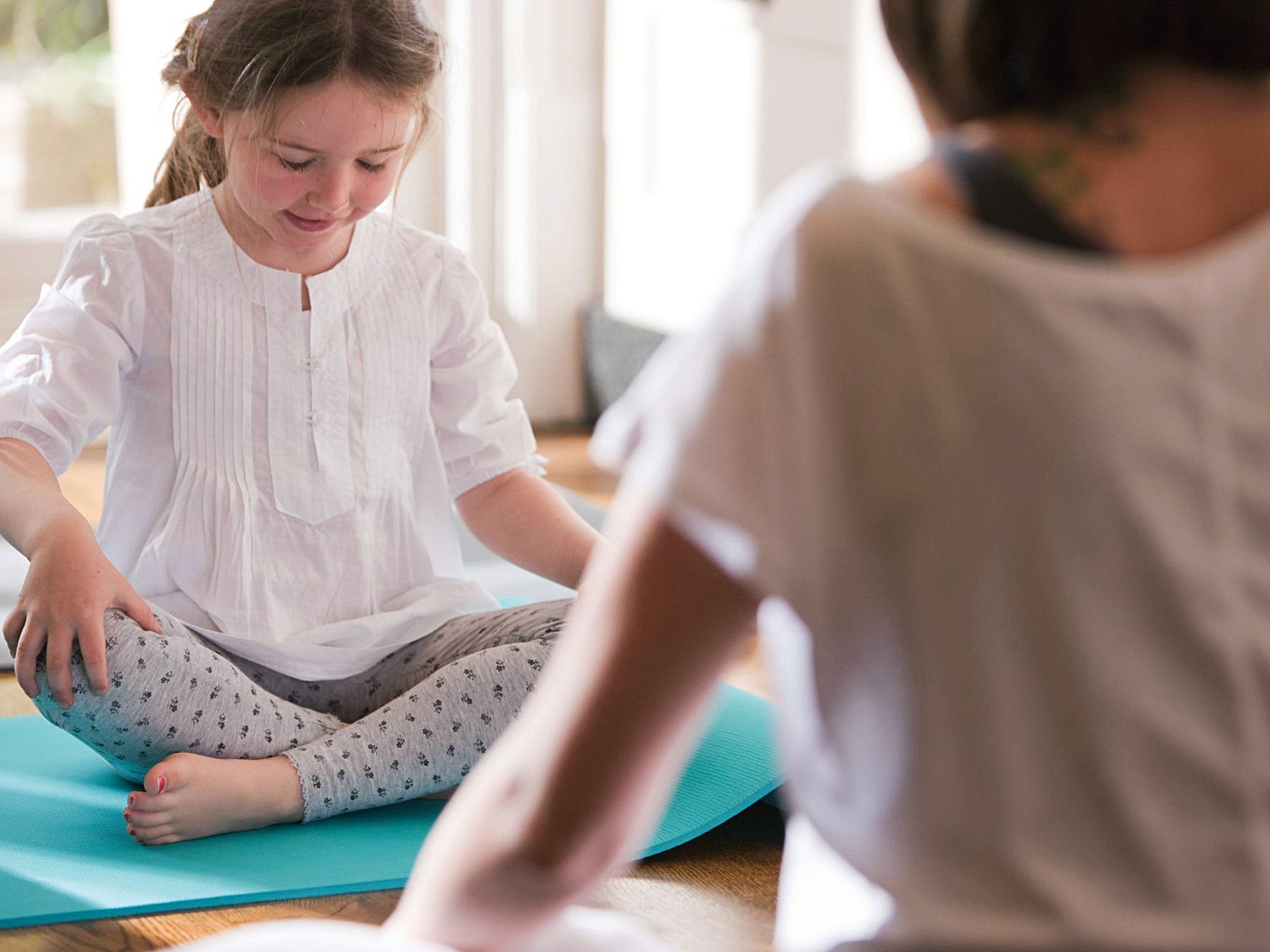 It is bedtime. I am tucking my children into bed. There is a pleasing calm in the air, as they lie there, snuggled up quietly in anticipation. Bedtimes used to be a frantic battleground, marked by tantrums, sobbing and endless trips to the loo. Thankfully, all that changed the day I started slipping meditation into our bedtime routine. We started using Marneta Viegas's "Relax Kids" series – short, read-aloud meditation scripts that include journeys such as Alice in Wonderland and Jack and the Beanstalk (you can also buy CDs such as Christiane Kerr's Enchanting Meditation for Kids).
My seven-year-old – then five – took to them like a duck to water. Soon we were making up our own creative visualisations, including fairy castles, unicorns and climbing rainbows. Sometimes, we go into space.
But while his elder sister happily embraced the Zen life, composing meditation scripts for school (which I like to think inspired the quick sessions her teacher introduced for the class shortly afterwards) and even using them herself to lull herself back to sleep at night, her toddler brother took more cajoling. He enjoyed the visualisations, but refused to close his eyes. It did, however, keep him in bed, which was definite progress, and his twin sister thought they were wonderful. Just so long as Hello Kitty was involved (again and again and again).
Meditation, or mindfulness as it is more fashionably called, is everywhere now. Barely a week passes without us hearing its latest benefits: research suggests it can ease depression, addiction and anxiety, increase concentration and empathy, lower blood pressure, and may even alter the brain's structure. Small wonder it is creeping into our workplaces, schools, hospitals and now parenting, with books such as Sitting Still Like A Frog by Eline Snel aimed at children.
The technique is simple. As with adult meditation – which basically involves closing our eyes, bringing awareness to our body and mind, noticing our "train" of thoughts, and gently trying to "let go" by using the anchor of our breathing – I guide them into focusing on their tummies rising and falling, their breath flowing in and out. Why does focusing on our breath help? For young children (and all of us), it takes us out of our heads. Because as soon as you start paying attention to the breath, you are more in touch with your inner world, more in touch with the moment.
"Mindfulness is paying attention in a particular warm-hearted way – on purpose, in the present moment, and non-judgementally," says Ed Halliwell, author of The Mindful Manifesto. As a long-term meditator, I was well aware of the benefits, and eager to pass them on to my children. I first discovered meditation 20 years ago, when I stumbled into a Transcendental Meditation meeting, full of stressed-out lawyers. Soon, I was meditating twice a day, happily ditching the fags. But it wasn't until I had three children to contend with that I discovered just what a life-saver it can be.
As soon as I arrived home, shell-shocked, with baby twins and a demanding toddler to care for, I realised that those little slithers of space could be the difference between surviving or going under, in a sea of Calpol and baby wipes. The first few nights were the ultimate twin horror show: one baby would awake just as the other dozed off. We greeted dawn aching with tiredness after zero hours of sleep, thinking: how are we going to cope? I thought I was heading for the mother of all depressions.
When the double buggy arrived, grey and enormous, I took one look at its shop-door–defying proportions and burst into tears. This was no nippy, about-town baby shuttle. This was a life sentence.
Slowly, sporadically, though, I found time to meditate, snatching moments while the babies slept. These chunks of time were like gulps of air in a windowless room. Gradually, I started to relax; I began to get some perspective. I started to notice the difference between the times I had meditated and the times I had not: I was calmer, less reactive and more able to step out of the madness.
And it was mad, believe me. Nothing in my life can rival the stress of standing in a room full of toys and dirty Babygros, alone with three crying infants all demanding my attention, knowing that I am powerless to attend to all their needs.
The guilt and the helplessness hit you at once. It is overwhelming. And once you have done a day like that – an endless ricocheting between one nappy to another, one feed to the next, your brain trying to unscramble the logistical puzzle of how to tend to two crying babies at once, how to stop the bored toddler from flinging books at their heads, and why is no one here to help – then you have to get up after four hours of broken sleep and do the whole thing again.
No surprise, then, that those 10 Zen minutes became an essential part of my daily routine. One of the biggest misconceptions about meditation is that it is all floating on a sea of calm, undistracted by thoughts. As Jon Kabat-Zinn, founder of the Centre for Mindfulness in Medicine at the University of Massachusetts Medical School, says, "Meditation is not about eliminating thoughts; it is about not getting lost in them" – which you do by bringing your attention back to your breath.
This ability not to get lost in your thoughts is well worth learning on the frontline of parenting. Like many people, I have a tendency to fight fire with fire, inflaming a situation with a flood of unnecessary junk. I learnt that it is profoundly unhelpful in the middle of a tantrum to be listening to an inner dialogue that says, "this is terrible; this is your fault". Meditation teaches us that we are not our thoughts. I learnt to breathe and not get lost in my projections. And I learnt that this moment will pass.
"It's like learning any skill," says Halliwell, who has a six-month-old baby and a two-year-old. "If you want to be a good tennis player, you need to be practising on the court." Having a meditation practice, he says, trains you, if not exactly to "sit in peace", then to cultivate an inner steadiness. "Children are expertly created to press our buttons. I feel very fortunate that I developed a meditation practice before we had our boys. I find it helpful to know I can check into my body and breath when I am feeling overwhelmed. Parents don't have much space externally so it is good to know we can tune into that space internally. But mindfulness is also about being kind and acknowledging how things are: to accept that it is normal to be tired and to get agitated."
Since then, meditating has gone on to help me in family life – and it has helped my children, too. I often use mindful breathing during time-out, as a way to help them recover from a meltdown, and I strongly suspect it has helped them develop their imaginations. I love the fact my children are learning that, within themselves, they have the inner tools to cope. "Are you pleased I have taught you to meditate?" I ask my eldest daughter, as we snuggle up for another night-time journey. "Yes," she says. "I love drifting off to sleep imagining magical lands and visiting faraway places. It's soothing and cosy and feels really, really nice."
Join our commenting forum
Join thought-provoking conversations, follow other Independent readers and see their replies