'Every child is equal': How Finland's baby boxes changed childhood
'The box symbolises is that every child is equal'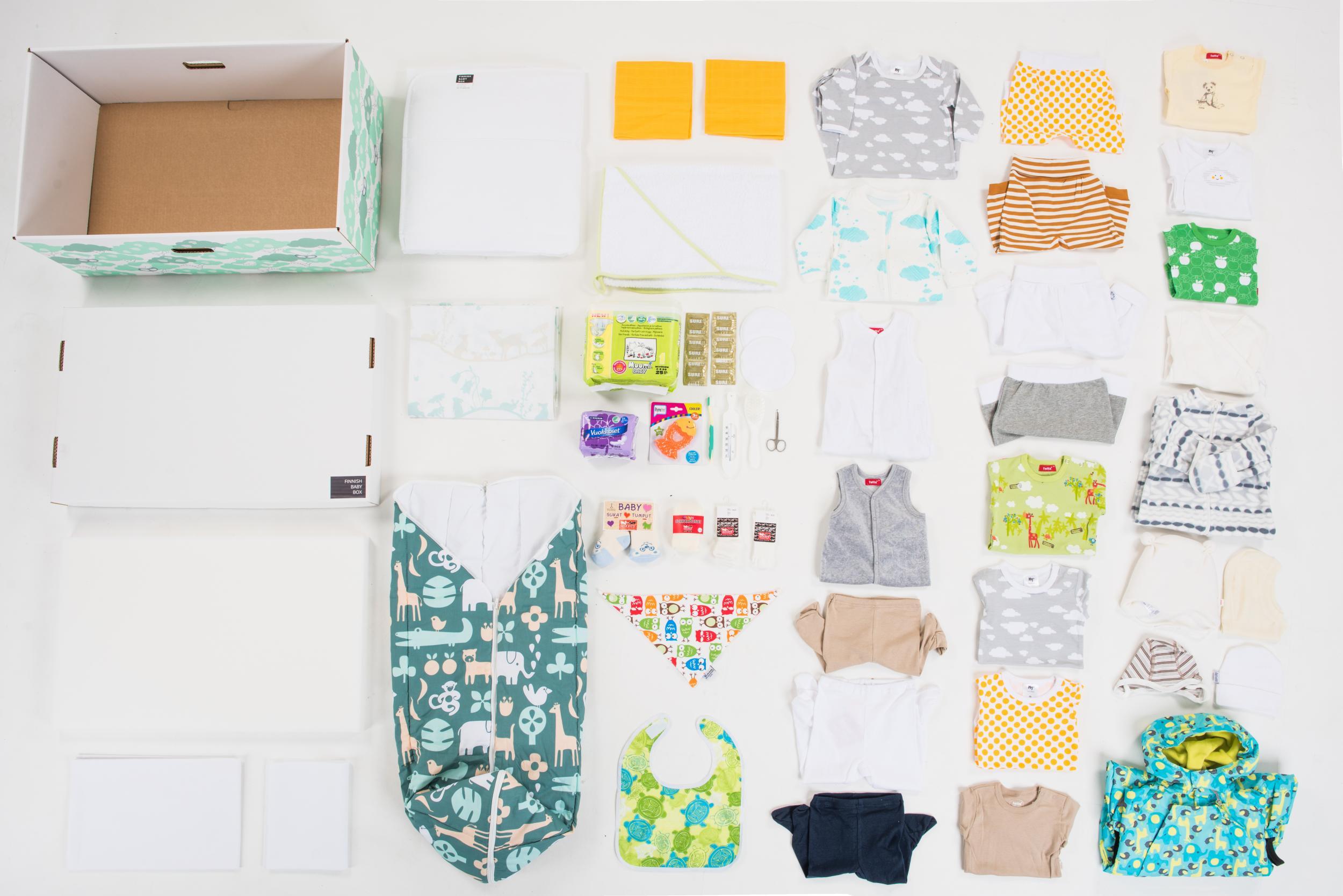 It was only once sat on the living room floor with his wife Sara, surrounded by the contents of their new 'baby box', that it suddenly hit home for Heikki Tiitanen he was about to become a father.
"We were both in tears," he says fondly, "going through all the baby items was the moment when I truly understood that we were going to have a baby in the house. As a first-time father, it made everything more concrete."
Like more than 95 per cent of all expectant parents in Finland, the Tiitanens had just collected the iconic cardboard package from their local maternity and child health clinic, gifted from the government to help prepare them for family life.
"It really helped us as first-time parents to prepare for the baby both mentally and materially as we knew most essentials were already waiting for the baby," explains Tiitanen. "I'm not ashamed to say it was a relief to know we were that little bit more ready."
A Finnish tradition for nearly 80 years, the infamous 'baby box' is given to all families regardless of income and contains around 50 of the most vital products needed for the first year of a baby's life.
In gender neutral patterns, the products vary from year-to-year depending on fashion and demand, but the necessities always include an infant snowsuit for cold Finnish winters, indoor and outdoor clothing, an extra insulated sleeping-bag for outdoor naps – a favourite in Scandinavia - as well as eco-friendly nappies, breast pads and condoms.
The items are beautifully packaged inside a cardboard box that will double up as a bed for the baby's first few weeks.
It's a phenomenon that has made headlines across the world, sometimes unfairly branding Finns as somewhat whacky or eccentric, but the concept is undeniably successful.
Infant mortality rates have reduced dramatically in Finland since the care package was first brought in, for which medical professionals thank the accompanying health-checks and counselling sessions families are asked to attend in order to receive the products.
But the baby box is more than a material incentive - once an impoverished nation of poor health, Finland is now known for having one of the best maternity care systems in the world.
Talking to two friends who had also become fathers around the same time, Tiitanen realised they had all had shared "eureka" moments upon opening up their maternity boxes.
"We started to ask around and heard over and over again how receiving the box had made parents feel better prepared and how memorable the moment of opening the box had been.
"It struck me how lucky we were to have a state that provided this care, and that we could bring the same joy to families elsewhere."
The three fathers began to work on ideas for a baby box that could be exported across the world as gifts to expecting families. They quit their jobs, and a new business was born.
Since its launch in autumn 2014, The Finnish Baby Box has sold custom-made packages to parents from thousands of cities in 75 different countries across the world. Like the original, their package provides a starter kit of clothes, blankets and necessary instruments all in fashionable Scandinavian-style fabrics. These products are custom made, however, and tailored to suit each baby's needs depending on climate and season.
Not so surprisingly, the UK is currently their third biggest and fastest growing market overall, with sales here almost tripling within the past 12 months.
"I think there is a trend in the UK for this Scandinavian style of living and attitude towards family", says Tiitanen, who is now the company CEO and a father of three.
"What we've learned is that new parents have very similar fears, hopes and needs all around the world. The reason that we are growing faster in the UK than in most other markets might have something to do with the overall reputation of Finland in the UK.
"We are famously great with babies and child related matters from baby safety to education and healthcare."
The 20 best places to raise children in the UK
Show all 20
Finland's maternity package was introduced in 1937, when the country was desperately poor and infant mortality rates were high. To begin with, the scheme was only available to families with low incomes, but was soon rolled out to all mothers-to-be as long as they visited a doctor or prenatal clinic before their fourth month of pregnancy.
The concept has since been trialled in Mexico and New Zealand, and a version will be brought out in Scotland from next year, but Finland remains the only country to provide the package regardless of income, location or background.
Finnish parents have the option of choosing a €140 grant over the box, but nearly all take the box as its value is said to be worth far more In terms of monetary cost (around €400) and priceless in sentiment.
"What the box symbolises is that every child is equal and deserves an equal start in life," says Olga Tarasalainen, a spokeswoman for Kela, the Social Insurance Institution of Finland which distributes the boxes.
"Nobody ever questions the value of the box, it is so important to our culture. Very occasionally we hear conversations about whether the government should be spending the money giving it to every single family, but not to include families of higher wealth or to introduce a means test for the box would make the whole system redundant. The box is outside of class or wealth."
Join our commenting forum
Join thought-provoking conversations, follow other Independent readers and see their replies