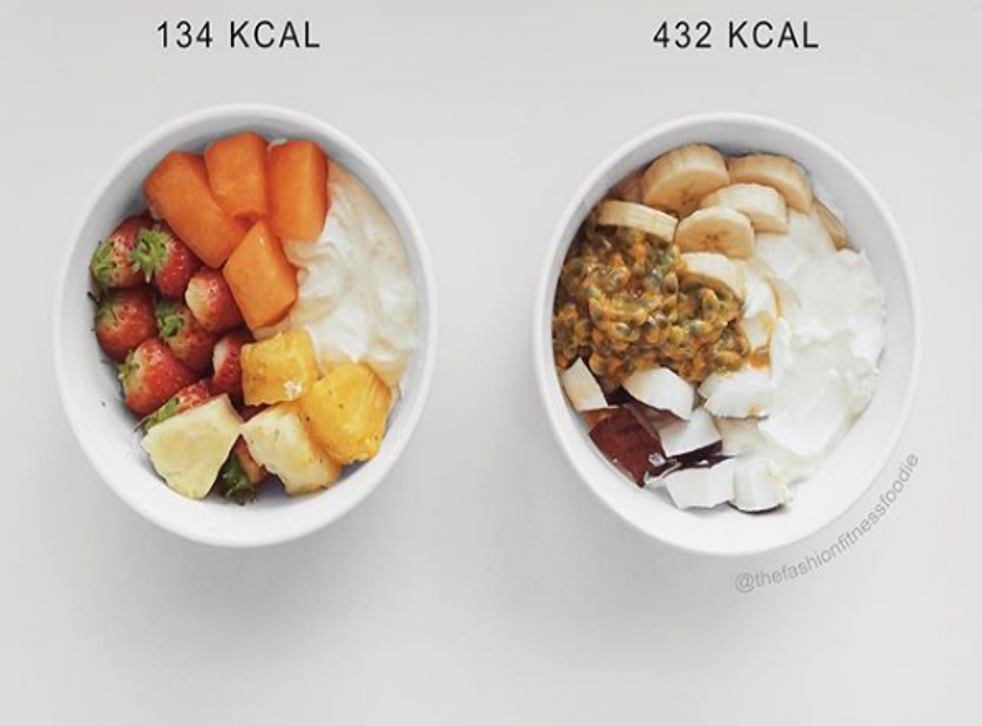 Meet the fitness blogger re-educating people on calorie counting
"Healthy" biscuits aren't always better than regular ones
Rachel Hosie
Wednesday 09 August 2017 10:25 Comments
We all know calories aren't created equal - a chocolate bar and an avocado may have roughly the same number of calories, but their effect on your body is going to be hugely different.
And one Instagram influencer is on a mission to highlight this point.
Lucy Mountain from London is the woman behind The Fashion Fitness Foodie.
On her Instagram accounts, she takes a "no BS" approach to food, showing how the supposedly healthier food choices we're making can actually still be really calorific, which mustn't be forgotten if you're trying to lose weight.
It's all too easy to think you can demolish a jar of nut butter in one sitting if it's "all natural" or cook with lashings of coconut oil, but just because something is nourishing doesn't mean you can eat endless amounts of it.
The 25-year-old had been on Instagram for a while, but earlier this year decided to transform her account into a "no b*******" platform for nutritional advice.
"My overall aim is to encourage people to stop viewing single goods as 'good' or 'bad', but instead look at their diet a whole across the days, weeks and months," Mountain explained to The Independent.
"The word 'healthy' is completely subjective to the individual which is part of the reason why there are so many conflicting messages in the industry. A 'healthy' food to one person might be sugar-free when a 'healthy' food to another person might be a low calorie snack that helps them with their weightloss goal."
"Of course, calories are just one component of nutrition, but some many you're consuming is something to be mindful of when it comes to weight management.
"That doesn't mean you need to restrict everything you eat and 'eat clean.' I believe having a chocolate bar in a day of well-balanced meals and adequate micronutrients doesn't make that diet suddenly 'unhealthy'.
"I believe moderation is key and personal enjoyment for the food you're eating is important."
It all started after she posted a picture showing the calorific difference between two different sized spoonfuls of peanut butter.
However Mountain, who is marketing manager of SIX3NINE Personal Training, doesn't tell people whether they should eat the original or "healthier" branded products and foods, just that we should be aware of our choices.
Her aim is to liberate people and give them the freedom to enjoy food whilst staying healthy.
It's useful to know, for example, that a handful of almonds has as many calories as a handful of fruit pastilles.
Mountain believes we need to develop a balanced approach to our health and nutrition, instead of obsessing and believing we need to conform to certain labels.
"It's so important to find a middle ground that works for you, and this middle ground will be different for everyone," she told Metro.
"Some will find tracking calories liberating, some will find it obsessive. Even though I personally enjoy it, I regularly make a point of talking about why this method may not be appropriate for someone."
Mountain doesn't believe you need to track your calories to be healthy though, and unlike many fitness influencers, she doesn't create an image of being perfect, regularly admitting that she eats sweets and enjoys a boozy night as much as the next person.
"There are always optimal ways to reach a particular fitness goal but as long as you're doing you, your health is in check and you're happy – that's all that matters," Mountain says.
"Paleo, gluten-free, low-carb, high-protein or calorie-counting… personal enjoyment is rarely taken into account when people look to make positive improvements to their nutrition – I want to show people it's possible to have the best of both worlds."
It's a refreshing approach.
Register for free to continue reading
Registration is a free and easy way to support our truly independent journalism
By registering, you will also enjoy limited access to Premium articles, exclusive newsletters, commenting, and virtual events with our leading journalists
Already have an account? sign in
Join our new commenting forum
Join thought-provoking conversations, follow other Independent readers and see their replies