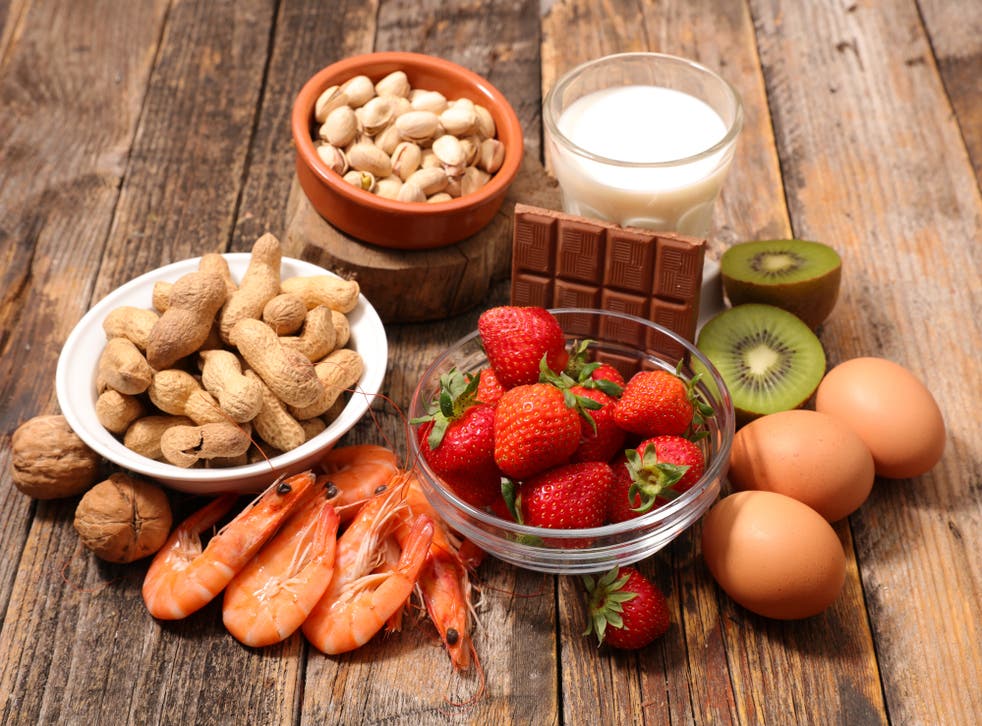 Half of adults who think they have food allergies are wrong, scientists claim
'It is important to see a physician for appropriate testing and diagnosis', food allergy researchers advise
Sabrina Barr
Friday 04 January 2019 17:05 Comments
Millions of adults have drawn the incorrect conclusion that they have food allergies, a new study has revealed.
The research, published in JAMA Network Open, has found that almost half of adults in the US who think they have food allergies haven't shown symptoms to back their claims.
While more than 10 per cent of adults are believed to have a food allergy, 19 per cent of the population are under the impression that they're allergic to certain foods.
The study was carried out by researchers from Anna and Robert H. Lurie Children's Hospital of Chicago and Northwestern University.
The team, which was led by paediatrician and food allergy researcher Dr Ruchi Gupta, MD, MPH, assessed answers from a survey that had been taken by 40,000 adult members of the public.
Their findings indicated that only half of the adults with supposed food allergies had been diagnosed by a medical professional, and less than a quarter reportedly had a prescription for epinephrine to treat an allergic reaction.
"While we found that one in 10 adults have food allergy, nearly twice as many adults think that they are allergic to foods, while their symptoms may suggest food intolerance or other food related conditions," says Dr Gupta.
"It is important to see a physician for appropriate testing and diagnosis before completely eliminating foods from the diet.
"If food allergy is confirmed, understanding the management is also critical, including recognising symptoms of anaphylaxis and how and when to use epinephrine."
NHS at 70: demonstration and celebration march to mark anniversary

Show all 18
The researchers also discovered that nearly half of the confirmed food allergies among the participants developed in adulthood.
"We were surprised to find that adult-onset food allergies were so common," says Dr. Gupta.
"More research is needed to understand why this is occurring and how we might prevent it."
Here are the most common food allergies among adults in the US, according to the study:
7.2 million have a shellfish allergy
4.7 million have a milk allergy
4.5 million have a peanut allergy
3 million have a tree nut allergy
2.2 million have a finned fish allergy
2 million have an egg allergy
2 million have a wheat allergy
1.5 million have a soy allergy
0.5 million have a sesame allergy
Dr Gupta emphasises that more research is needed to find out why shellfish allergy is so common among US adults, and why it frequently develops later on in life.
"Our data show that shellfish is the top food allergen in adults, that shellfish allergy commonly begins in adulthood, and that this allergy is remarkably common across the lifespan," she explains.
Support free-thinking journalism and attend Independent events
"We need more studies to clarify why shellfish allergy appears to be so common and persistent among U.S. adults."
Register for free to continue reading
Registration is a free and easy way to support our truly independent journalism
By registering, you will also enjoy limited access to Premium articles, exclusive newsletters, commenting, and virtual events with our leading journalists
Already have an account? sign in
Join our new commenting forum
Join thought-provoking conversations, follow other Independent readers and see their replies