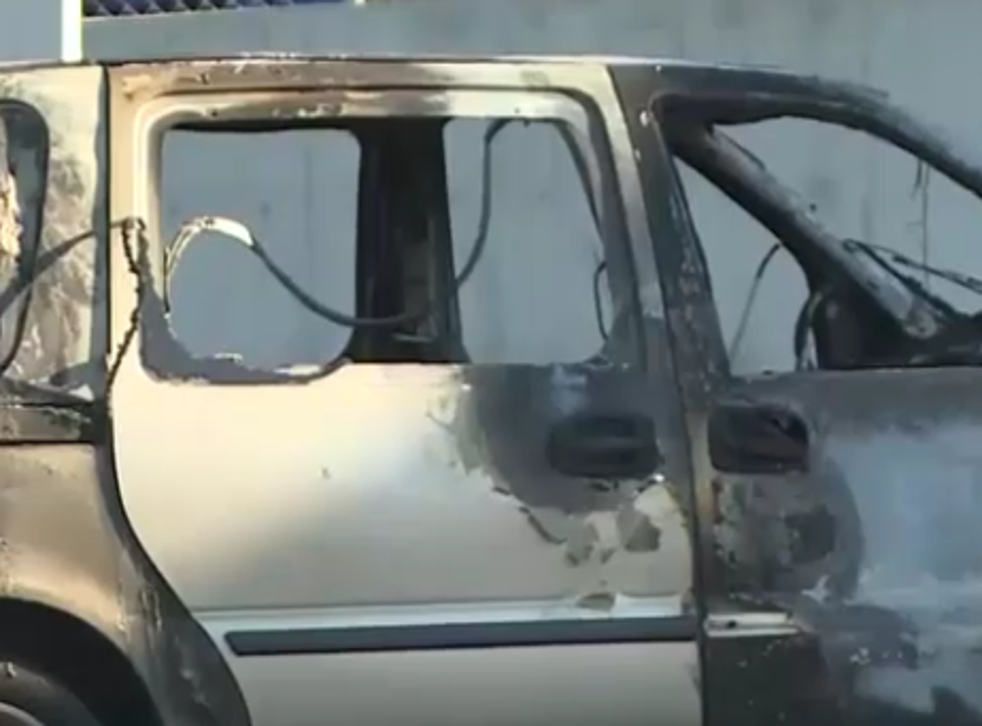 Toddler left in car at petrol station causes fire after unbuckling seat and reversing into gas pump
The children were left alone for just minutes 
A horrific accident is serving as a reminder to parents of the potential dangers of leaving young children alone in the car.
A Missouri mum was filling her gas tank with her two children, aged one and three, buckled into their car seats in the back of the minivan when she ran into the store to pay for her gas.
In the moments she was gone, one of the children managed to unbuckle their seatbelt and shift the car into reverse - which then allowed the car to roll backwards and smash into a gas pump.
The gas pump erupted into flames from the impact of the minivan and would have injured the young children had a stranger not stepped in and rescued them from the flames.
Now, officials are sharing photos of the life-threatening incident to remind parents that accidents can happen within seconds - and it is illegal to leave children unattended.
Speaking to KY3, Daphne Greenlee, manager of Mercy Injury Prevention, said: "We hear about this all the time. Unfortunately, parents just get busy and are running into the pay for gas or the bank, or whatever, and it happens more often than we like," before reminding parents: "The inconvenience that can happen does not outweigh the child's safety."
Now, the mum may be facing possible criminal charges pending further investigation into the incident, according to Lisa Cox, a spokesperson for the Springfield Police, who told KY3 that it is a crime to leave children unattended in a car.
On the Springfield police website, there is a section dedicated to the dangers of leaving children in vehicles alone - a crime that the Springfield Police Department "receives numerous calls" about.
Missouri is one of 19 US states with a law that makes it illegal to leave a child under the age of 10 unattended in a vehicle - and from the accident, it is clear why the law exists.
The accident comes just days after Utah passed the nation's first "free-range parenting" law, which allows parents to legally leave their children unattended as they see fit.
Age limits are not defined under the law - and advocates for free-range parenting hope the new bill will inspire other states to draft similar laws.
In this incident the children were unharmed but the pictures of the mangled minivan remind parents that accidents happen when children are left alone.
Register for free to continue reading
Registration is a free and easy way to support our truly independent journalism
By registering, you will also enjoy limited access to Premium articles, exclusive newsletters, commenting, and virtual events with our leading journalists
Already have an account? sign in
Register for free to continue reading
Registration is a free and easy way to support our truly independent journalism
By registering, you will also enjoy limited access to Premium articles, exclusive newsletters, commenting, and virtual events with our leading journalists
Already have an account? sign in
Join our new commenting forum
Join thought-provoking conversations, follow other Independent readers and see their replies