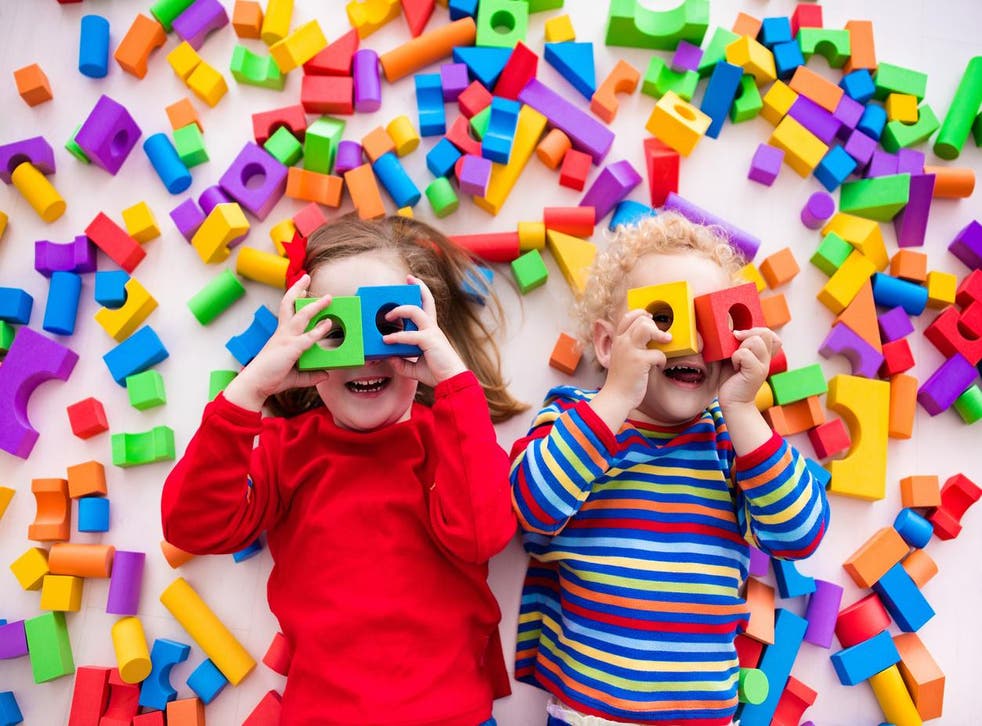 Parents pay more for girls' clothes as 'gender price gap' starts before 12 months old, study finds
A jacket that costs £8 for a boy costs £10 for a girl in one supermarket 
Monday 05 March 2018 16:57 Comments
Parents are regularly forking out more for clothes and toys aimed at girls than boys, a study has found.
Two-thirds of parents have noticed a kids 'gender pay gap' with stores charging more for almost identical items depending on whether it is targeted at girls or boys.
The price gap begins when children are as young as 12 months, with 71 per cent of parents who have seen a difference claiming those with girls are forced to pay more.
The research, carried out by parenting site ChannelMum.com ahead of International Women's Day on 8 March, found a blue and green striped jacket from George at Asda costs £8-£9 for one-to-six-year-olds while a similar jacket in pink costs £10-£12 in the same store.
When it comes to underwear, a pack of boy's briefs in Marks and Spencer will set parents back £4-£7, while the same number of girl's briefs will amount to £6-£8.
It's not just clothes. A pair of blue inline roller skates in Argos costs £7.99, while a pink pair is £10.99.
Girls aren't always paying more, as a pair of white skinny jeans from River Island are priced at £20 for boys but just £16 for girls.
Parents noticed that boys are also charged more for shoes and jeans.
Fifty-eight per cent of parents think they have to pay more for accessories aimed at young girls, and 52 per cent believe the cost of a girl's coat is often higher than one for a boy.
T-shirts and tops, nightwear, and underwear, are also among the items of clothing parents believe are priced higher for girls.
On average, girls' items were priced at 21 per cent higher than the equivalent item for boys, but the items where boys were charged more averaged just 13.5 per cent more expensive.
Previous studies have shown adult women are regularly charged more for items ranging from razors to dry cleaning in a move called the 'pink tax' - with the same average price gap of 21 per cent as female toddlers and young girls.
MPs have debated clamping down on the practice for adults and now a huge 97 per cent of the 1,156 parents polled by ChannelMum.com want gender-based pricing for children's items stamped out too, with 55 percent calling for it to be made illegal.
Almost three in five think gender pricing is a 'rip off' by retailers designed to hit parents, with 55 per cent claiming stores believe parents will pay more for girls' items.
A further 56 per cent believe retailers make it difficult to compare prices by dividing items into 'boys' and 'girls' sections. More than a third say they would back moves to make all kids' items 'gender-neutral'.
As a result, a third of mums and dads are shunning stores which use gender-based pricing and 22 per cent have 'named and shamed' firms using gender-based pricing on social media.
UK news in pictures

Show all 50
Siobhan Freegard, founder of ChannelMum.com, said: "Treating baby girls as a commodity to be exploited aged just 12 months old is terrible.
"The so-called 'pink tax' is bad enough for adult women but a pink tax for tots is just plain wrong.
"There's simply no justification for charging more based on gender. An item which is the same or similar should have the same or a similar price tag, regardless of which gender wears or uses it.
"Luckily parents are becoming more and more aware of the practice, which should mean more firms becoming reluctant to do it."
SWNS
Register for free to continue reading
Registration is a free and easy way to support our truly independent journalism
By registering, you will also enjoy limited access to Premium articles, exclusive newsletters, commenting, and virtual events with our leading journalists
Already have an account? sign in
Join our new commenting forum
Join thought-provoking conversations, follow other Independent readers and see their replies