Get ready, set, crawl! Yes, crawling is the new fitness trend for 2017
Channel your inner child with one of the year's most unusual fitness crazes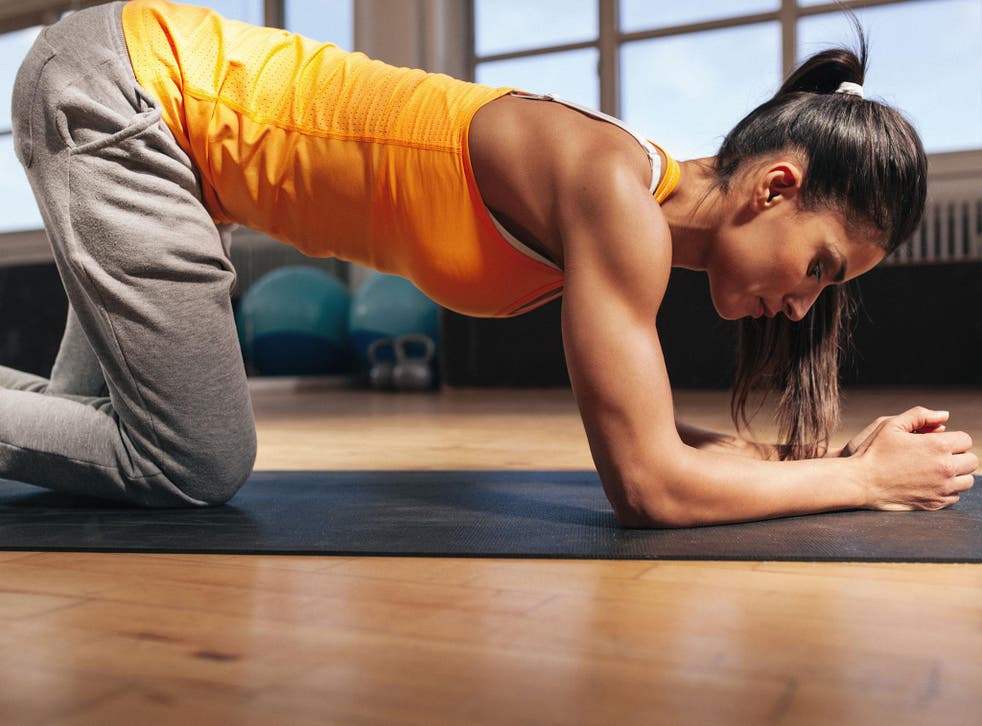 Throw out your spin bike, ballet shoes, and kettle bells, because crawling is set to be the fitness trend of 2017.
The exercise, which involves moves that you're currently more likely to see in a creche than a gym, is set to wheedle its way into exercise regimes according to a trend report by the fitness-focused Balance Festival.
Crawling involves floor work which uses the weight of the body, and therefore requires no equipment to perform.
"It's like the new version of the plank, but more interesting," says fitness expert and Balance Festival Ambassador Ashley Hunt. "We have already seen the increasing popularity of crawling in states with groups forming and crawling classes such as Original Strength. The UK is now following suit."
The exercise it takes to burn off high-calorie foods

Show all 10
The rise of high intensity interval training (HIIT) and workouts that can be done at home have set the scene for crawling to explode into the mainstream, she says.
"Crawling is beneficial for a number of reasons" explains personal trainer and Lululemon ambassador Ally Gray.
"It is an isometric move, which means that you are working hard to hold a position under repeated tension. This helps not only with your overall strength but also endurance and core stability - from wrists and shoulders through to hips, ankles and toes. There is also research to suggest that crawling can help with healthy blood pressure levels and be beneficial for your back."
The bear crawl, for instance, sees a person takes on a superman pose and involves balance and control of the body. "That means you have to work harder to retain your stability," says Gray.
This in turn engages multiple muscles in the fingers, wrists, arms, elbows, shoulders, spine, hips, legs, ankles and toes, and so crawling can be more efficient than other forms of exercise.
So, how can a beginner try out the new trend? Gray's advice is to take it step-by-step.
"Literally! Try a 'baby crawl' first, the same as you would have done as a child. Hand's centred and hip width apart, making sure your hands are aligned with your knees and crawling forwards and then backwards, with a neutral spine. After performing a few baby crawls back and forth, engage your core and try lifting you knees slightly, hovering them above the ground a few inches, but in the same position."
Repeat this move forwards, and then backwards, while ensuring your form is correct and your weight is equally distributed, and your pelvis is aligned and doesn't twist.
Once you have the basics down, crawling can easily be incorporated into existing workouts, particular circuit training and HIIT routines.
"I usually have the team at Lululemon HQ performing a series of stairs sprints, planks, squats, supermans and then bear crawls on a circuit based timer, switching it up every few minutes for a full 30 to 45-minute workout," says Gray.
Try Ally Gray's crawling workout at home
1. Get onto all fours on the floor. Place your hands directly in front of you, below your shoulders. Knees on the floor and hip width apart.
2. Press into the floor firmly with both hands and feet, hover your knees an inch off the ground into a 'table top' or 'bear crawl' position.
3. Keeping your spine parallel to the floor, and hovering like a hunting cat, move forward with each hand a few inches, following closely with the opposite foot.
4. Try performing this move backwards, leading with the feet first and following with the hands. This brings an entirely new approach into play, where you have to think about your awareness and stability.
5. Pay attention to the surface your perform crawls on and take care of your knees and wrists. Don't put all of your body weight in one area, but distribute it evenly over your body and keep your spine neutral. You can also do this move sidewards, frontwards, backwards – whichever you prefer.
Register for free to continue reading
Registration is a free and easy way to support our truly independent journalism
By registering, you will also enjoy limited access to Premium articles, exclusive newsletters, commenting, and virtual events with our leading journalists
Already have an account? sign in
Register for free to continue reading
Registration is a free and easy way to support our truly independent journalism
By registering, you will also enjoy limited access to Premium articles, exclusive newsletters, commenting, and virtual events with our leading journalists
Already have an account? sign in
Join our new commenting forum
Join thought-provoking conversations, follow other Independent readers and see their replies