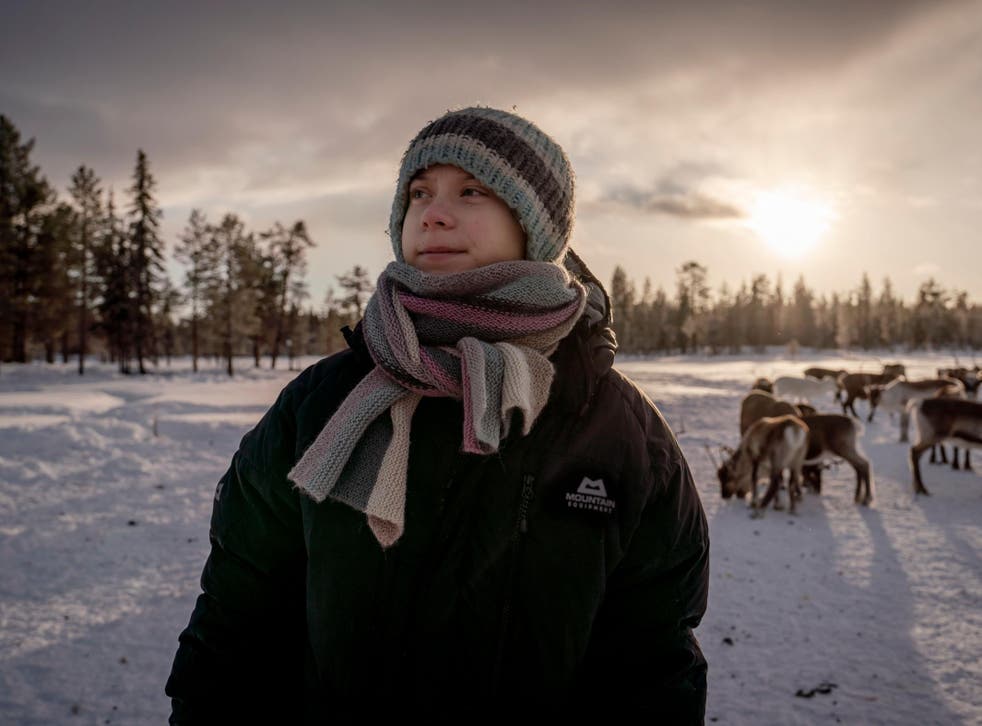 Greta Thunberg was nearly hospitalised due to disordered eating, says mother
'She was slowly disappearing into some kind of darkness and little by little, bit by bit, she seemed to stop functioning,' says Malena Ernman
Greta Thunberg's mother has revealed how her daughter struggled with disordered eating and spending extended periods out of school during her early teenage years.
Malena Ernman explained how now-17-year-old Greta came to be diagnosed with Asperger's syndrome after a period of food restriction that nearly saw her hospitalised.
Asperger syndrome is a condition which falls within the autism spectrum, Autism NI explains.
In an extract from Our House is on Fire: Scenes of a Family and a Planet in Crisis, a book by the whole Thunberg family and seen by The Observer, Ernman said the problems began in 2014 when the environmental activist was just 11 years old.
"She cried at night when she should be sleeping. She cried on her way to school. She cried in her classes and during her breaks, and the teachers called home almost every day."
Greta's father, Svante, would instead bring her home from school to spend time with the family's dog Moses. "She sat with him for hours, petting him and stroking his fur," explained Ernman.
"She was slowly disappearing into some kind of darkness and little by little, bit by bit, she seemed to stop functioning."
This period of depression coincided with Greta beginning to change her eating habits, which meant her parents started writing down everything she ate and how long it took to eat.
"The amounts are small. And it takes a long time," said Ernman. "But the emergency unit at the Stockholm Centre for Eating Disorders says that this method has a good long-term success rate.
"You write down what you eat meal by meal, then you list everything you can eat, things you wish you could eat and things you want to be able to eat further down the line."
Greta, who has a younger sister Beata, was reportedly only eating three foods at that time; rice, avocado and gnocchi pasta.
On one occasion the family even tried to stage an intervention by spending a day baking buns together but it ended in Greta having a panic attack.
Greta Thunberg inspires climate activists everywhere: In pictures

Show all 12
After two months of not eating Greta lost almost 10kg and was beginning to show "signs of starvation" explained Ermnam.
"We explain to our daughter that we have to start preparing ourselves for a stay at the hospital, where it's possible to get nutrition and food without eating, with tubes and drips."
Shortly before the doctors planned to admit Greta to hospital her mother says she experienced a shift in her behaviour and started trying to eat again.
The teenager was later diagnosed with Asperger's, high-functioning autism and OCD, obsessive-compulsive disorder.
Greta has previously spoken about her Asperger's syndrome, explaining it as both a "gift" and a "superpower".
"I have Asperger's and that means I'm sometimes a bit different from the norm. And – given the right circumstances –being different is a superpower," she wrote on Instagram last year.
Thunberg continued, outlining that her reason for not being public about her diagnosis is not because she wishes to "hide" behind it, but because of how "ignorant people" may respond.
"I know many ignorant people still see it as an 'illness', or something negative. And believe me, my diagnosis has limited me before," the Swedish student stated.
"Before I started school striking I had no energy, no friends and I didn't speak to anyone. I just sat alone at home, with an eating disorder."
In April 2019 Greta described her autism as a "gift" saying: "It also makes me see things from outside the box. I don't easily fall for lies, I can see through things."
If you have been affected by any of the issues mentioned in this article, you can contact the following organisations for support: the BEAT helpline on 0808 801 0677​ or Mind on 0300 123 3393​.
Register for free to continue reading
Registration is a free and easy way to support our truly independent journalism
By registering, you will also enjoy limited access to Premium articles, exclusive newsletters, commenting, and virtual events with our leading journalists
Already have an account? sign in
Register for free to continue reading
Registration is a free and easy way to support our truly independent journalism
By registering, you will also enjoy limited access to Premium articles, exclusive newsletters, commenting, and virtual events with our leading journalists
Already have an account? sign in
Join our new commenting forum
Join thought-provoking conversations, follow other Independent readers and see their replies