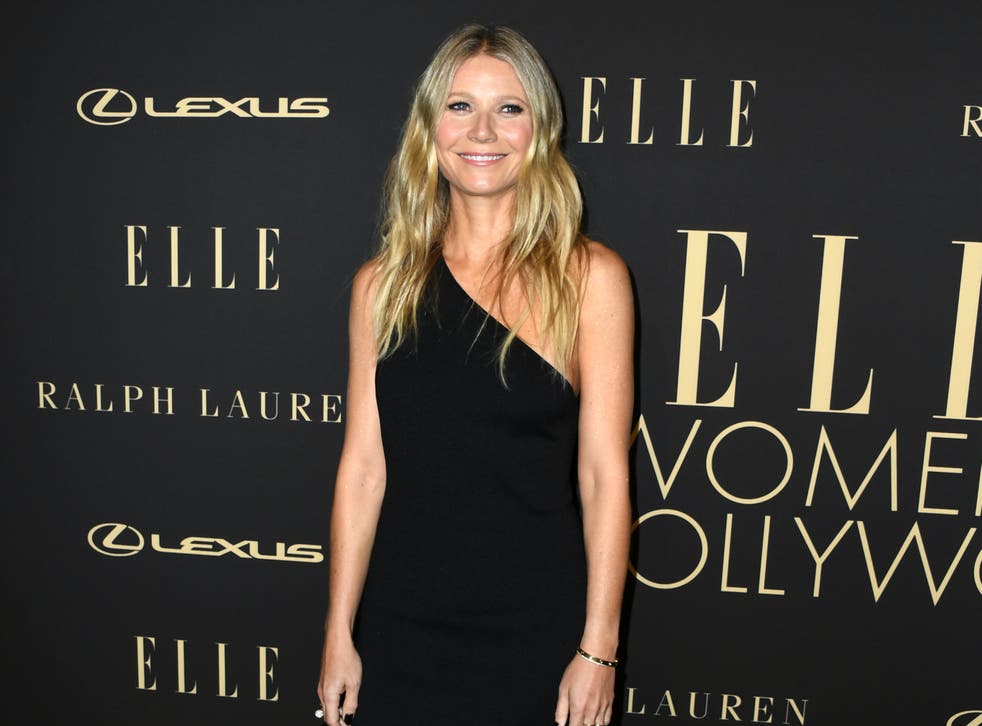 Gwyneth Paltrow criticised for advising infrared sauna and keto diet for long Covid 'healing'
'Like the virus, misinformation carries across borders and it mutates and it evolves,' said Professor Stephen Powis
Natasha Preskey
Thursday 25 February 2021 11:28 Comments
An NHS medical director has criticised Gwyneth Paltrow's advice on treating long Covid, warning of the dangers of misinformation.
Paltrow told readers of Goop, her lifestyle website, that she was left with "long-tail fatigue and brain fog" after having coronavirus.
Last month, Paltrow revealed to fans she'd had Covid-19 "early on" in the pandemic.
Writing on her blog last week, the actress said that as part of her recovery, she has since begun a "keto and plant-based" diet, given up sugar and alcohol, and fasts until 11am every day. The keto diet is a plan which involves cutting down carbs and increasing fats.
She wrote: "In January, I had some tests done that showed really high levels of inflammation in my body."
She said she took the advice of a "functional medicine practitioner", claiming that, "after he saw all my labs, he explained that this was a case where the road to healing was going to be longer than usual".
She added: "Everything I'm doing feels good, like a gift to my body. I have energy, I'm working out in the mornings, and I'm doing an infrared sauna as often as I can, all in service of healing."
Professor Stephen Powis, national medical director for the NHS in England, said on Wednesday that Paltrow's suggestions were not what the NHS would recommend.
He warned that influencers have a responsibility and "duty of care" to their fans.
"Like the virus, misinformation carries across borders and it mutates and it evolves," he said.
"So I think YouTube and other social media platforms have a real responsibility and opportunity here.
"In the last few days, I see Gwyneth Paltrow is unfortunately suffering from the effects of Covid.
"We wish her well, but some of the solutions she's recommending are really not the solutions we'd recommend in the NHS.
"We need to take long Covid seriously and apply serious science. All influencers who use social media have a duty of responsibility and a duty of care around that."
This isn't the first time Paltrow has been criticised by a senior NHS figure.
Last year, Goop was criticised by the head of the NHS for promoting treatments that may pose "risks to health".
The comments followed the release of The Goop Lab on Netflix, a television programme produced and hosted by Paltrow, which saw the actor explore a variety of wellness issues and treatments.
While delivering a speech at the Sheldonian Theatre, Oxford, Sir Simon Stevens, chief executive of NHS England, highlighted the "dubious wellness products and dodgy procedures" that are available for consumers online.
Sir Simon stressed that the speed at which inaccurate health claims can be spread on the internet has put "myths and misinformation on steroids".
He said: "Gwyneth Paltrow's brand peddles 'psychic vampire repellant'; says 'chemical sunscreen is a bad idea'; and promotes colonic irrigation and DIY coffee enema machines, despite them carrying considerable risks to health and NHS advice clearly stating that there is 'no scientific evidence to suggest there are any health benefits associated with colonic irrigation'."
Register for free to continue reading
Registration is a free and easy way to support our truly independent journalism
By registering, you will also enjoy limited access to Premium articles, exclusive newsletters, commenting, and virtual events with our leading journalists
Already have an account? sign in
Join our new commenting forum
Join thought-provoking conversations, follow other Independent readers and see their replies