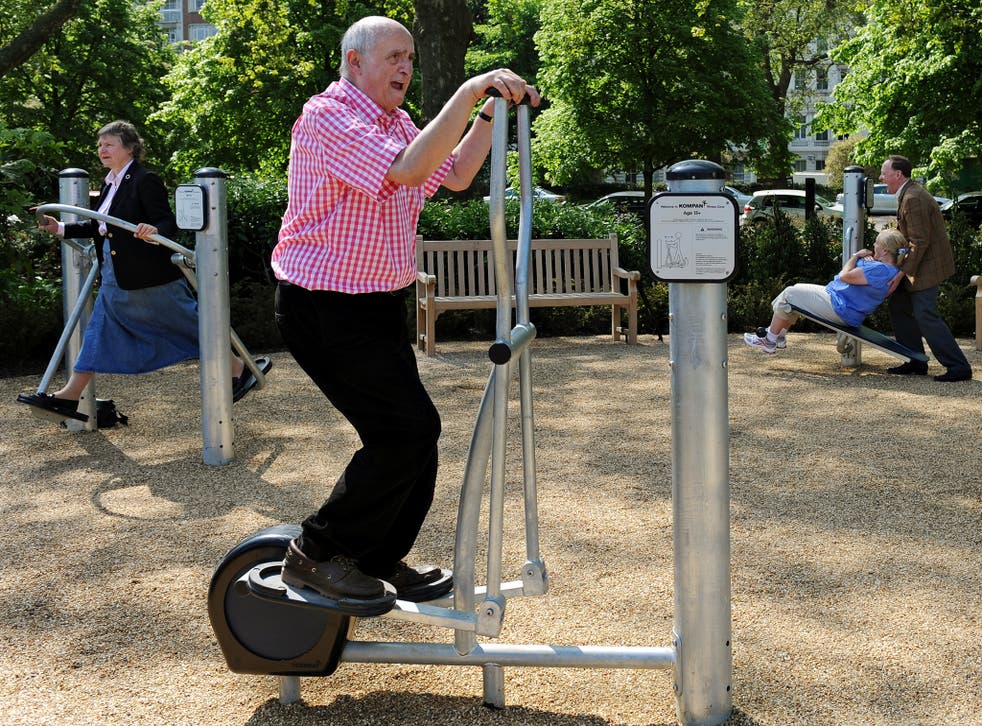 30 minutes of exercise a day as good for old men as quitting smoking, study finds
Experts found that even light exercise can reduce chance of death by 40%
Charlie Cooper
Thursday 14 May 2015 16:50 Comments
Taking up just half an hour of light exercise, six days a week during old age, can give a health boost comparable to the effect of quitting smoking, a new study has claimed.
Researchers in Norway found that elderly men who kept active – even with just a brisk or uphill walk for 30 minutes, six days a week – were 40 per cent less likely to die over the course of a 12-year study, than those who led a sedentary lifestyle.
The benefits of exercise are well-known but the experts behind the study said they were taken back by just how large the impact could be, even in later life.
Their findings are based on a study group of nearly 6,000 men in Norway aged 73 or over. While those who carried out vigorous exercise saw the highest benefits, even light intensity activity lowered mortality risk – so long as it was done for more than an hour a week.
Professor Ingar Holme, of the department of sports medicine at the Norwegian School of Sports Sciences in Oslo, who led the study, said that while nearly everyone now recognised the huge benefits of exercise, less than half of Europe's population were actually following recommendations.
"Not many pills can bring down total mortality by 30-40 per cent. That is a major achievement," he said. "Even in this elderly cohort, the response to exercise that we saw added up to years added onto to your life."
The NHS currently recommends that people over 65 get around two and a half hours of moderate aerobic exercise – such as cycling or fast walking – every week, as well as muscle strengthening, which can be achieved through simple day-to-day activities like carrying shopping bags and gardening, two days a week.
Professor Holme said that, in the same way healthcare systems offer quit smoking services, they should provide tailored exercise regimes for elderly people.
"We're not just talking about strolling along, but if you are walking briskly, or walking up uphill there will be benefits," he said. "Walking up hills is excellent. Good for the legs, good for the stamina and so easy to do."
Although the study, which is published today in the British Journal of Sports Medicine, only looked at a cohort of men, the findings are equally applicable to women.
Caroline Abrahams, charity director at Age UK, said: "There is no magic formula for staying mentally and physically healthy in later life but a healthy lifestyle that includes regular exercise, a balanced diet and an active social life are all important factors.
"Whether you're 25 or 85, male or female (there is evidence that exercise is good for women too!) you can have a positive impact on your life as you grow older and there are steps everyone can take to help improve ageing.
"With genes only thought to make a 25 percent contribution to the length of life and factors like lifestyle and nutrition making up the remaining three quarters, following these simple tips can really make a difference to how we age."
Register for free to continue reading
Registration is a free and easy way to support our truly independent journalism
By registering, you will also enjoy limited access to Premium articles, exclusive newsletters, commenting, and virtual events with our leading journalists
Already have an account? sign in
Join our new commenting forum
Join thought-provoking conversations, follow other Independent readers and see their replies