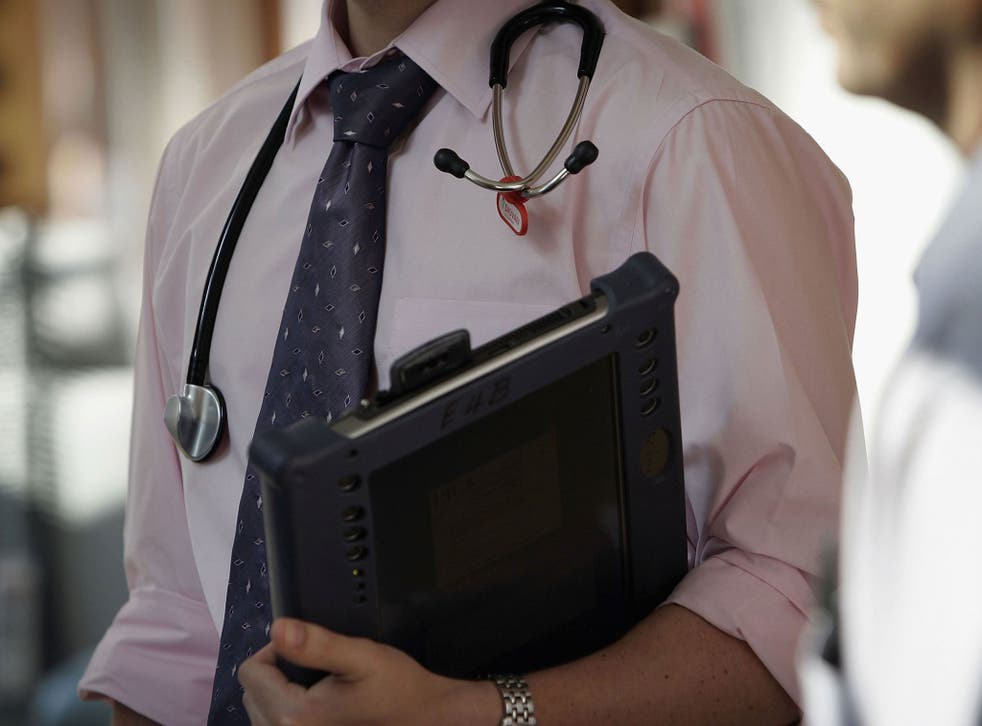 40 per cent of GPs plan to opt out of the NHS big data sweep, due to a lack of confidence in the project
Family doctors are concerned that the "total confidentiality" of GP consultations could be under threat from a major NHS data scheme which will see confidential patient records stored in a national database.
A survey carried out for the GP's magazine Pulse, has revealed widespread scepticism about the care.data project, with more than 40 per cent of a sample of 400 GPs saying they would not let information about their own personal health go to the database.
The care.data scheme is one of the biggest NHS data extractions in recent times. It is aimed at expanding the range of knowledge that health professionals and officials will have at their disposal when planning NHS services in England.
With the exception of some particularly sensitive patient information – including records of abortions, sexuality, or criminal records – all of the computerised notes that a GP takes down in a consultation will be held, in identifiable form, in a central database at the Health and Social Care Information Centre (HSCIC).
The data can then be bought by third party researchers – including private companies – with identifiable information, such as a patient's NHS number, date of birth and postcode removed. Patients can opt themselves out of the scheme.
However, privacy campaigners have raised concerns both about the security of the data and plans to make identifiable data available to third parties, if approved by an independent NHS confidentiality panel, warning that patients will not know who has access to their private information.
The project is backed by the Royal College of General Practitioners (RCGP) and the British Medical Association, but many GPs have had longstanding concerns.
Leaflets explaining the scheme are being sent to every household in England, following criticism that too few patients were aware of their right to opt out. But Pulse's survey suggests that the publicity drive has done little to allay GP's concerns about the data sweep.
Dr Peter Swinyard, chair of the Family Doctor Association, told The Independent that "the overall principle" of using GP's patient data to improve knowledge and research was sound, but that GPs were worried patients would lose trust in GP consultations.
"We have a very basic principle that whatever our patients tell us is confidential," he said. "We are completely hamstrung if patients feel they can't tell us something that – in many cases – they wouldn't tell anyone else. It is this threat to total confidentiality at consultations that gets up most GP's noses."
He said that the scheme would inspire more confidence if data was made anonymous at the point it was extracted from GP surgery's own databases – rather than being held in identifiable form at the HSCIC.
Of a sample of 400 GPs surveyed by Pulse, 43 per cent said they would opt out of the scheme, 40 per cent said they would not and 16 per cent said they were unsure.
Dr Imran Rafi, chair of the RCGP's clinical innovation and research centre, said care.data could bring benefits to all NHS patients.
"GPs understand the importance of sharing information appropriately both as part of delivering clinical care and for wider uses, such as research and for planning NHS services," he said.
An NHS England spokesperson said: "Sharing information about the care you have received helps us understand the health needs of everyone and the quality of the treatment and care being provided.
"Everyone has the right to register objection, and to have that objection honoured."
Register for free to continue reading
Registration is a free and easy way to support our truly independent journalism
By registering, you will also enjoy limited access to Premium articles, exclusive newsletters, commenting, and virtual events with our leading journalists
Already have an account? sign in
Join our new commenting forum
Join thought-provoking conversations, follow other Independent readers and see their replies