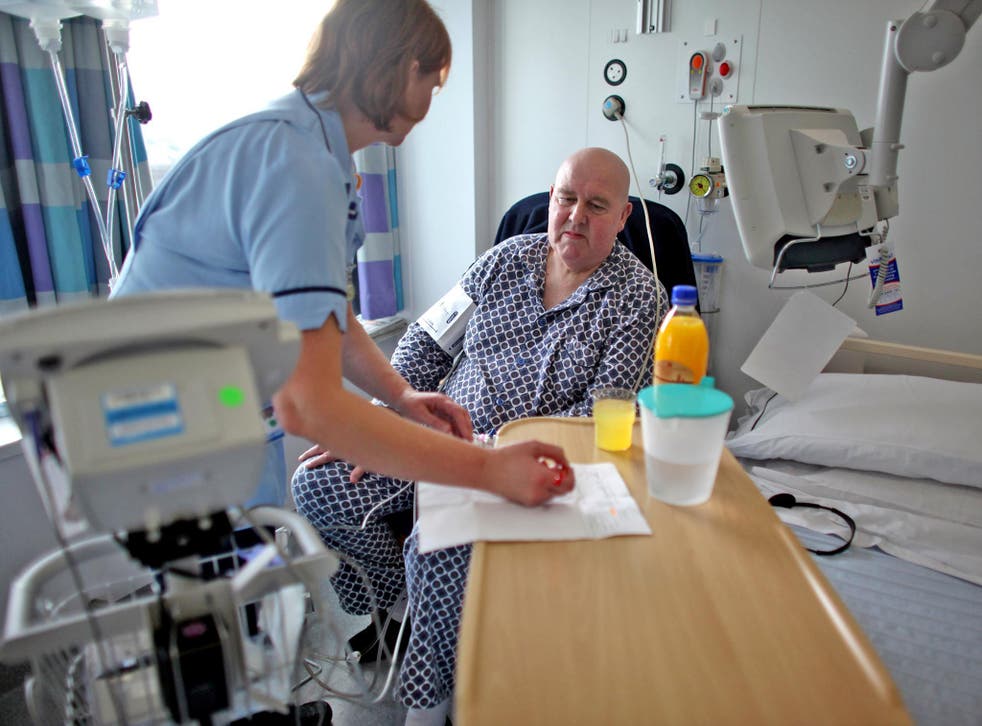 99 per cent are happy with NHS hospital care (in a survey where only 10 per cent actually responded)
Usefulness of data from post-Stafford research already called into question
NHS wards have a 99.2 per cent satisfaction rate with patients, according to the first nationwide survey to ask patients whether they would recommend a ward to their friends and family.
Click HERE to view graphic
However, with barely more than 10 per cent of patients responding to the survey, the usefulness of the data - a cornerstone of the Government's response to the Stafford Hospital care scandal - has already been called into question.
4,500 hospital wards in England were given a rating from -100 to +100 based on patients' responses on how likely they would be to recommend them to friends and family.
One A&E department, Barnet and Chase Farm Hospitals NHS Trust, received a negative rating in the latest data, from June this year. 36 individual hospital wards nationwide were also rated negatively in June, 38 in May and 66 in April.
The health secretary Jeremy Hunt called the survey an historic moment for the NHS.
"This simple survey will give us the information we need to celebrate the best in our NHS and root out poor care," Hunt said. "By making these ratings public we're giving patients the power to choose the best place for their care - and driving other hospitals to raise their game."
There were, however, broad variations in the number of patients that responded to the survey, ranging from just 2.7 per cent of patients at East Kent Hospitals University Foundation Trust, to 100 per cent at the private Parkside Hospital in London.
NHS England said that low response rates could have a "dramatically disproportionate impact on outcomes" but anticipates that the survey will become more "robust" as greater patient numbers are encouraged to take part.
Tim Kelsey, NHS England's director of patients and information, said: "There are some home truths here and everyone will expect those trusts who have large numbers of their patients choosing not to recommend their services to respond as quickly as possible."
However, critics said that the information collected by the survey was meaningless.
"The way in which the data for the friends and family test is collected varies widely and is open to gaming," said Jocelyn Cornwall, director of the Point of Care Foundation, which campaigns for better patient care. "People who respond are not part of a random sample, but are self-selecting or worse, are encouraged to respond by staff. Clearly there is a temptation for staff to encourage responses from patients who they feel will respond positively, especially as a positive result is linked to financial reward."
Government guidance on implementing the friends and family surveys, which are backed by the Prime Minister, recommend that healthcare commissioners "reward high standards".
The surveys were rolled out in hospitals in April following a year of pilots in the Midlands and the east of England. There are plans to extend them to GP surgeries, maternity services and mental health and community services by the end of 2014.
The Royal College of Nursing (RCN) said that action should be taken at wards with low scores, regardless of low response rates.
"Any one patient having a bad experience is one too many and where this emerges in the data, trust boards and their leaders must commit to taking prompt action," said Dr Peter Carter, the RCN's chief executive and general secretary."
In a statement from Portugal, where he is on holiday, David Cameron said: "I am determined to give patients a far greater voice within the NHS as a way of highlighting the best and worst of care within our hospitals. With the friends and family test, we now have a single measure that looks at the quality of care across the country. I want the NHS to put patient satisfaction at the heart of what they do and expect action to be taken at hospitals where patients and staff say standards are not good enough."
Register for free to continue reading
Registration is a free and easy way to support our truly independent journalism
By registering, you will also enjoy limited access to Premium articles, exclusive newsletters, commenting, and virtual events with our leading journalists
Already have an account? sign in
Register for free to continue reading
Registration is a free and easy way to support our truly independent journalism
By registering, you will also enjoy limited access to Premium articles, exclusive newsletters, commenting, and virtual events with our leading journalists
Already have an account? sign in
Join our new commenting forum
Join thought-provoking conversations, follow other Independent readers and see their replies