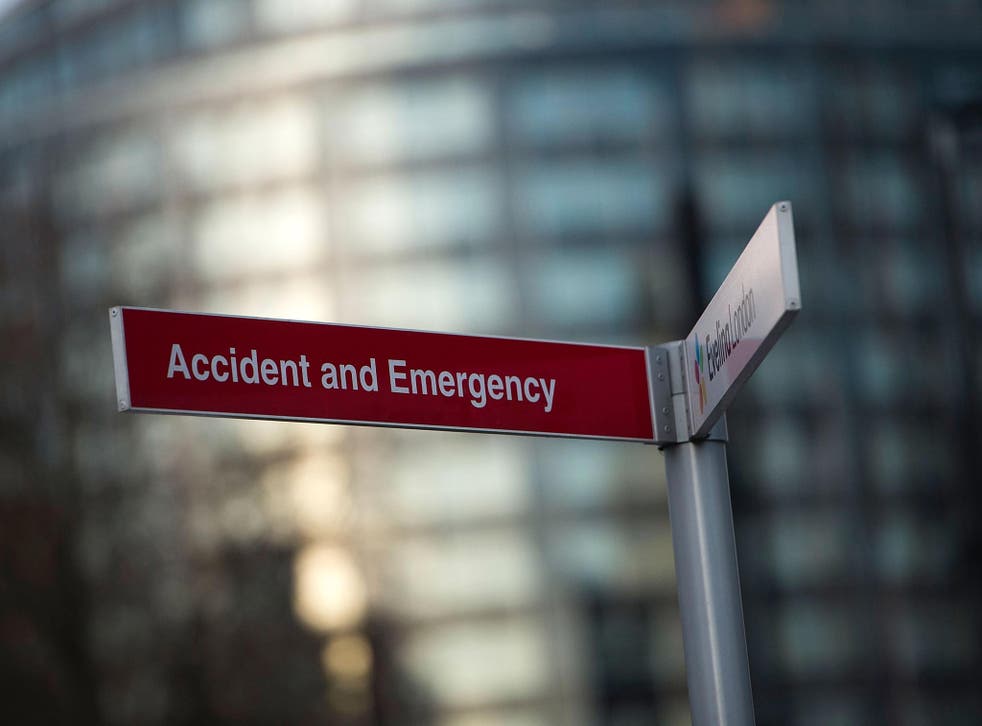 Accident and Emergency showing further signs of strain after record attendances this month
More people are attending hospital accident and emergency departments than at any time since records began, new NHS figures have revealed.
The week ending 15 June – which included the start of the football World Cup and England's first game against Italy – saw 297,527 attendances at major A&Es, more than in any week since records began four years ago.
Given the ever-increasing population pressure on the NHS, it is likely this was also the highest weekly attendance in the history of the health service.
England's A&Es are facing unprecedented strain, with admissions to hospital from major A&Es nearly five per cent higher than at the same time last year.
Usually these figures dip in spring and summer after peaking in the winter, when more elderly patients are admitted with seasonal respiratory illness. However, this has not been the case this year, and some experts have warned that the health service may be showing signs of serious strain, after years of flat funding increases, recruitment freezes and cuts.
Across all A&E and minor injury units, there were 454,000 attendances – up from 422,000 for the same time last year – and 105,200 emergency admissions.
But there were also some encouraging signs for the Government, as the target for 95 per cent of patients to be treated or admitted within four hours being met for the first time in six weeks. When the same target is applied to type 1 A&Es, however, which are the major hospital departments that see the highest numbers and also the most serious patients, the figures are more concerning. Only 92.7 per cent of patients were seen in less than four hours.
While the new official figures do not reveal the causes of A&E attendances, previous research has shown that A&E attendances related to domestic violence increase when England play in a World Cup, and reports of such incidents to police increased by 25 per cent during the 2010 World Cup. This effect, along with other alcohol-related incidents, may have contributed to the record-breaking number of attendances.
Emergency doctors warned before the World Cup over the strain on the NHS caused by alcohol consumption during sports events, with Dr Clifford Mann, president of the College of Emergency Medicine, criticising the Government's decision to extend licensing hours for evening England matches.
A&E performance is being monitored closely by the Government, along with other key NHS targets for cancer waiting times, and referrals from GPs for specialist treatment. All three have seen breaches in recent weeks. On A&E, the Government is concerned that poor performance in spring and summer may bode ill for the coming winter, with the Conservative leadership desperate to avoid accusations of letting NHS performance slip so soon before the General Election.
Extra support has been set aside for A&Es to sure-up performance, with £350m allocated to local health systems around England to relieve pressure on squeezed budgets for both emergency and preventative care, while another £50m has been set aside centrally to be spent on improvements to the NHS 111 non-emergency phone line and ambulance services.
A Department of Health spokesperson said: "We know some A&Es are running hot at the moment because of increased demand. That's why we're giving the NHS extra support to keep services sustainable year-round. In the long term, we want to reduce demand by looking after people better in the community."
Meanwhile Labour is warning that the NHS is facing an unprecedented "summer crisis" in A&E departments. Shadow Health Secretary Andy Burnham has said that hospitals are operating "above safe levels" and has blamed Government cuts to social care for depriving many elderly patients of the support in the home which can prevent an accident and subsequent A&E attendance.
Sara Morgan, head of nursing in the emergency department at St George's Hospital, said that the past two months had been noticeably busier.
"Our mark of a really busy day is seeing more than 400 patients. I've been here two and a half years, and up until two months ago we'd hit 400 only two or three times. Since then, in a short space of time, we've hit that level three or four times."
However, she said that despite concerns among staff, there had been no noticeable increase in attendances due to alcohol-related problems since the start of the World Cup.
Join our new commenting forum
Join thought-provoking conversations, follow other Independent readers and see their replies