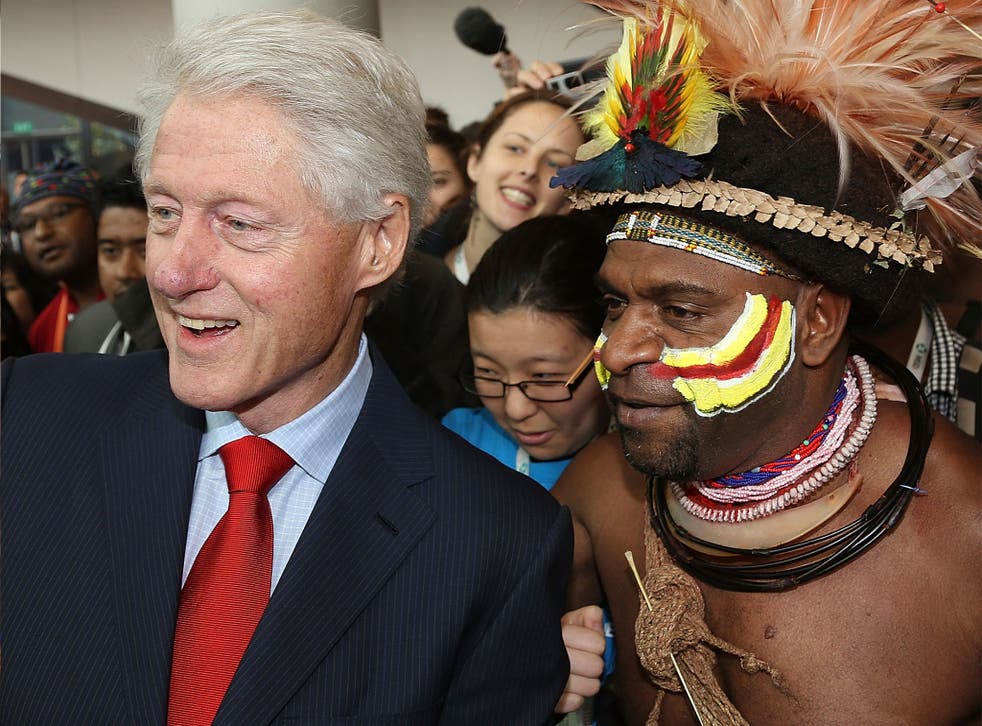 'Aids-free generation' is within our reach, Bill Clinton tells international summit
Ex-President also uses Aids 2014 Conference in Melbourne to condemn downing of Malaysia Airlines flight MH17 which saw six researchers and activists killed
Charlie Cooper
Thursday 24 July 2014 06:53 Comments
An "Aids-free generation" is within reach, but will not be achieved until better care is provided around the world for mothers with HIV and their newborn babies, former US President Bill Clinton has said.
Mr Clinton, whose charitable foundation has led the global fight against HIV/Aids for more than a decade, said that preventing transmission of HIV from mother to baby through breastfeeding was "perhaps the single most important thing" health authorities could do in order to eradicate the disease for future generations.
Speaking at the Aids 2014 Conference in Melbourne, Australia, Mr Clinton also paid tribute to the victims of the MH17 plane crash, who included six Aids researchers and activists who were en route to the conference, as well as 37 Australian citizens and residents.
In a strong condemnation of Russia and pro-Russian forces fighting in the east of Ukraine, Mr Clinton said that countries should not "weaken [their] resolve to take a strong stand" over the incident, accusing separatists alleged to have shot down the plane and "those who provided the means to do so" – a reference to reports that Russia supplied the missile system used – of being enemies of the spirit of international "interdependence" that has defined the global fight against HIV/Aids.
The former President, whose Clinton Health Access Initiative (CHAI) funds HIV/Aids clinics in Africa and the Asia Pacific region, said great progress had been made in reducing HIV infection rates and Aids-related deaths, but "the job is far from done".
Access to treatment for children, which lags behind treatment rates achieved for adults living with HIV, was a particular area for improvement, he said.
"We need to dramatically reduce transmission during the breastfeeding period," he told the conference. "We're getting better at reaching women during pregnancy, but once they deliver a healthy baby, many do not come back. As many as 50 per cent of all new paediatric infections occur during the breastfeeding period. Keeping these women in care until the end of breastfeeding is perhaps the single most important thing we can do to achieve an Aids-free generation."
Despite improvements which now see a million high-risk children tested for HIV every year, globally 20,000 children are still infected every month, and 3.2 million are living with the disease.
Mr Clinton also warned over a growing split between the nations of the world over their response to HIV – with new, repressive anti-gay laws in Russia, Nigeria, Uganda and India raising fears that progress may be crippled by discrimination against high-risk groups.
It was "unbelievable", Mr Clinton said, that "in some contexts" stigma and discrimination against groups at high risk of HIV, in particular gay men, was on the rise – another reference to Russia.
Referring to those accused of downing the MH17, Mr Clinton said that, by contrast, the Aids movement "represented the open hand against the clenched fist, inclusive politics and economics versus division and dominance, cooperation against control, life against death".
Professor Sharon Lewin, of Australia's prestigious Burnet Institute for medical research, and co-chair of the Aids 2014 conference, told The Independent that the rise in discriminatory and stigmatising laws in some countries represented a severe setback.
"We've talked about stigma and discrimination for 30 years, but really in the last two years things have got worse with the criminalisation of behaviours that put people at risk of HIV... [which leads to] people no longer engaging in care," she said.
One study, presented at the conference, carried out in Nigeria, which earlier this year introduced harsh new laws banning gay marriage, gay groups and public displays of affection between homosexual men, found that the number of people attending HIV clinics had declined since the introduction of harsh penalties, which include up to 14 years in prison for gay sex.
Mr Clinton's speech was interrupted by protesters calling for a "Robin Hood" tax on financial transactions, which could generate billions of dollars of additional funding to help bring HIV/Aids treatment and prevention services to millions more people worldwide.
He waited until the protest was complete before carrying on with his speech, and even thanked the protesters. "This is called a conference but I think it's really a movement," he said. "That's why it's OK if someone stands up and has their say."
Mr Clinton also paid tribute to leading Aids researcher Professor Joep Lange, who had worked with CHAI and was among the six conference delegates killed on MH17.
"He and the five other colleagues we lost, lived lives which are overpowering in their contribution to a shared future," Mr Clinton said. "Those who shot them down represent the other side in our struggle to define the terms of our interdependence."
Register for free to continue reading
Registration is a free and easy way to support our truly independent journalism
By registering, you will also enjoy limited access to Premium articles, exclusive newsletters, commenting, and virtual events with our leading journalists
Already have an account? sign in
Join our new commenting forum
Join thought-provoking conversations, follow other Independent readers and see their replies