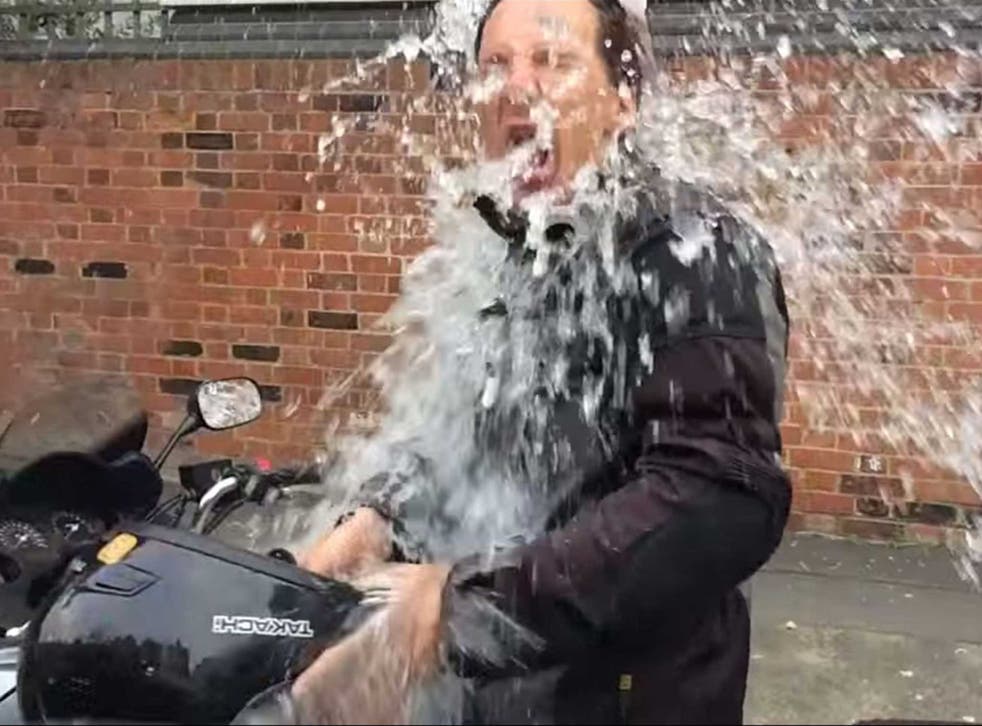 ALS Ice Bucket Challenge: Charities battle for ice bucket rights
Attempts in the US to trademark the fundraising stunt have caused a storm of protest
If you haven't yet taken the ice bucket challenge, the chances are the dreaded nomination is creeping ever closer through social media as, one by one, distant acquaintances and friends succumb.
However, the American medical charity behind the craze, the ALS Association (Alsa), has angered rivals by attempting to trademark the fundraising gimmick – the idea of someone dumping a bucket of freezing water and ice over their head – and is under pressure to say what it will do with the vast amount of money it has raised.
Alsa funds research into amyotrophic lateral sclerosis (ALS), known as motor neurone disease in the UK, and its income has risen from $24m (£15m) for the whole of last year to more than $100m in the past four weeks alone.
In pictures: The famous do the ice bucket challenge

Show all 17
But its attempt to commercialise the phrase "ice bucket challenge" – it lodged a trademark application with the United States Patent office last week – may have backfired. Others in the charity community are now demanding to know how the new money will be spent.
A lawyer for a leading US charity, who asked not to be named, said: "Alsa tried to freeze us out and make a fortune out of an idea that will become as commonplace as a fun run or a charity cycle. So naturally there's a bit of pay-back. They've brought this attention on themselves."
Alsa said the flood of "ice bucket" money would not be held back "for a rainy day" or put into a long-term endowment fund. It pledged it would be spent on research into ALS – commonly known in the US as Lou Gehrig's disease after the baseball player who revealed in 1939 that he was suffering from the disease.
Last year, Alsa spent 18 per cent of its revenue on administration and other fundraising costs. A statement of its "functional expenses" lodged with the Harrington Group of accountants stated that salaries, research, travel, conference fees and equipment purchases were among the $3.6m it spent from its donations. It remains to be seen how much the expenses bill will rise, if at all, as a result of the extra donations.
What began on US TV channels, focusing mainly on sports stars, quickly spread to everyone from the former US president George W Bush and Scotland's First Minister, Alex Salmond, to the singer Kylie Minogue, the actor Benedict Cumberbatch and the model Kate Moss. Barack Obama and David Cameron have been challenged but have so far refused, although both made donations.
However, the attempt to trademark the stunt hit a sour note even though two applications filed to protect the phrase "ice bucket challenge" were quickly withdrawn.
The US charity community – and its legal advisers – complained that if the patent application was successful, other charities who attempted to hold similar events would have had to pay Alsa a percentage of any money they raised.
They also pointed out that fundraisers involving a "cold water challenge" and other ice plunges had taken place in New Zealand and in the US before Alsa's campaign went viral this summer.
One legal argument sent to the US Patent Office pointed out that almost three quarters of all charity fund-raisers in the US and in other Western countries, involved running but no one had tried to own the phrases "fun run" or "charity run".
The UK equivalent of Alsa, the Motor Neurone Disease Association, defended the US association and criticised the Macmillan Cancer Support charity for announcing its own ice bucket challenge event. MNDA supporters accused Macmillan of attempting to hijack a successful fundraising idea, saying it would dilute the overall attempt to increase awareness of MND.
After the deluge...
How charities are competing with the ice bucket challenge:
* Macmillan Cancer Support is challenging men and women to "Shave or Style" their hair and donate £3 by texting STYLE to 70550
* For the testicular cancer charity Check One Two you can take a compromising or funny picture of yourself on social media and send the picture to #FeelingNuts
* For the 12th year in a row, Japanese porn stars are offering their services in conjunction with The Japan Foundation for Aids Prevention. Nicknamed "Boob Aid", donations are made in exchange for fondling the models' breasts.
Join our new commenting forum
Join thought-provoking conversations, follow other Independent readers and see their replies