The Independent's journalism is supported by our readers. When you purchase through links on our site, we may earn commission.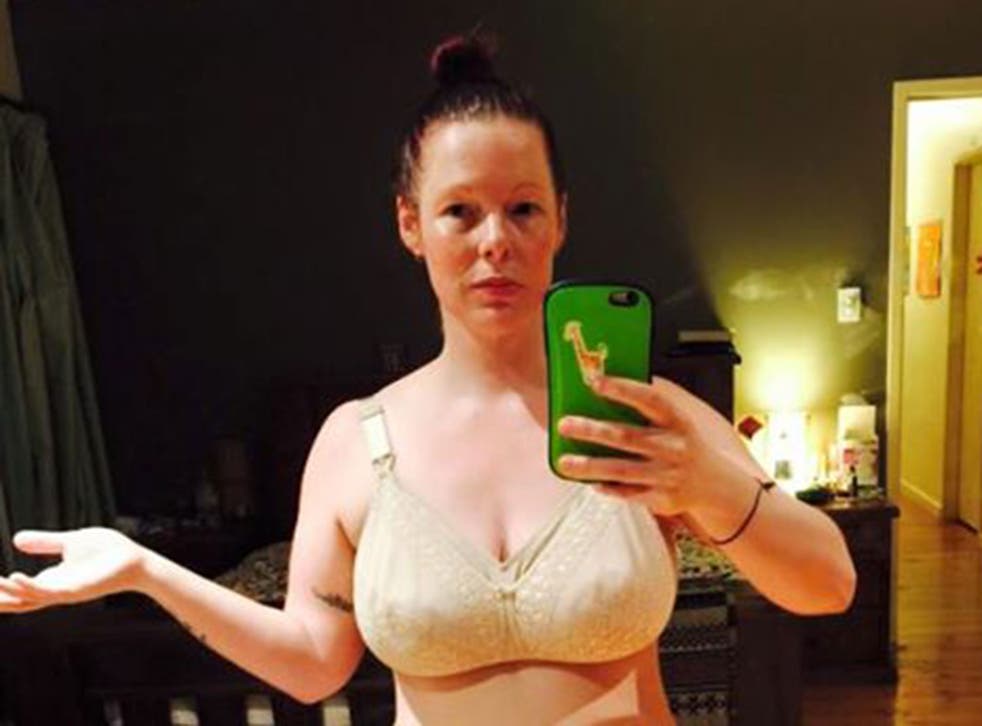 #BadAssUndies: New mother poses in underwear in Facebook photo to silence body shamers
"This movement isn't just about mothers or even women in general. It is about everyone."
New mother Mel Rymill was infuriated when her personal trainer assumed she wanted to return to her "post-baby body" during their first session together.
So, she responded by sharing a photo of herself in her nursing bra and "nana" underpants on Facebook, alongside the hashtag "#badassundies#, to prove that women should not be ashamed of their bodies.
Recalling the incident in the post, she wrote that her personal trainer had told her: "'Obviously you want to get back to your pre-baby weight'."
"It wasn't a question, it was a statement.
"I corrected her nicely by simply saying "my goal is to regain my core strength and endurance...I'm not worried by how my body looks, only how it functions...it can be pretty badass".
The most important plus-size moments in fashion

Show all 12
Ms Rymill wrote that he was angered that the trainer was more concerned with her appearance than her health.
She went on to protest against the unrealistic expectations placed on women to be conventionally attractive, and argued that new mothers are pressured to quickly slim down, while thinner women are both envied for their figures and shamed for "apparently starving themselves."
"Voluptuous women are either labelled fat and shamed or they're labelled brave for being comfortable in their own skin. There is always pressure."
She went on: "Constantly labelling people and piling expectations associated with these labels on them is harmful to everyone...including those doing the labelling."
"What we should be worrying about is if people are ok, not what they look like."
Alongside the photo of her standing in her underwear, she wrote: "So here I am. I may not be magazine ready, my nana undies and bedtime nursing bra are certainly not going to be rocking a runway anytime soon, my hair is greasy, I have no makeup on, my body is squishy and plentiful, I'm not even sure I'm totally ok.
"But I am strong. My body is healthy. Hell, I am badass as f**k! Screw what society wants from me. This is what's on offer."
She then invited other women to join her in her crusade against body-shaming.
The passionate status was shared over 6,000 times in seven hours, and Facebook users praised Ms Rymill.
"Oh hell yes!! Go get a different PT, she already doesnt have the right frame of mind to train you," wrote one user.
Another said: "I love you Melsie... every single amazing bit!!!"
Ms Rymill told The Independent that she the response to her photo has been "overwhelming."
"So many people from around the world are jumping on board and I've had people saying how strong and empowered they feel from the post as well as people thanking me for helping them to understand their partners better.
She went on to urge people to "start being kidner to themselves and others".
"This movement isn't just about mothers or even women in general. It is about everyone. It's not about whether you are big, small, lumpy, cuddly, boney, shaped like a dodecahedron, a man, a woman, anywhere on the gender scale or anything else you can think of. #Badassundies is about reclaiming the world we live in and flooding it with real bodies, no, real people.
"Because we are more than what society thinks of our meat suits."
Ms Rymill is the latest person to use social media to raise awareness about the reality of women's bodies which are not always represented in by mainstream media including films, advertising and publications.
A breast cancer patient recently shared graphic image of her inflamed-looking breast after a radiation treatment in protest against the sexualisation of the disease.
"Here's your f****** breast cancer awareness", wrote Jenn Alter, from Saint Louis Missouri.
Register for free to continue reading
Registration is a free and easy way to support our truly independent journalism
By registering, you will also enjoy limited access to Premium articles, exclusive newsletters, commenting, and virtual events with our leading journalists
Already have an account? sign in
Register for free to continue reading
Registration is a free and easy way to support our truly independent journalism
By registering, you will also enjoy limited access to Premium articles, exclusive newsletters, commenting, and virtual events with our leading journalists
Already have an account? sign in
Join our new commenting forum
Join thought-provoking conversations, follow other Independent readers and see their replies