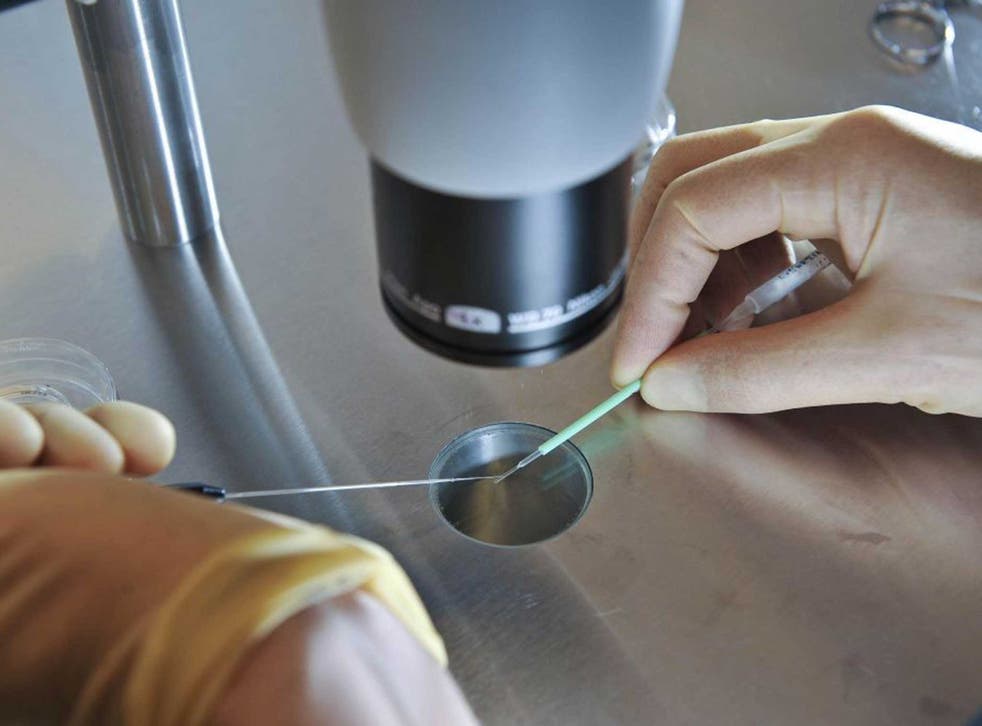 Beware the surrogacy 'cowboys': Would-be parents using clinics abroad warned of deception and malpractice
Childless Britons trying to have babies via surrogate mothers overseas risk being conned by cowboy fertility clinics, the Government has warned. The new guidance from the Foreign and Commonwealth Office (FCO) comes as record numbers of children are being conceived through surrogacy – many for people willing to pay handsomely to go abroad and so escape the restrictions on surrogacy in Britain.
The number of babies registered in Britain after being born to a surrogate parent has risen dramatically. Last year, 167 babies were registered as born to a surrogate parent, up from 47 in 2007, according to the Children and Family Court Advisory and Support Service.
Surrogacy involves a third party giving birth to a baby conceived with either one or both parents' genetic material. The new guidance states: "Several cases have come to light where there is no genetic link between the intended parents and the child born through a surrogacy arrangement."
And Britons also face fraud in the form of faked documents used by some clinics: "Please be aware that some foreign clinics and individuals have in the past provided fraudulent documents for the surrogate mother." Officials stress that people should make sure they work with "a reputable clinic which can satisfy you at an early stage that the child is genetically linked to you".
Laws on surrogacy vary widely around the world. In Britain it is legal only if done for "altruistic" motives, and only "reasonable expenses" are allowed to be paid. But in other countries it is a booming business. Yet while prospective parents may be able to get a baby abroad, they may not be able to leave the country or allowed to enter Britain with the child unless they have the correct paperwork. The process can be a legal minefield involving long and expensive delays.
In a statement, an FCO spokesperson said: "British embassies and high commissions are dealing with an increasing number of people who are choosing international surrogacy as an alternative route to parenthood." It warns that people need to be "fully aware" of what they are getting into "before starting".
Barrie Drewitt-Barlow, director of social work at the British Surrogacy Centre, has come across cases where people have discovered that their baby is not biologically related to them but have "not told anyone else for fear that the baby may be taken away from them".
There are also examples where people conspire to buy someone else's baby, and "all agree to say it was a surrogacy and that the girl is not the biological mother". Some clinics use embryos left over from other couples' cycles to save costs and discard sperm samples from the intended parents, he claimed.
This results in "a baby with no genetic connection to the intended parents the baby goes home with. This also means that another couple, somewhere in the world, who might have had a failed IVF treatment, actually has a child in another country that is biologically theirs, but living with another couple."
British surrogacy law needs to be "brought up to date with not just the growing demand for surrogacy but also to enable professional regulation," according to Helen Prosser, of surrogate agency Brilliant Beginnings. "With a proper structure and legal framework, like the kind of regulation we have in place for egg donation, more UK surrogates would be encouraged to come forward and fewer parents would need to go abroad," she added.
Register for free to continue reading
Registration is a free and easy way to support our truly independent journalism
By registering, you will also enjoy limited access to Premium articles, exclusive newsletters, commenting, and virtual events with our leading journalists
Already have an account? sign in
Join our new commenting forum
Join thought-provoking conversations, follow other Independent readers and see their replies