Binge drinking in decline among young adults
In general, more adults are choosing to drink less or be teetotal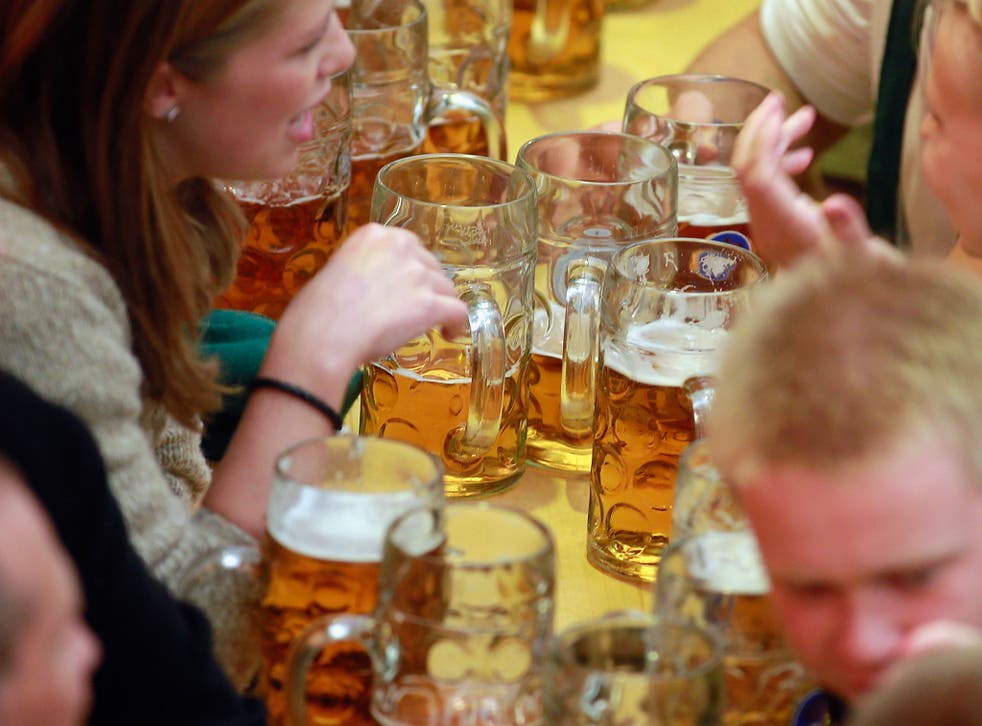 The nation's attitude towards drinking may be changing, as young people turning away from binging and adults consume less alcohol in general.
Over one fifth of adults have cut alcohol out of their diets - up from 19 per cent in 2005, according to data from the Office for National Statistics (ONS).
Binge drinking, defined as regularly consuming more than three to four units of alcohol for men and two to three units for women, has also fallen in the past decade, from 18 per cent to 15 per cent.
The ONS said the fall in binge drinking was due to a combination of adults either drinking less or choosing not to drink at all.
The data also showed that more young people aged between 16 and 24 are opting to be teetotal, rising from 19 per cent in 2005, to 27 per cent in 2013.
The drops in drinking between 2005 and 2013 "were a result of changes among younger adults, with little or no change in older groups", the ONS report said.
In pictures: Top 10 world's heaviest drinking countries

Show all 10
The data also revealed that women who live with dependent children are the most likely to be teetotal and least likely to binge-drink, while men who do not live with children are least likely to avoid drinking and most likely to binge.
When geographical location was considered, researchers found that more teetotallers live in London than anywhere else in England and Wales, compared with 15 per cent in the south west of England.
Meanwhile, 36 per cent of participants in Scotland and north east England admitted to binge-drinking in the week before they took part in the survey – more than in any other region.
But in the East of England, the South East, and West Midlands, 22 per cent of those polled said they had exceeded the Government's drinking guidelines.
The ONS said it was difficult to pinpoint what caused regional differences.
The figures have been welcomed by health officials and those within the alcohol industry.
A Department of Health spokesman said: "It is extremely pleasing to see that the number of people binge drinking continues to go down, and it is particularly good to see that young people are drinking less, and hopefully getting into healthier drinking habits for life."
A spokesman for the Portman Group, which represents alcohol producers, said it welcomed news that binge drinking is in decline, particularly among young people.
He went on to cite statistics published last week which show a decline in alcohol-related violent crime.
"These positive trends are part of a decade-long culture change around our improving relationship with alcohol in this country.
"But alcohol-related harms still remain and some local areas suffer much more than others. The best way to support these communities is to get local businesses, police, local authorities and health services working together to improve town centres, tackle harmful drinking and make our high streets safer places to enjoy."
The figures come after ONS analysis of crime figures yesterday showed a reduction in alcohol-related violence.
Additional reporting by PA
Register for free to continue reading
Registration is a free and easy way to support our truly independent journalism
By registering, you will also enjoy limited access to Premium articles, exclusive newsletters, commenting, and virtual events with our leading journalists
Already have an account? sign in
Register for free to continue reading
Registration is a free and easy way to support our truly independent journalism
By registering, you will also enjoy limited access to Premium articles, exclusive newsletters, commenting, and virtual events with our leading journalists
Already have an account? sign in
Join our new commenting forum
Join thought-provoking conversations, follow other Independent readers and see their replies