Binge drinking in early pregnancy raises risks
Damage may be done in first three months, new research finds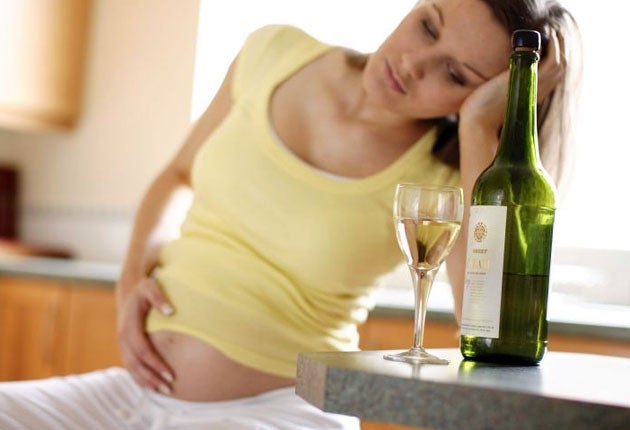 Women who binge drink for the first three months of pregnancy have probably left it too late to benefit from giving up, research published today suggests.
The controversial finding comes from a study which indicates that the damaging effect of alcohol on pregnancy occurs during the first trimester, and cannot be reversed by stopping at that point.
Heavy drinking during the first three months increases the risk of a premature baby – and stopping can trigger a response which results in pre-term birth. But the risk remains even among those who give up drinking until their baby is born.
The results will add to confusion over safe levels of drinking during pregnancy. The National Institute for Clinical Excellence said in guidance issued in March 2007 that the first three months of pregnancy should be teetotal but one to two drinks a day was safe thereafter. That clashed with earlier advice from the Department of Health which said there is no safe limit throughout pregnancy.
Experts disagree over the issue, with some saying there is no proof light drinking harms the baby, while others believe evidence is inconclusive. The new study was led by the University of Oxford and the University of Western Australia and conducted on 4,700 women in Western Australia who had babies between 1995 and 1997.
Researchers found women involved in binge drinking or drinking moderately to heavily in the first trimester faced more than twice the risk of a premature birth, even if they gave up drinking for the rest of the pregnancy.
Stopping heavy drinking in mid-pregnancy may trigger a "metabolic or inflammatory response" which results in pre-term birth, the researchers suggest. As many women may not realise they are pregnant for several months into their pregnancy, it could be too late for them to avoid the damaging consequences of binge drinking incurred in the early months.
The findings, published in the British Journal of Obstetrics and Gynaecology, reinforce the advice for women who think they may be pregnant or are trying for a baby to abstain from drink or drink in moderation. There remains no evidence of an increased risk of premature birth at low levels of alcohol consumption.
Colleen O'Leary, who led the study, said: "Our research shows pregnant women who drink more than one to two standard drinks per occasion and more than six standard drinks per week increase their risk of having a premature baby, even if they stop drinking before the second trimester. The highest risk is for women who drink heavily or at binge levels – seven standard drinks a week or five drinks per occasion."
A standard drink in Australia is 10g of alcohol. In the UK one unit of alcohol – equivalent to half a pint of beer, a small glass of wine or single measure of spirits – is 8g. Professor Philip Steer, editor of the BJOG, said women who drink small amounts should not be alarmed but the findings on binge drinking are "sobering".
"The damage is already done in the first three months. You can't 'catch up' by stopping drinking in the later months. But if you are a normal person who drinks sensibly at low levels, there's no evidence it will harm the baby," he said. Andrew Shennan, professor of obstetrics for the charity Tommy's, said: "More research needs to be done to ascertain the true extent of the risk posed by drinking alcohol during pregnancy.
"This is a controversial area with many conflicting results and recommendations about what is deemed a 'safe' level of alcohol consumption.
"While these results suggest high levels of alcohol consumption do increase the risk of pre-term delivery or small-for-gestational-age, it must be taken into consideration that there is widespread misunderstanding about what constitutes a small amount (eg one to two units of alcohol), so many women choose to drink no alcohol as this means no risk."
*Wetherspoons, the pub chain, reported a sales leap of 6.4 per cent in the past fortnight after introducing a 99p pint of beer – not seen in the UK for 20 years. This compares with a 2.6 per cent sales rise in the 12 weeks to 18 January. The chain is offering a pint of Greene King IPA or a bottle of San Miguel lager for less than £1, a price last matched in 1989. Wetherspoons which has 714 pubs across the UK, said it would "reduce substantially" its spending on opening new pubs.
Join our commenting forum
Join thought-provoking conversations, follow other Independent readers and see their replies