Breakfast high in protein linked to weight loss, study finds
Food high in whey protein kept study participants fuller for longer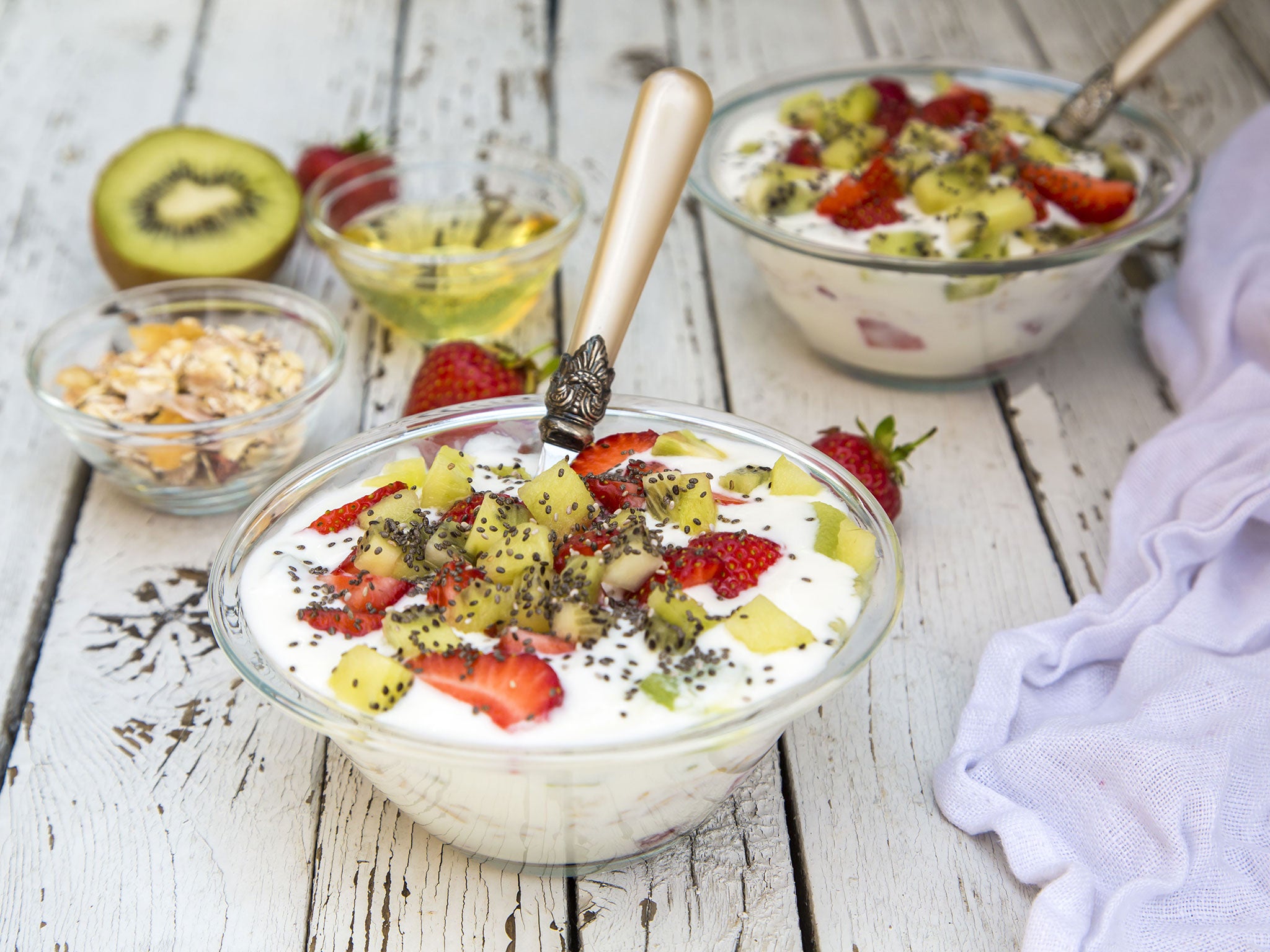 A diet high in a protein found in dairy products can aid weight loss and help to manage type 2 diabetes, a new study has found.
Previous research has suggested that eating a large breakfast containing protein, a medium-sized lunch and a smaller dinner can help a person to feel satisfied throughout the day, aid weight loss, and prevent spikes in blood sugar.
However, scientists believe that the type of protein consumed at breakfast is also important.
A study by a team at Tel Aviv University found that whey, which is a by-product of cheese production and found in many dairy products, was more effective at controlling blood sugar than other sources of protein such as eggs, soy or tuna.
In a study involving 48 overweight or obese people with type 2 diabetes and an average age of 59, researchers assigned participants to one of three diets that contained the same number of calories for 23 months.
The first group ate a breakfast containing mainly whey protein, including protein shakes, while the second group consumed other proteins such as eggs, soy and tuna. The third group ate a breakfast high in carbohydrates.
The researchers re-assessed the groups after 12 weeks, and found that those who ate whey protein had lost 7.6kg, while the 'other protein' group shed to 6.1kg and the carbohydrate group were 3.1kg lighter.
Dr Daniela Jakubowicz, professor of medicine at Tel Aviv University, explained: "The whey protein diet significantly suppresses the hunger hormone 'ghrelin'.
"A whey protein drink is easily prepared and provides the advantages [conferred by] a high-protein breakfast on weight loss, reduction of hunger, glucose spikes and HbA1c [glycated haemoglobin, high levels of which are linked to diabetes]."
Obesity is biggest threat
Emma Stevenson, a professor of sport and exercise science at Newcastle University, who was not part of the study, said it highlighted the lesser-known fact that different types of protein are more satiating.
But she said that breakfast was often the meal with the lowest protein in the UK, despite other studies also showing health benefits.
"Replacing refined carbohydrates with protein sources at breakfast can help control appetite and blood sugar levels later in the day and sources of whey protein such as milk and yoghurt are certainly a good choice," she said.
Six healthy breakfast recipes to try
Show all 6
Chloe Miles, a British Dietetic Association spokesperson, agreed that protein was proven to help with weight maintenance, and said it was important to include it in every meal.
However, she added: "This particular study has quite a small sample size, and uses overweight and obese people with an average age of 59 years old with type 2 diabetes, so the results may not apply to younger people with a healthy body weight without diabetes; further research would be needed."
She also said it would be wiser to consume whey protein in food rather than in powder form, which can be expensive and contain other ingredients.
"As 20 per cent of the proteins in milk and its products are whey, you could include milk or yoghurt in your breakfast, which would have the added benefit of providing calcium for healthy bones," Ms Miles said.
"Making sure that you don't skip breakfast is important to maintain a healthy body weight and for overall diet quality. I'd encourage people to think about their diet as a whole, and remember that total energy intake is important, rather than thinking that whey alone is going to help them lose weight.'
Join our commenting forum
Join thought-provoking conversations, follow other Independent readers and see their replies