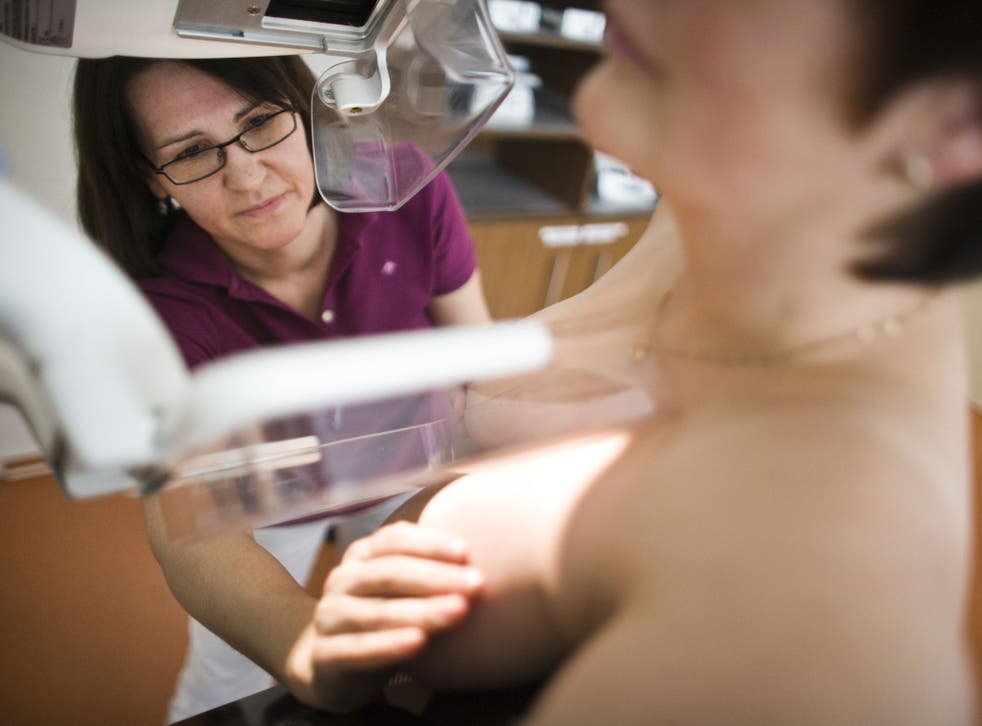 'Extremely concerning' number of doctors unaware of life-saving breast cancer drug
When taken daily for five years, studies show tamoxifen can cut breast cancer risk by a third
Katie Forster
Tuesday 14 February 2017 13:12 Comments
A drug that can help prevent breast cancer is not being offered to enough women who are at risk of developing the disease, campaigners have said.
Only around half of GPs know tamoxifen can reduce the risk of breast cancer, a new study found – a figure described as "worrying" by a leading charity.
When taken daily for five years, studies have shown the drug can cut breast cancer risk by around a third, according to the National Institute for Health and Care Excellence (Nice).
Since 2013, Nice has recommended women with a family history of breast cancer are offered chemoprevention drugs, including tamoxifen, on the NHS.
But Baroness Delyth Morgan, chief executive at Breast Cancer Now, said it was "extremely concerning that many women at an increased risk of breast cancer are still not being offered the choice of taking tamoxifen to reduce their risk".
"Nice's 2013 guideline recommended that it be offered to all women at medium and high risk of the disease. But unfortunately this is largely not being adhered to, with many GPs lacking confidence in discussing the option with patients and a worrying number not even being aware of it," she said.
"Given the current debate on the increasing patient demand on the NHS, it is essential that we make the most of low-cost preventive measures such as tamoxifen."
Widower makes NHS trust apologise after wife's missed cancer diagnosis
The study, published in the British Journal of General Practice, found that three quarters of GPs were not aware of the Nice guidelines.
Researchers presented respondents with a series of scenarios where a healthy patient was seeking a tamoxifen prescription.
They found just 51.7 per cent of the GPs knew the drug can reduce breast cancer risk, while only 24.1 per cent said they were aware of the relevant professional advice.
The authors, who assessed online responses from 928 family doctors from England, Northern Ireland and Wales, found that GPs are more comfortable in discussing, and more willing to prescribe or recommend these drugs, if supported by hospital doctors.
"This study highlights that greater support needs to be offered to GPs in prescribing off-patent drugs in new uses," said Baroness Morgan.
"Ultimately, while not all women will want to take tamoxifen as it has side-effects as well as benefits, it's imperative that they are offered the choice and given all the information they need to make an informed decision."
The Department of Health has said it plans to cut the cost of generic drugs after it was revealed the price of tamoxifen and other cancer drugs such as busulfan have risen sharply in the past five years.
Despite no longer being under patent, European Cancer Congress research found they are now 10 times more expensive, the BBC reported.
Breast cancer survivor gets double-mastectomy tattoos

Show all 6
According to researchers, tamoxifen cost 10p per tablet in 2011, and by 2016 this had risen to £1.21, due to price hikes by the companies who had taken over the supply of the medicines when their patent expired.
NHS negotiations with drug companies were failing to curb rising costs, they said.
The latest tamoxifen study forms part of a new report into cancer-preventing drugs by Cancer Research UK, who also called for better support for GPs.
The report highlights that 73 per cent of GPs know that aspirin could reduce the risk of bowel cancers in people who are not at high risk.
And among GPs who had heard of Lynch syndrome – a genetic condition which can increase a person's risk of bowel cancer, cancer of the womb and some other cancers – just under half knew that aspirin could reduce the risk of cancers linked to it.
The report makes a number of recommendations to ensure cancer-preventing drugs are routinely discussed with and offered to patients who may benefit.
Report author Dr Samuel Smith, a Cancer Research UK fellow at the University of Leeds, said: "Our report helps us to understand GP attitudes towards the use of cancer-preventing drugs.
"It's clear that more needs to be done to promote the evidence and guidance associated with these drugs, particularly as research reveals GPs are lacking the support to discuss effectively the risks and benefits of preventive therapy."
NHS Digital data shows there were 662,264 prescriptions dispensed for tamoxifen in 2015.
Additional reporting from Press Association
Register for free to continue reading
Registration is a free and easy way to support our truly independent journalism
By registering, you will also enjoy limited access to Premium articles, exclusive newsletters, commenting, and virtual events with our leading journalists
Already have an account? sign in
Join our new commenting forum
Join thought-provoking conversations, follow other Independent readers and see their replies