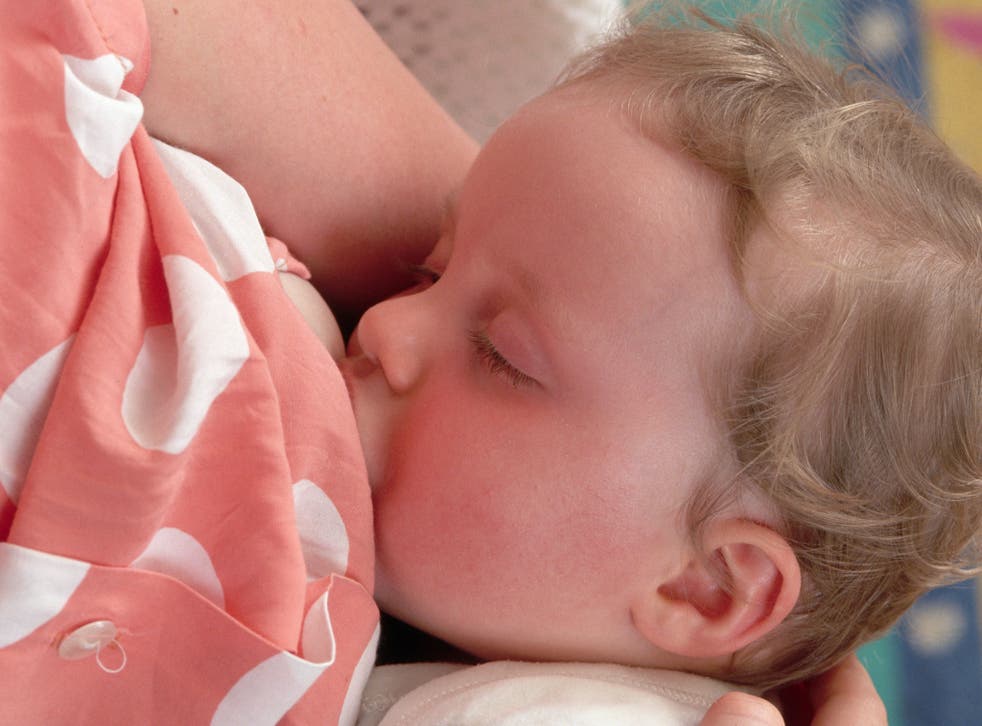 Breastfeeding could prevent 800,000 child deaths worldwide, new study finds
It is also linked to cutting cancer risk for mothers 
Kashmira Gander
Friday 29 January 2016 11:58 Comments
More than 800,000 children could be prevented from dying worldwide if more women breastfed, a new study has suggested.
The method could also prevent an extra 22,000 deaths from breast cancer a year, according to a report published in 'The Lancet' medical journal.
However, the study highlighted that many women do not breastfeed due to a combination of government policies, weak community support and the tactics of the formula milk industry.
Researchers made their findings by analysing 28 previous studies which showed that breastfeeding has a positive effect on both a mother and her child's life.
Breastfeeding was linked to increased intelligence, and protection against obesity and diabetes later in life.
But researchers warned that despite the positive effects, breastfeeding rates are low – particularly in high-income countries.
The study showed that while 80 per cent of newborns are breastfed worldwide, the figure drops to 37 per cent in low and middle-income nations.
The situation is worse in high-income nations. Fewer than 1 per cent of babies were breastfed up to their first birthday in the UK, while the figure in Ireland was 2 per cent. In Denmark, only 3 per cent of women did so.
Dr Nigel Rollins of the World Health Organisation (WHO), who co-authored the research, stressed that the responsibility to breastfeed should not lie solely with the woman.
"Her ability to breastfeed is very much shaped by the support and the environment in which she lives. There is a broader responsibility of governments and society to support women through policies and programmes in the community," The Guardian.
Breastfeeding in public controversies

Show all 11
Categorising the results according to a nation's economic status, researchers found that breastfeeding in high-income countries slashed the risk of sudden infant death by more than a third.
Meanwhile, it halved all infant cases of diarrhoea and a third of lung infections in low and middle-income nations.
Lead researcher Professor Cesar Victora, from the Federal University of Pelotas in Brazil, said that the evidence "leaves no doubt that the decision to breastfeed has major long-term negative effects on the health, nutrition and development of children and on women's health."
He added: "There is a widespread misconception that breast milk can be replaced with artificial products without detrimental consequences."
Janet Fyle, from the Royal College of Midwives, said the report "underpins and reinforces why breastfeeding is the most appropriate method of providing nutrition for a baby."
However, women who cannot breastfeed or choose not to must not be made to feel guilty, the National Childbirth Trust told The Independent and stressed that mothers need better support.
Responding to the study, senior policy adviser, NCT, Rosemary Dodds said: "Parents need support whatever their feeding decisions and mothers should not be judged or made to feel guilty however they decide to feed their baby.
"Some women don't find breastfeeding easy, a small minority can't and others don't want to breastfeed their baby which is entirely up to them.
"However we know that in the UK, 80 per cent of mums who stopped breastfeeding in the first few weeks would have liked to continue, but needed more support.
"If mums are given good information and practical help to build confidence during pregnancy and they have the support they need around them in the early days and weeks, then many more will go on to breastfeed for as long as they want."
Register for free to continue reading
Registration is a free and easy way to support our truly independent journalism
By registering, you will also enjoy limited access to Premium articles, exclusive newsletters, commenting, and virtual events with our leading journalists
Already have an account? sign in
Join our new commenting forum
Join thought-provoking conversations, follow other Independent readers and see their replies