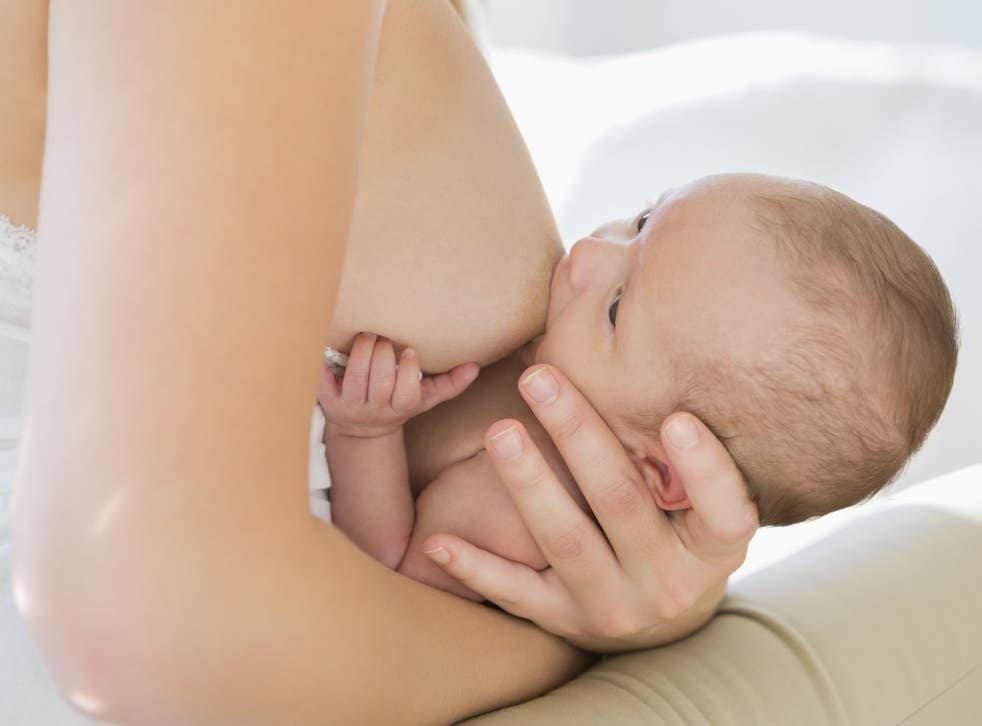 Breastfeeding might reduce women's risk of Alzheimer's disease, suggests study
Figures suggest the longer a woman spends breastfeeding, the lower the overall risk becomes
Mothers who breastfeed may have a decreased risk of Alzheimer's disease in later life, according to the results of a pilot study that marks a new frontier for research into the most common form of dementia.
Certain biological effects of breastfeeding, such as its action in restoring women's glucose tolerance after pregnancy and rebalancing the levels of important hormones in the body, may well play a part in protecting the brain against the onset of the disease, scientists from Cambridge University said.
Although the researchers urged caution, pointing out that their study was only a pilot and looked at just 81 women, the link they observed between breastfeeding and reduced Alzheimer's risk was "highly significant and consistent". The longer a woman spent breastfeeding, the lower the overall risk became, their figures suggested.
Breastfeeding has been associated with numerous health benefits for mother and child, and previous research has shown there may be a link to women's cognitive health in later life.
Scientists behind the study said the findings could herald a new approach in fighting the global Alzheimer's epidemic, and could have a major impact in developing countries where cheap preventative measures were urgently needed.
"Alzheimer's is the world's most common cognitive disorder and it already affects 35.6 million people," said Dr Molly Fox, who led the study. "In the future, we expect it to spread most in low and middle-income countries. So it is vital that we develop low-cost, large-scale strategies to protect people against this devastating disease."
Dr Fox and her colleagues suggested that the link may be down to breastfeeding's action in restoring insulin sensitivity and glucose tolerance, which is significantly reduced during pregnancy. Alzheimer's is characterised by a resistance to insulin in the brain – and therefore glucose intolerance.
Breastfeeding also reduces levels of the hormone progesterone, which build ups up during pregnancy. Progesterone is to desensitise the proteins in the brain that react to oestrogen – another hormone which scientists believe may play a role in protecting the brain against Alzheimer's.
The researchers interviewed 81 British women aged between 70 and 100, in a sample which included women with and without Alzheimer's. The team also spoke to relatives, spouses and carers. Through the interviews, information was collected on the women's reproductive history and breastfeeding history. Scientists took into account lifestyle factors and diseases that can contribute to Alzheimer's risk.
The impact of breastfeeding on reducing Alzheimer's risk was, however, almost non-existent in women who had a parent or sibling with the disease.
Dr Fox told The Independent that a similar study, conducted with a large sample of several thousand women in China, had found the opposite effect – that shorter times spent breastfeeding reduced dementia risks. Genetic and environmental factors might account for the differing results between the two studies, she said.
"That really highlights the fact there might be a relationship between breastfeeding physiology and cognitive health," she said. "More research should investigate that relationship. What's really important is to discern what is the physiological effect of breastfeeding that is having this impact decades down the road."
A spokesman for the Alzheimer's Society said: "This study is novel, and it's interesting to note that it found a consistent link between this feeding technique and Alzheimer's disease. However, it was a small study which doesn't explore why the two are associated. It is too premature to make recommendations for mothers regarding breast feeding and their risk of dementia."
Breast is best: The benefits
The NHS strongly recommends breastfeeding exclusively for the first six months of a baby's life, and combining breastfeeding with other food afterwards, for as long as mother and baby wish.
For babies, it reduces the risk of diarrhoea, infections, diabetes and eczema and there is increasing evidence it also aids cognitive and emotional development. For mothers, it can lower the risk of ovarian and breast cancers, and can help build a strong bond with a new-born baby.
Join our new commenting forum
Join thought-provoking conversations, follow other Independent readers and see their replies