Paralysed man Darek Fidyka walks again after treatment by British doctors on brink of 'cure' for paralysis
Sufferers can now be offered the possibility of cure thanks to a revolutionary implant of regenerative cells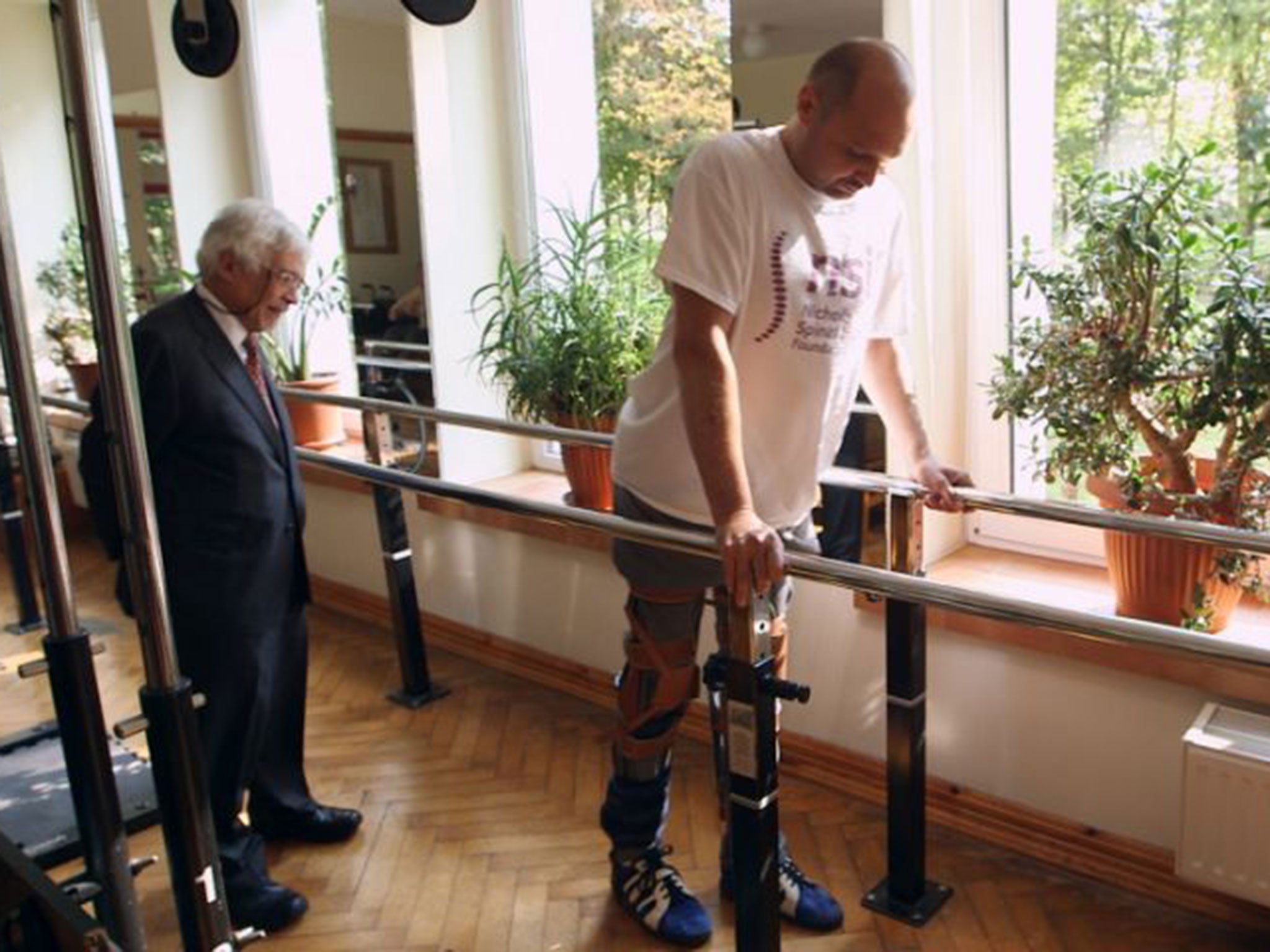 Millions of paralysis sufferers are today offered the possibility of a cure for the first time after a new technique pioneered by British doctors allowed a man with a severed spinal cord to recover the ability to walk.
A revolutionary implant of regenerative cells has knitted back together the spinal cord of a wheelchair-bound firefighter paralysed from the chest down in a knife attack, restoring sensation and muscle control to his legs.
The astonishing breakthrough by an Anglo-Polish medical team is the first ever instance where a complete spinal paralysis has been reversed and represents the potential conquering of one of the greatest challenges in medical science. If validated, it offers hope of a life-changing therapy to the 2.5m people paralysed by spinal injury in Britain and across the world.
The technique, developed by researchers at University College London and put into practice by surgeons in the Polish city of Wroclaw, uses specialist human cells which repair damage to nasal nerves to enable spinal nerve fibres to re-grow and bridge a severed cord.
In the first procedure of its kind anywhere in the world, doctors implanted harvested cells - known as olfactory ensheathing cells (OECs) - into an 8mm gap in the spinal cord of Darek Fidyka, a Bulgarian who was confined to a wheelchair in 2010 after an attacker stabbed him in the back, slicing cleanly through his spine. His doctors had given him a less than one per cent chance of even the slightest recovery.
But doctors report today that the OEC implants on the two "stumps" of the cord slowly restored the nerve fibre connections between both sides of the injury, returning feeling and then movement to Darek's legs. Some ten months after the surgery, the 40-year-old former part-time firefighter was able to walk with the aid of braces and a walking frame. He is now able to drive and live more independently.
Professor Geoffrey Raisman, the head of UCL's Institute of Neurology who conducted the groundbreaking research into OECs, told The Independent: "I believe this is the first time that a patient has been able to regenerate severed long spinal nerve fibres across an injury and resume movement and feeling.
"I believe we have now opened the door to a treatment of spinal cord injury which will get patients out of wheelchairs. Our goal is to develop this first procedure to a point where it can be rolled out as a worldwide general approach."
He added: "We believe that this procedure is the breakthrough which, as it is further developed, will result in a historic change in the currently hopeless outlook for people disabled by spinal cord injury."
The London team and their collaborators at Wroclaw Medical University now need to raise about £10m to fund surgery in Poland for a further group of around ten patients to test and refine the implant technique over the next five years. Researchers are also exploring the possibility of bringing the technique to a British specialist unit. A person in Britain suffers a serious spinal injury once every eight minutes.
Much of the OEC research and rehabilitation therapy for Darek funded by a British charity, the Nicholls Spinal Injury Foundation (nsif), set up by professional chef David Nicholls after his teenage son, Dan, suffered a catastrophic neck injury while on a gap year in Australia in 2003.
Mr Nicholls said: "I promised Dan that I would not give up until a cure had been found. This news brings us closer than I could have imagined - it is an incredibly important first step."
The discovery by Prof Raisman and his UCL team that OECs held in the olfactory bulb - the part of the brain that processes smell - could facilitate the connection of regenerated nerves elsewhere in the body opened the door to work by Polish neurosurgeon Dr Pawel Tabakow, who specialises in spinal injuries.
Working alongside the British researchers, Dr Tabakow developed the technique to implant cultured OECs harvested from a patient's own olfactory bulb - and another type of nasal cell known as a fibroblast - on the stumps of a severed spinal cord. A scaffolding of nerve tissue was taken from the ankle to join the two ends of the cord to encourage bridging by the cells.
Darek, who underwent the surgery in 2012, had previously shown no signs of improvement since he was attacked in Poland two years earlier and been told his chances of recovering any sensation or movement from the chest down were negligible. On the international scale of grading spinal injury, he had been given "A" - the most severe classification with a complete loss of motor and sensory control.
The first signs that the technique was reaping rewards came six months later when Darek reported pain from a small pressure sore on his right hip - the first time he had felt sensation in his lower body since his attack.
Around the same time he began to feel tension being applied to his leg muscles during his post-operative physiotherapy and the impossible dream of so many paralysis sufferers - the recovery of sensation and movement - began to seem real.
Within 19 months of the operation, Darek was able to tell the direction of movement of his feet in tests with up to 85 per cent accuracy and could discriminate between the movement of his toes and his whole foot.
Recounting the moment he found he could once more feel his lower body, Darek told a BBC Panorama documentary due to be screened tonight: "When it starts coming back, you feel as if you start living your life again, as if you are born again."
The results of the procedure are reported today in the specialist medical journal, Cell Transplantation.
Both the medical teams and independent experts underlined that the new technique has so far only been applied to a single patient and its near-miraculous effects need to be repeated with a larger group. They added that the mechanism by which the OECs repair nerve connections must also be better understood.
Professor John Sladek, a cell transplantation expert at the University of Colorado, said: "Determination of the precise mechanisms of action, repetition in more patients and more long-term follow up are all necessary to help validate whether this promising procedure is of clinical relevance."
But for people like David Nicholls, the sight of Darek walking across a bridge at his Polish clinic is grounds for optimism where for many decades there has been none.
He said: "This information is being made available to researchers around the world so that together we can fight to finally find a cure for this condition which robs people of their lives."
Join our commenting forum
Join thought-provoking conversations, follow other Independent readers and see their replies