Bunny Yoga: Exercise classes with rabbits raise awareness of abandoned animals
The classes have raised over $1000 for charity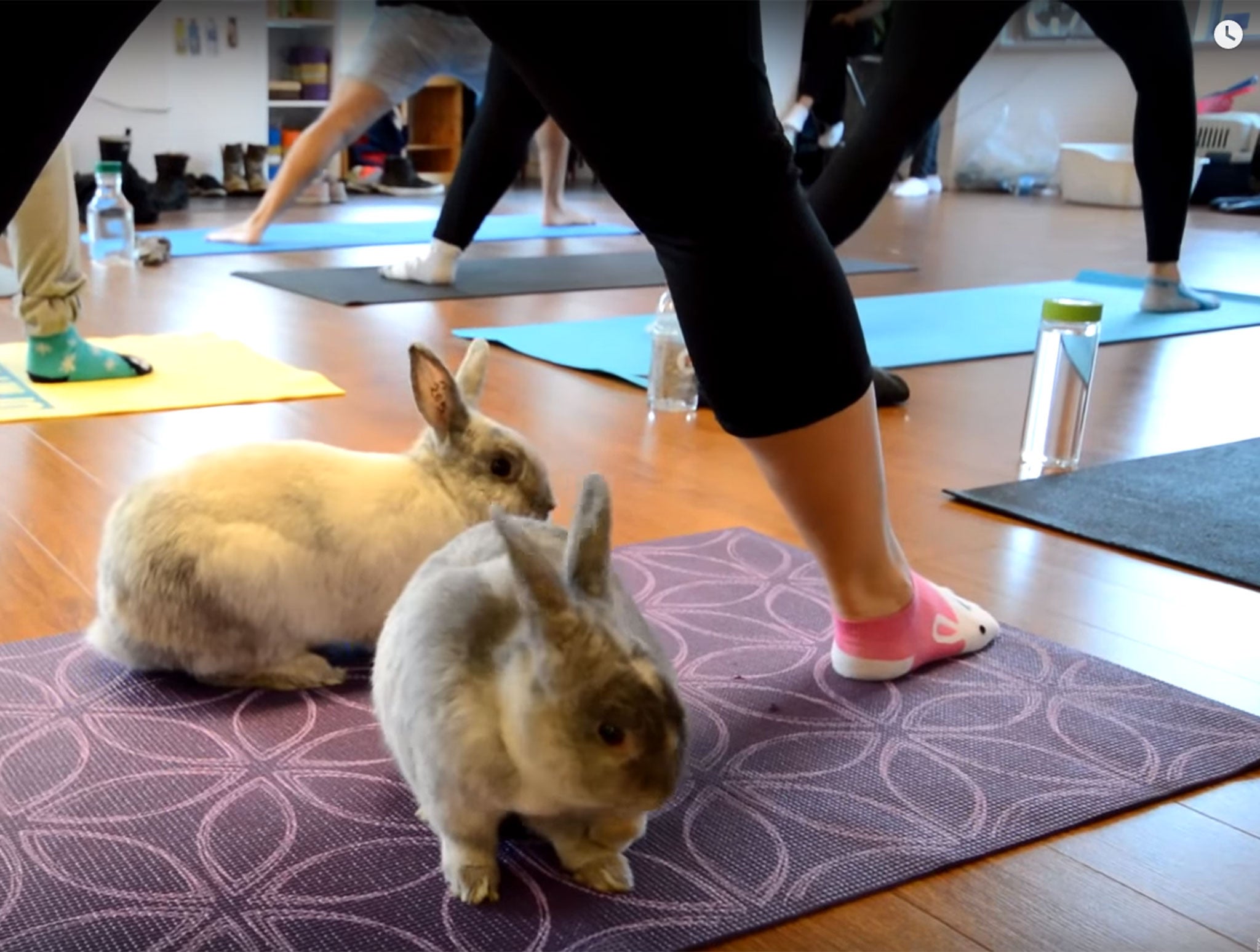 If your motivation to exercise begins to wilt by the end of January, would working out in the company of adorable bunny rabbits give you a boost?
Fortunately, this is exactly what one gym is offering its members. Unfortunately, Bunny Yoga is currently only available at one facility in Richmond, British Columbia in Canada – a city in the midst of a rabbit overpopulation crisis.
Sunberry Gym in the coastal city is holding the classes to raise money for an abandoned rabbit charity.
Pet rabbits in the city are abandoned in streets and parks across the city, according to the Bandaids for Bunnies webiste. As former house-pets, the creatures are unable to survive.
"They end up malnourished, injured, sick, hit by cars, and attacked/killed by predators, both animal and human. These rabbits need help," the website warns.
During the $20 classes, 27 class members must be particularly careful about where they put their feet as 10 rabbits hop around the room, under posing legs and arms.
How Much Energy You Need To Burn Off 8 Junk Foods - in pictures
Show all 8
The idea first came about as a joke between Sunberry Gym owner Julia Zu and one of her members Janet Keating, who is part of the Bandaids for Bunnies charity.
Holding their first classes in November 2015 and January 2016, the women hoped that classes would encourage people to adopt rescued rabbits and to raise awareness of the problems the creatures face in Richmond.
Ms Keating told Canada's Metro newspaper: "[The bunnies] made a lot of friends and we got a lot of interest in adoptions and fosters.
She added: "We take rabbits that we know are going to be a good experience for the class."
Ms Zu told Buzzfeed News that the rabbits linger by their cages at first, but soon become brave enough to explore the room.
"They like to choose their human. You'll have two or three girls in the room and the bunnies really like their mats," she said.
Class members who can't adopt pets because of rent rules also enjoy the experience, added Ms Keating.
After holding two classes, the charity has raised over $1,000.
The gym hopes to advertise another class for Eastertime.
Join our commenting forum
Join thought-provoking conversations, follow other Independent readers and see their replies