Cannabis linked to testicular cancer
Scientists find heavy use of marijuana can double risk of tumours among men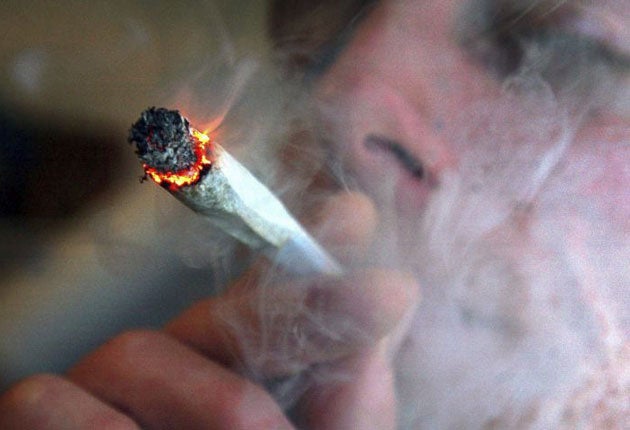 The soaring rate of testicular cancer in the UK and other Western countries is linked today to the increased popularity of cannabis. Testicular cancer has more than doubled over the past 30 years and its rise parallels that of the use of cannabis, Britain's most popular illegal drug.
Researchers in the US have found that men who regularly smoke cannabis have a 70 per cent increased risk of testicular cancer. The risk was highest – twice that of those who never used the drug – in those who smoked it at least once a week or had a long history of use, beginning in adolescence.
The study is based on findings from 369 men with testicular cancer who were questioned about their history of cannabis use. The results were compared with 979 men who did not have cancer. Cannabis was linked with testicular cancer independently of smoking, drinking and family history.
Experts from Cancer Research UK said it was the first time a link had been suggested and the size of the study was small. More than three million people smoke cannabis and only a tiny proportion develop the cancer.
The results, published today in the journal Cancer, showed a link between cannabis use and one type of testicular cancer, called nonseminoma, which is aggressive, tends to strike younger men and accounts for 40 per cent of testicular cancer.
Stephen Schwartz, an epidemiologist at the Fred Hutchinson Cancer Research Centre in Seattle, Washington, who led the research, said: "Our study is not the first to suggest that some aspect of a man's lifestyle or environment is a risk factor for testicular cancer but it is the first that has looked at marijuana use."
There were 2,109 cases of testicular cancer in Britain in 2005 and 78 deaths. In 1975 there were 850 cases. Unlike other cancers, it is most common in young men with a peak incidence between the ages of 20 and 40.
The more common, slower growing type, called seminoma, was not linked with cannabis use, even though both types have been growing by 3 to 6 per cent a year since the 1950s in the US, UK and other developed countries.
Although testicular cancer is normally curable when caught early, some patients are not diagnosed until the disease is advanced. Undescended testes in childhood and a family history of the disease are known to increase the risk.
The disease is thought to begin in the womb when germ cells in the foetus (those that will eventually make sperm in the adult) fail to develop properly. Exposure to male hormones in adolescence is thought to trigger development of cancer in the affected cells. Chronic cannabis use is known to reduce sperm quality and increase impotence, which are linked with testicular cancer.
The testes have receptors for tetrahydrocannabinol (THC), the main psychoactive ingredient in cannabis, and the male reproductive system is known to naturally produce a cannabinoid-like chemical that is thought to protect against the disease.
The researchers speculate that cannabis may interfere with this anti-tumour effect, increasing the risk of the cancer developing.
Janet Daling, a member of the research team, said: "It has been suggested that puberty is a window of opportunity during which lifestyle or environmental factors can increase the risk of testicular cancer. This is consistent with the study's findings that the elevated risk of nonseminoma-type testicular cancer in particular was associated with marijuana use prior to age 18."
Join our commenting forum
Join thought-provoking conversations, follow other Independent readers and see their replies