Care homes face crisis as CQC experts threaten mass walkout over pay cuts
Exclusive: Fears of exodus as outsourcing firm makes experts reapply for jobs on less than half their pay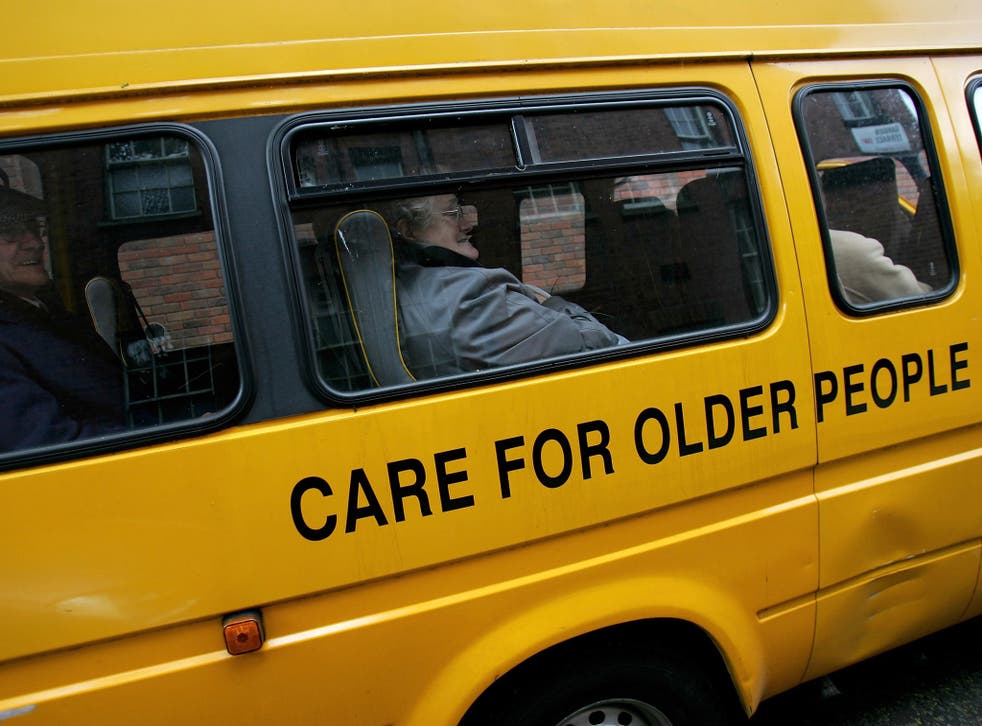 Hundreds of staff are on the brink of quitting the care home inspectorate after their roles were outsourced to a private firm – which is making them reapply for the jobs on less than half their pay.
The mass exodus of staff from the CQC threatens to undermine the health and social care regulator's ability to ensure elderly people are being properly looked after.
The Independent has been told that care home inspections are already being delayed because experts are refusing to work for £8.25 an hour.
From Monday the former government agency Remploy – now a for-profit company majority-owned by the US outsourcing giant Maximus – will be responsible for recruiting "Experts by Experience" on behalf of the CQC,
The experts – who are often people who have personal experience of care services – play a vital role in the inspection process. While CQC inspectors assess staff training files, check regulations and interview managers, the experts sit and chat with the residents and observe how they actually live. Their findings are often included in the inspection report.
The new experts will help carry out around 10,000 annual inspections across London, the South and North of England – three of the four contract regions which were previously managed by two charities, Choice Support and Age UK. Only central England will still be run by Choice Support.
Remploy wrote to experts this month telling them their pay would be halved from £17 an hour to the Living Wage of £8.25, or £9.40 in London. As casual staff on zero-hours contracts the experts cannot insist that their previous terms and conditions are maintained.
Remploy's "derisory" pay offer is outlined in a list of FAQs sent to experts this month and seen by The Independent. The Independent spoke to 10 Experts by Experience. They were frustrated and saddened that the role was being "devalued" by Remploy, a company they had no intention of working for. Many said most of their colleagues also planned to quit – indicating that hundreds of trained experts could be lost.
Enid Irving, in her late 70s, from Islington, north London, has a master's in gerontology from King's College, London, and had been going on inspections for several years.
"A lot of us [experts] are older so understand the problems older people have," she said. "You ask people about their food and see the menu, the entertainment, how they're cared for and what activities they're encouraged to do – and this varies enormously from home to home. How could a person on £8 an hour do that job? Age UK are good people. I've no idea who Remploy are."
Claire Bolderson, an expert who published a blog this week announcing she is quitting after two years in the role, said: "Big business has taken over our charity jobs. The elderly and vulnerable will suffer." She set up a Facebook group for aggrieved Age UK experts and conducted a survey of around 65 people to see if anyone was prepared to join Remploy. Almost 75 per cent said no.
"Who are Remploy going to get [to replace them] who will accept that kind of money? And of the people completely new that apply, with no experience, how will they get trained fast enough to begin inspections from Monday?" she said.
She added: "We've heard from CQC inspectors, who are also exasperated at the change, that they can't book any inspections for February because there aren't enough Experts by Experience yet."
John Godley, 65, from Leeds said: "I was disappointed when Remploy took over. My role was mainly inspecting elderly and dementia care homes. My father has been in and out of care homes and my mother had dementia so I wanted to give something back."
UK news in pictures

Show all 50
Heidi Alexander MP, Labour's Shadow Health Secretary, called on Jeremy Hunt to intervene and review the impact the decision could have on patient care.
She said: "Instead of slashing their pay, we should be encouraging people with real experience of our health and care service to get involved in inspections. Patients have a vital role to play in helping us to understand how well care is being delivered and where improvements need to be made. If Jeremy Hunt is serious about giving patients a voice in the NHS, then he shouldn't make them pay the price for his mishandling of NHS finances."
Remploy's chief executive, Beth Carruthers, has written to experts outlining a new "phased approach to arrangements" under the new contracts, which has been agreed with the CQC.
She promised experts who wish to continue with the programme under Remploy that they will be paid at an hourly rate of £15 for the first six months of the contract, dropping to £12.50 per hour for "at least the next six months".
The company would not confirm the long-term pay rate while the CQC said "contractual discussions" are still ongoing. A spokesman said the decision to award the new contract focused on increasing the numbers of experts as well as "maintaining the high-quality contribution the experts have provided to date, and ensuring that the programme provides value for money to the taxpayer".
Chris Day, CQC's director of engagement, said: "We have listened to the concerns that some experts have raised with us about the changes to their contracts – and although we do not set pay rates, we have tried to ensure as much protection as possible for existing experts.
"We hope the experts who currently work with us will continue to do so. Our increased investment in the programme demonstrates how much we value their involvement in our work and the expertise and experience they bring to our inspections, policies and training of our staff."
Register for free to continue reading
Registration is a free and easy way to support our truly independent journalism
By registering, you will also enjoy limited access to Premium articles, exclusive newsletters, commenting, and virtual events with our leading journalists
Already have an account? sign in
Register for free to continue reading
Registration is a free and easy way to support our truly independent journalism
By registering, you will also enjoy limited access to Premium articles, exclusive newsletters, commenting, and virtual events with our leading journalists
Already have an account? sign in