Change law on organ donation, doctors say
Radical solution to boost donors would compel everyone to make a choice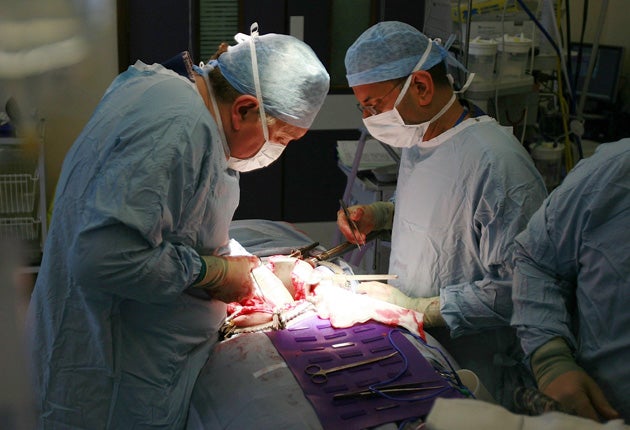 Every adult in the UK would be legally required to decide whether to donate their organs after death, under a radical solution to the critical shortage of organs for transplant put forward by the country's oldest royal medical college. The ethics committee of the 500-year-old Royal College of Physicians (RCP) has called for an examination of "mandated choice" as a means of boosting the supply of organs, the shortage of which is leading to more than 1,000 avoidable deaths a year.
The development comes as the first UK-wide campaign to promote organ donation is launched today to boost the numbers on the donor register. Research shows that while 96 per cent of people said they would accept a transplant if needed, only a quarter (27 per cent) have volunteered to donate their organs after death. Almost half (45 per cent) said they would like to donate but had not got round to adding their names to the register.
Mandated choice is an approach to public policy under which people are required by law to state a choice. It is employed in Australia, where citizens are compelled to vote in parliamentary elections. The RCP's ethics committee says the same approach should be considered in organ donation. People would be required by law to answer a question on whether they would donate their organs after their death and their choice would be registered on a national database.
The RCP says the question could be put at the time that adults register to vote on the electoral roll and should have three possible answers: yes, no, or ask my relatives. The third, default option, reflects the status quo.
Details of the proposal are contained in a paper by Professor John Saunders, chair of the ethics committee, to be published in the journal Clinical Medicine next month. It builds on a report prepared by the RCP and submitted to the Government's taskforce on organ donation last year. The taskforce rejected mandated choice but only considered the policy with a yes or no answer.
Professor Saunders said: "They appear to have decided it was beyond their remit. They did not consider the third default answer of 'ask my relatives'. That would have answered most of their objections." Professor Saunders said the crisis in transplantation was so acute that radical measures were required. There are 8,067 people on the waiting list for a new kidney, heart, liver or other organ, but only 3,679 received a transplant in 2008-09. "We have a growing list of people who would be best treated by a transplant but not enough organs," he said. "Even with the best strategies for organ retrieval... there are always going to be patients who cannot get the organs they need."
Mandated choice for organ donation has been tried and abandoned in Texas and Virginia in the US in the past 20 years, but in both states it was restricted to a yes or no answer. In Virginia, a quarter of the population refused to state a preference and in Texas, where it was made a condition of obtaining a drivers' licence, 80 per cent chose not to donate their organs.
Professor Saunders said this experience showed why a third default answer – ask my relatives – was necessary. "My strong suspicion is that if you make people choose they will think there is something wrong with the choice. That is why you need an option of staying with the status quo."
The British Transplantation Society, representing transplant surgeons, said it was "supportive of looking at initiatives" to boost organ donation but added the time was not right. Keith Rigg, the president said: "It is important that the discussion of alternate approaches to consent do not deflect from the recommendations of the Organ Donation Taskforce, which aims to increase the number of organ donors by 50 per cent by 2013."
The British Medical Association, which supports presumed consent, said it was opposed. Tony Calland, chair of the BMA ethics committee said: "We would not support the kind of coercion involved in mandated choice."
A spokesman for the Department of Health said the idea of mandated choice had been rejected by the Organ Donation Taskforce. "Since the programme to implement the Taskforce's recommendations began, almost one million additional people signed up to the Organ Donor Register in the first year alone.
"This is an encouraging start and it is important that we give the Taskforce's recommendations time to work before considering changes to the legal position."
Transplants in numbers
8,067: Number of people waiting for a transplant on the "active" list.
2,435: Number on the suspended list because they are too ill or unable to receive a transplant at present.
3,679: Patients who received a transplant last year.
To join the NHS Organ Donor Register, call 0300 123 23 23 or visit www.organdonation.nhs.uk
Join our commenting forum
Join thought-provoking conversations, follow other Independent readers and see their replies