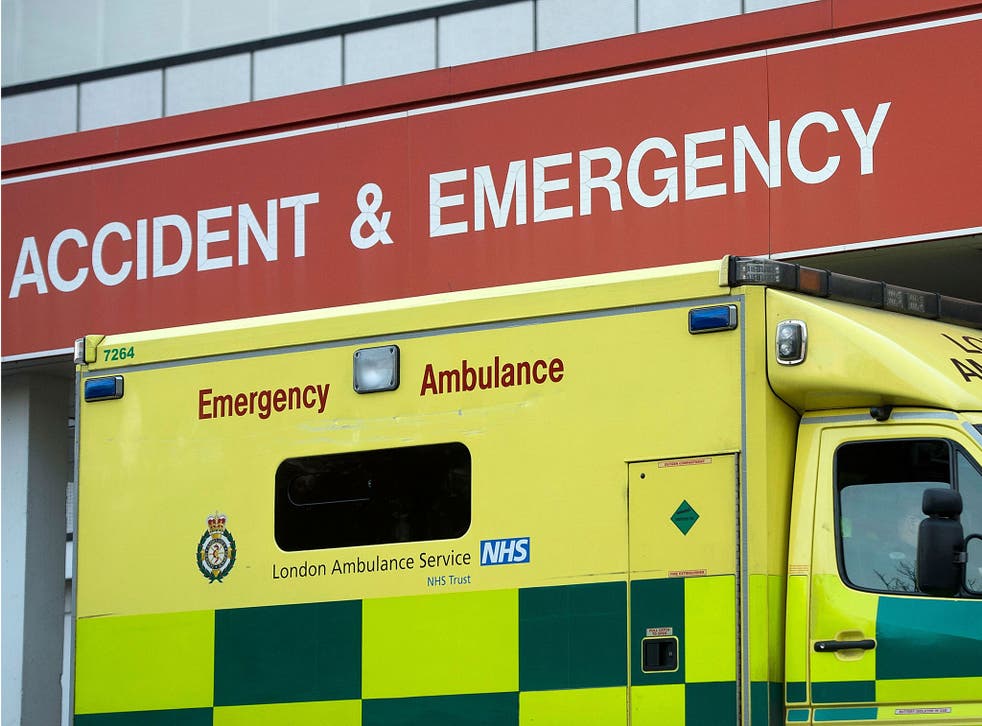 Charge drunks for A&E care? But that might make them angrier
Alcohol-related admissions to hospital have risen sharply in the past decade
Charlie Cooper
Tuesday 12 August 2014 17:54 Comments
Drunk people coming to A&E have made emergency departments "a hostile environment" for many patients – but charging people who have been drinking is not the answer to overcrowding, doctors have said.
The British Medical Association (BMA) and the College of Emergency Medicine both said the idea of charging a select group of patients was unworkable, after Northern Ireland's health minister Edwin Poots became the most senior figure yet to voice support for charging drink and drug abusers at A&E.
Mr Poots said that, there was "merit" in the idea of fees to prevent "abuse" of the healthcare system.
Alcohol-related admissions to hospital have risen sharply in the past decade across the UK, and pressure on A&Es is at an all-time high.
In Northern Ireland in particular, departments have struggled to cope. A major incident was declared at the Royal Victoria Hospital in Belfast in January because of overcrowding and city health authorities have acknowledged that delays may have contributed to the deaths of five people.
Charging patients considered to have "self-inflicted" injury or illness is viewed by some in the health service as a way of discouraging dangerous behaviour, cutting attendances and also raising money for cash-strapped hospitals.
However, Dr Tom Black, chair of the BMA's Northern Ireland General Practitioners Committee said that, while drink and drugs were causing major problems on A&E, charging patients would backfire.
"In A&E at the moment we have a situation where demand from drinkers and drug-addled people is blocking off other patients in need," he said. "Some patients now regard A&E as a hostile environment which they'll only go to as a last resort – that's not good enough. We have to find a way to discriminate between needs and demands."
However, asking for payment at hospital would harm the doctor-patient relationship, he said.
"But from a doctor's point of view, why would you want to put your hand out before you see someone? If you're at a barbecue, have a few beers too many and somebody hits a cricket ball that knocks you on the head, do you turn up at A&E and get fined because you've got a few beers in you? it doesn't seem reasonable and it would cause such value judgements to be introduced that I can't see doctors wanting it."
Gordon Miles, chief executive of the College of Emergency Medicine, said that hospital staff should not be asked to conduct financial transactions with patients who might be "heavily inebriated".
"Doctors are not debt collectors – that might be tricky for them. We're yet to hear any plans about how this might be implementable," he said. "In NHS dentistry there are charges, but to charge a group of patients when they arrive, when they're not used to paying, how would that be managed? Our concern is not to stop people coming through the door, it's to look after them when they arrive. We never blame the patients for coming to see us, it's our job to look after them."
The number of alcohol-related admissions to hospital in Northern Ireland annually rose by 61 per cent between 2000 and 2010 to 11,453. In England, admissions related to alcohol more than doubled between 2002 to 2012, to 1,220,300 admissions per year, and similar increases were seen in Wales. In Scotland admissions have been declining since 2008 – partly driven by improved support outside of hospital for people with alcohol problems.
Calls for extra charges for NHS care come at a time of increasing financial pressure on the health services of all four home nations. However, Mr Miles said that politicians should not be tempted to plug gaps with patient fees, and urged the health services to implement better care for patients outside of hospital, to reduce demand on A&E.
A spokesperson's for England's Department of Health said: "With more than one million alcohol-related hospital admissions in the last year we know too many people are drinking too much and that alcohol places a heavy burden on the NHS in England, costing around £3.5bn every year. There are no plans to charge drunk people to use A&E. However, we have made sure there are powers in place to enable those who abuse staff to be removed."
NHS ideas to raise revenue
Charges for migrants
NHS hospitals can charge visitors and migrants for A&E treatment. No one is turned away in an emergency but, afterwards they have to foot the bill. The Government has also introduced a charge of 150 per cent of the cost of NHS care for patients from outside Europe.
Charges for GP appointments
Although not currently planned, the Reform think-tank has said it would raise £1.2bn. The idea was also discussed (and rejected) at the Royal College of Nursing conference earlier this year.
NHS membership charge
The former Labour health minister Lord Warner has suggested that everyone in the UK should be charged a £10 to receive NHS care – the plan would bring billions into NHS coffers, but has not met with widespread support.
Register for free to continue reading
Registration is a free and easy way to support our truly independent journalism
By registering, you will also enjoy limited access to Premium articles, exclusive newsletters, commenting, and virtual events with our leading journalists
Already have an account? sign in
Join our new commenting forum
Join thought-provoking conversations, follow other Independent readers and see their replies