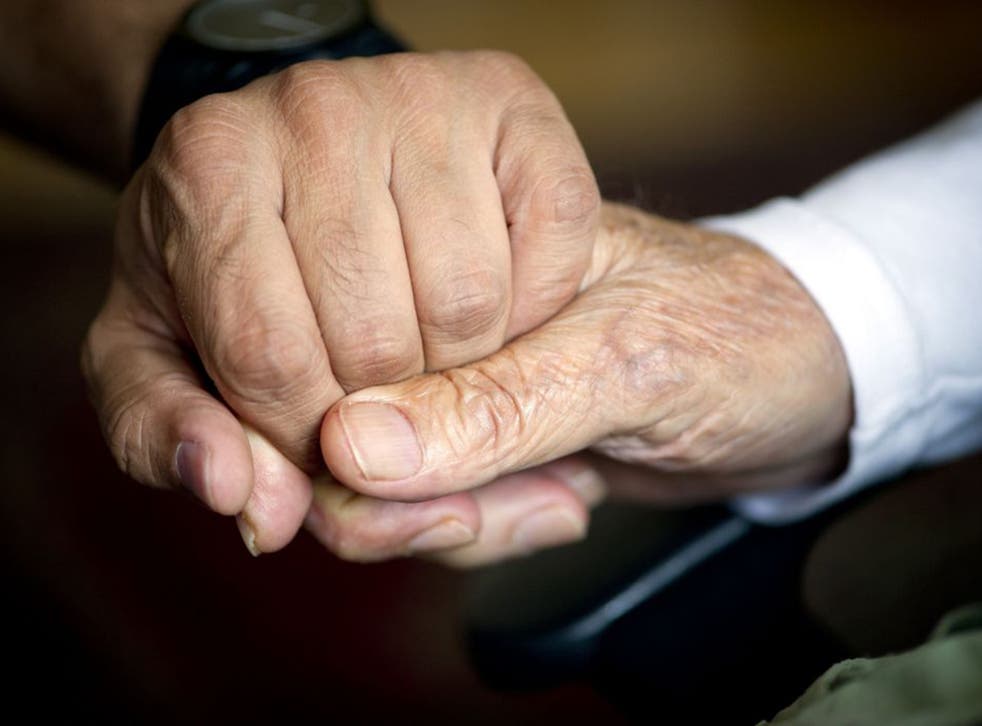 Charity warns of a 'deeply worrying' lack of support for people suffering from dementia
The Alzheimer's Society has called for a five-year plan to raise care standards
People living with dementia are being forced to rely on family and friends for their care because of an "endemic and deeply worrying" lack of support from the state, a leading charity has warned.
In its annual dementia report, the Alzheimer's Society has called for a five-year plan to raise care standards, amid concerns that scaled-back public services are not keeping pace with the soaring numbers of people suffering from the illness.
The report includes a survey of more than 1,000 GPs, which found that 77 per cent think their patients rely on family because they don't get enough help from health and social-care services.
Two thirds of the doctors who responded said that their patients were not getting enough support from council-funded adult social care and half said the NHS was not doing enough.
Social-care services have been hit hard by cuts to council's budgets. In England, around £4.6bn has been slashed from care budgets since the onset of austerity measures in 2009.
Another £1bn is expected to be cut from services for the elderly and disabled over the next year.
Charities estimate that tens of thousands of people who would previously have received care no longer get help with basic tasks like washing, dressing, and getting around.
According to the Alzheimer's Society survey, less than one in 10 GPs believe that people with dementia are getting enough basic statutory support to maintain a good diet, or to avoid loneliness.
Last week the Health Secretary, Jeremy Hunt, said families and fellow citizens should play a bigger role in caring for the growing number of elderly people in the UK. By 2020, there will be a million more over 70s in Britain than today. The number of people living with dementia is expected to hit 1 million by 2021.
Jeremy Hughes, chief executive of the Alzheimer's Society, said that while families, friends and neighbours were a vital source of support, they could not be "relied on to do everything".
"Our survey gives a stark view from the doctor's surgery of people with dementia left struggling in the aftermath of a diagnosis," he said. "GPs report an endemic and deeply worrying lack of support available from health and social services, with relatives left to pick up the pieces alone."
The charity's report calls for the NHS and local authorities to ensure that anyone diagnosed with dementia receives a full package of support, including their own dementia advisor.
Dr Richard Vautrey, a GP in Leeds and deputy chair of the British Medical Association's GP committee, said: "Difficulty in accessing social-care support has become an everyday reality for GPs, patients and carers.
"Sadly it is not only the case for those diagnosed with dementia, but also affects the large number of people living with long-term conditions or with frail elderly relatives.
"GPs are increasingly frustrated that due to excessive cuts to local-authority funding, some of the most-vulnerable people in our society are not receiving the level of care and support they deserve," he added.
A Department of Health spokesman said: "Dementia training has already been given to 600,000 NHS and social care staff, and our diagnosis rates are now amongst the highest in the world. After a diagnosis, we are already expanding access to named clinicians and dementia advisers to help patients and their families, and giving the option of personal budgets – and we want to see these things being offered across the NHS.
"The Prime Minister has set out a further challenge for all NHS and social-care staff to be trained in order to provide meaningful care and support for people with dementia, their carers and their families."
Register for free to continue reading
Registration is a free and easy way to support our truly independent journalism
By registering, you will also enjoy limited access to Premium articles, exclusive newsletters, commenting, and virtual events with our leading journalists
Already have an account? sign in
Register for free to continue reading
Registration is a free and easy way to support our truly independent journalism
By registering, you will also enjoy limited access to Premium articles, exclusive newsletters, commenting, and virtual events with our leading journalists
Already have an account? sign in
Join our new commenting forum
Join thought-provoking conversations, follow other Independent readers and see their replies