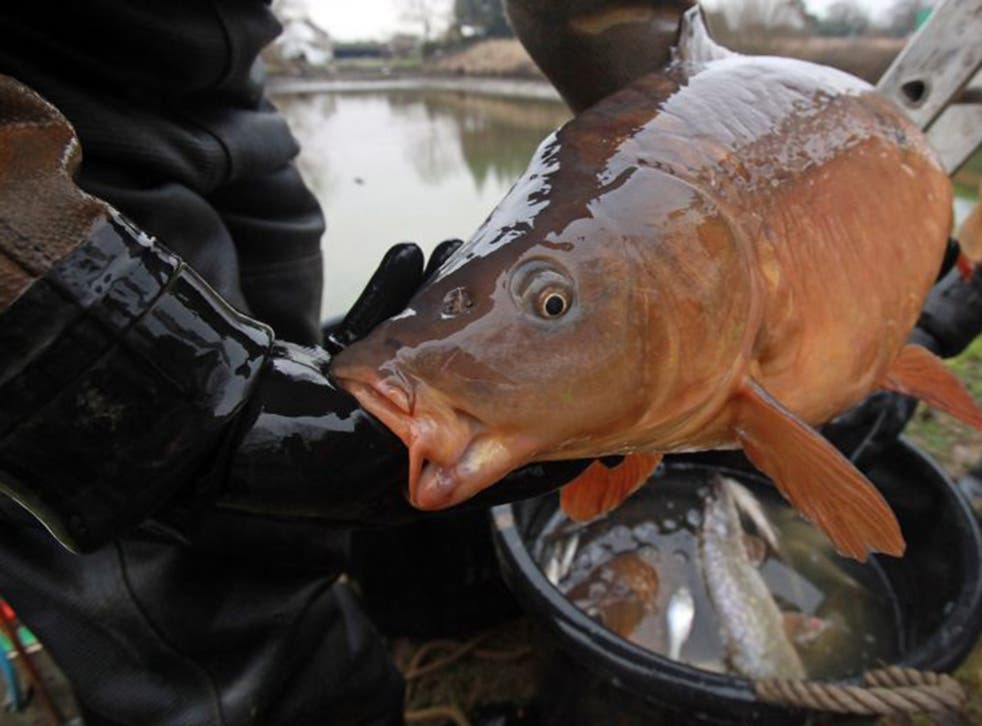 Chemicals in freshwater fish put health at risk
Perch and roach from British rivers can be toxic, say experts
Roger Dobson
,
Jamie Campbell
Sunday 11 January 2015 01:00 Comments
Chefs' recipes and a quest for novelty may be behind a rise in the number of people eating freshwater fish, but, according to a new report, they may be putting their health at risk. Scientists found that fish such as perch and roach caught in unmanaged inland waterways, including canals, may contain significant levels of toxic chemicals.
"There is growing evidence that more people in the UK are consuming fish taken from inland waterways. This may be partly due to the increased numbers of migrants from Eastern Europe where this is part of traditional culture, and partly because of a desire to try new foods encouraged by celebrity chefs," say researchers from the Food Standards Agency and the Food and Environment Research Agency, whose study will appear in the coming March issue of the journal Chemosphere.
"This is the first study of a comprehensive set of contaminants in freshwater fish, and as such is unique. Some samples greatly exceeded limits [for chemicals] that apply to fish on retail sale for human consumption. On this basis, it appears that regular consumption of coarse fish from unmanaged waterways, especially those in areas with an industrial history, could pose a higher risk to health."
Chefs Gordon Ramsay and Hugh Fearnley-Whittingstall have endorsed the benefits of freshwater fish as a sustainable alternative to more endangered ocean species such as cod. Fearnley-Whittingstall's programme Escape to River Cottage showed the chef preparing jellied pike, while the freshwater species often appears on the menu at Ramsay's restaurants. This has aided in elevating the popularity of a fish that, while generally safe to eat when sourced by a restaurant, can contain potentially damaging levels of chemicals in the wild.
Inland waterways, especially those close to industrial areas, are known to be prone to levels of historic or localised pollution which can, in turn, lead to contamination of fish. But freshwater fish are not part of the traditional UK diet and are not subject to contaminants regulations that protect consumer health.
The researchers say some anglers are known to consume their catch, as are migrant workers from Eastern Europe where consumption of river fish is a cultural norm, and others keen to explore consumption of new or wild foods.
Carp is a staple of the Polish, German and Czech Christmas dinner and it is believed there is a significant rise in the number caught in Britain around the festive period, leading to increased concerns about the safety of consumption.
Mike Berthet, director of fish and seafood at M&J Seafood, voiced his concerns at the growing tendency of angling for personal consumption. "The inland water in the UK is notoriously polluted," he said. "Anyone not buying fish from registered companies or markets with requisite quality control is always going to be at risk."
Researchers collected fish from 23 sites around the UK and tested for a wide range of contaminants. Anglers were also interviewed. Potentially harmful chemicals found included polychlorinated biphenyls (PCBs), man-made organic chemicals whose manufacture in the UK was banned more than 30 years ago, and polychlorinated dibenzo-p-dioxins (PCDDs) and polychlorinated dibenzofurans (PCDF), both industrial by-products and environmental contaminants.
Register for free to continue reading
Registration is a free and easy way to support our truly independent journalism
By registering, you will also enjoy limited access to Premium articles, exclusive newsletters, commenting, and virtual events with our leading journalists
Already have an account? sign in
Join our new commenting forum
Join thought-provoking conversations, follow other Independent readers and see their replies