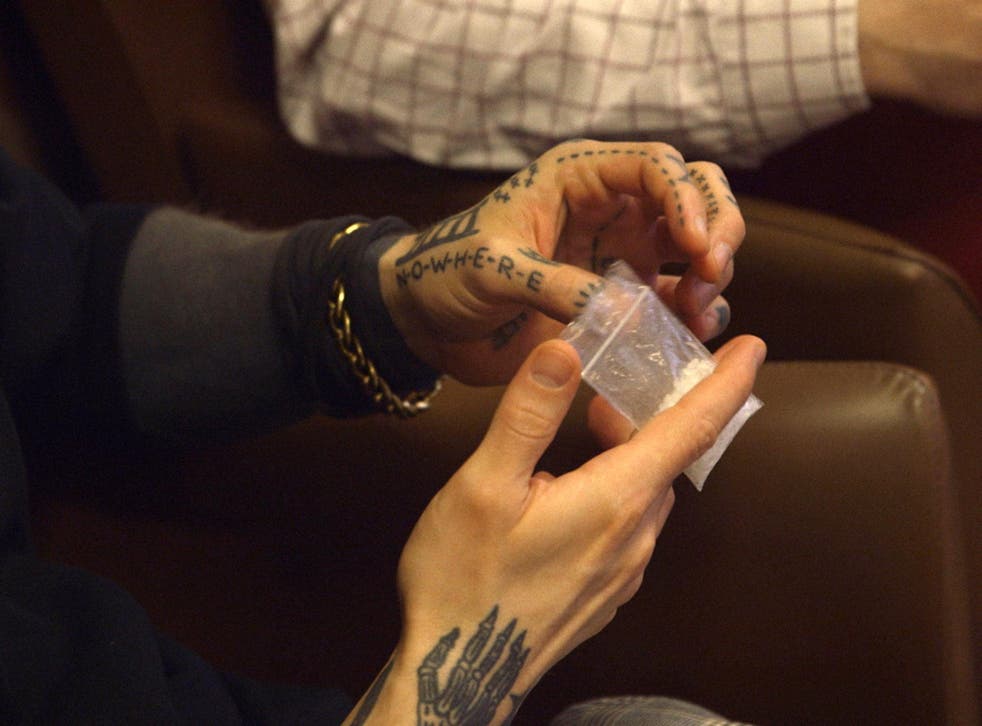 Chemsex addicts and the man fighting to help them
Substance abuse worker David Stuart is on the frontline of the fight to help men addicted to chemsex 
Kashmira Gander
Thursday 01 December 2016 11:04 Comments
This time last year chemsex, the scene of gay men who use disinhibiting drugs during sex, was a buzzword in the news and a cause of moral panic.
The British Medical Journal released a warning that chemsex parties were causing a spike in HIV rates, Viceland released a documentary following some of those in the scene, and think pieces poured over what the parties suggested about society and the LGBT community.
The documentary, which is airing on the Viceland channel on World Aids Day, asks whether the rise of social media - which makes finding hook-ups and "chems" such as methamphetamine, mephedrone and GHB/GBL easier - changing attitudes towards homophobia, and internalised shame and stigma among gay men are factors that fuel what can be a dangerous proclivity.
A year later, and almost at the end of 2016 – or 'the worst year ever' – the stories of those men seem like a lifetime away.
Viceland's Chemsex documentary - In pictures

Show all 7
The Independent caught up with David Stuart of the 56 Dean Street sexual health clinic in London, who is featured in the film, to see what has happened to the chemsex scene since then.
What is the chemsex scene, and is it dangerous?
The Chemsex "scene" (if there is one), is a small but particularly vulnerable group of gay men who use some particularly sexually disinhibiting drugs to improve the experience of sex; whether that's the simple pursuit of pleasure, or to medicate some psychosexual problems, varies person to person, and the reasons for using the drugs aren't always obvious - to the person using the drugs, or to a health professional in many cases.
I think it's fair to say, that sex can be complicated for many gay men. I think it's also fair to say, that some gay men find that chems can make sex less complicated, and more pleasurable.
The chemsex scene can be dangerous; addictions can develop, overdoses are too frequent, and too many experience frightening psychotic episodes. I'd add that without a good sense of self worth, and a robust awareness of our sexual and emotional needs, the drugs can be particularly problematic. I think it's appropriate to add though, that the very extreme dangers that we might have read about in the news lately, have very little to do with what you call the chemsex "scene", and more to do with some very troubled people and mental health issues.
What do the latest drug and health statistics suggest about the chemsex scene?
The data we do have is telling us that chemsex remains a consistent problem among a small but epidemiologically significant population, who experience concerning problems with sexual wellbeing and sexual health. The data tells us that chemsex is a significant factor in HIV transmission, and that in this, the fourth decade of HIV, we still have to be vigilant about the sexual and emotional needs of our communities most vulnerable to HIV. It tells us that we need to improve and tailor the care we provide our vulnerable patients in sexual health and drug use support services. It tells us to be creative in our HIV prevention campaigns, and in the efforts we make to reduce stigma within, and homophobia toward, our gay communities. It tells us that kindness and compassion are required for those among us who use drugs, or whose sexual practices might be less like our own. The data tells us that some of the most vulnerable people within our communities need our full attention and support, even if such scrutiny is unsettling.
Are some drugs more popular than others? Are there new ones being used since last year?
Stigmas do exist with chems; fewer people use crystal methamphetamine for instance, as it is often associated with negative stereotypes and stigmas, preferring instead to use the more "culturally acceptable" mephedrone and GBL.
It is counterproductive for chemsex parties to be portrayed in extremes and in terms of moral panic? What is the best approach to educate people?
Simply speaking, the best way to educate people is to give them access to accurate information, and the courage and space to seek solutions through thought, dialogue and debate. Educating people has never been about giving people the answers; it's about supporting people to find their own answers. ChemSex is nothing more than a syndemic of health problems and behaviors affecting a small population of particularly vulnerable men. But ChemSex is challenging. It's upsetting. It challenges our moral and societal standards, and we do see these issues reflected in upsetting newspaper headlines and social media; in what some are incorrectly identifying as a "moral panic". For me; it's understandable, even inevitable. The best we can do is talk about it, seek resolution through dialogue and exploration of the issues.
What has changed since the film was released?
It has emboldened people to come forward to seek help, it has motivated support services to improve their care and cultural competency. It has stimulated improved research and data gathering, and it has woken up many an activist around the world, giving rise to community discussions and sexual wellbeing campaigns.
How can a person seek help if they are worried about themselves or a loved one?
I'd suggest first speaking to a trusted and compassionate friend or family member. Carrying the burden alone can be a devastating thing, and very unhelpful. Following that, and if there is no specific chemsex support service in your city, I'd suggest seeking support from a sexual health clinic. In England at least, we have Sexual Health Advisors in most clinics, who often have some degree of chemsex understanding. We'd be happy, at 56 Dean Street, to help someone find local support if they do not live in London.
Chemsex premieres on VICELAND on SKY channel 153 at 10pm on Thursday 1 December.
Register for free to continue reading
Registration is a free and easy way to support our truly independent journalism
By registering, you will also enjoy limited access to Premium articles, exclusive newsletters, commenting, and virtual events with our leading journalists
Already have an account? sign in
Join our new commenting forum
Join thought-provoking conversations, follow other Independent readers and see their replies