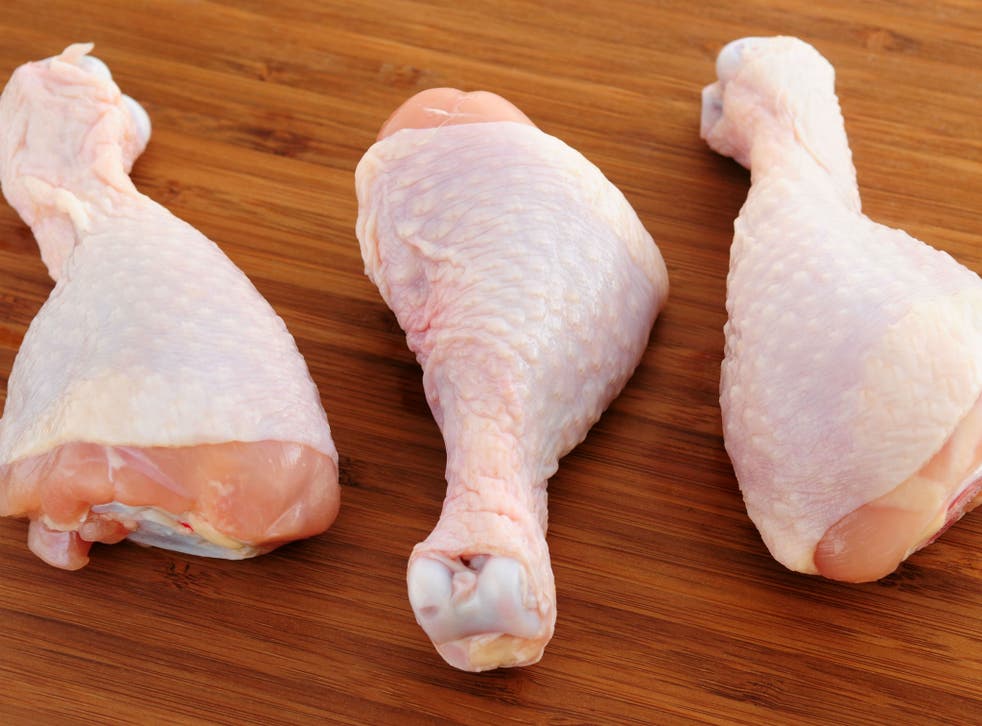 Two thirds of fresh chickens in UK supermarkets 'contaminated with E. Coli'
Experts fear the strain of the superbug found in the meat could cause resistance to antibiotics
Two in three chickens sold in UK supermarkets are infected with E. Coli, a new study has found – and in England, 78 per cent of fresh chicken on sale tested positive for the superbug.
The strain of the bacteria found in the meat does not cause diarrhoea or vomiting, but experts have said they fear it could live in the gut for years and cause resistance to antibiotics should infections occur in future.
Researchers at the Department for Environment, Food and Rural affairs (Defra) and Public Health England collected samples from supermarkets, butchers and smaller shops and tested them for E. Coli.
Of the chicken they tested, including meat from Tesco, Asda, Sainsbury's and Morrisons, 80 per cent was farmed in the UK.
They found 53 per cent of chicken sold in Scotland was contaminated with the the bug, compared to 41 per cent of chicken sold in Wales, according to the Daily Mail.
The presence of E. Coli in a large number of the birds could be a result of the heavy use of antibiotics in the poultry industry.
This encourages the bacteria to mutate and become antibiotic-resistant – which campaigners say could pose a threat to human health.
Poisoning Risk: The public perception of food safety

Show all 8
"Drug-resistant infections are a global problem and the potential for human, animal and economic damage is devastating," said the country's Chief Medical Officer Professor Dame Sally Davies last week.
"Inappropriate antibiotic use in the farming sector is known to contribute to the development of drug resistant infections," she said, responding to news that sales of animal antibiotics had fallen in the UK.
The strain of E. Coli that can cause food poisoning, known as the O157 bug, can cause severe stomach pain, bloody diarrhoea and kidney failure, and sometimes death.
In 2015, 23 people who died had E. Coli septicaemia cited as the cause of their death, according to the Office for National Statistics.
However the total number of people who died after being infected with the bacteria is likely to be much higher, with some estimates in the thousands, as the cause of the infection may not be mentioned.
Shoppers have been warned to wash pre-packaged bags of mixed salad thoroughly after two people died earlier this year and more than 150 people were believed to be infected with E Coli.
Join our new commenting forum
Join thought-provoking conversations, follow other Independent readers and see their replies