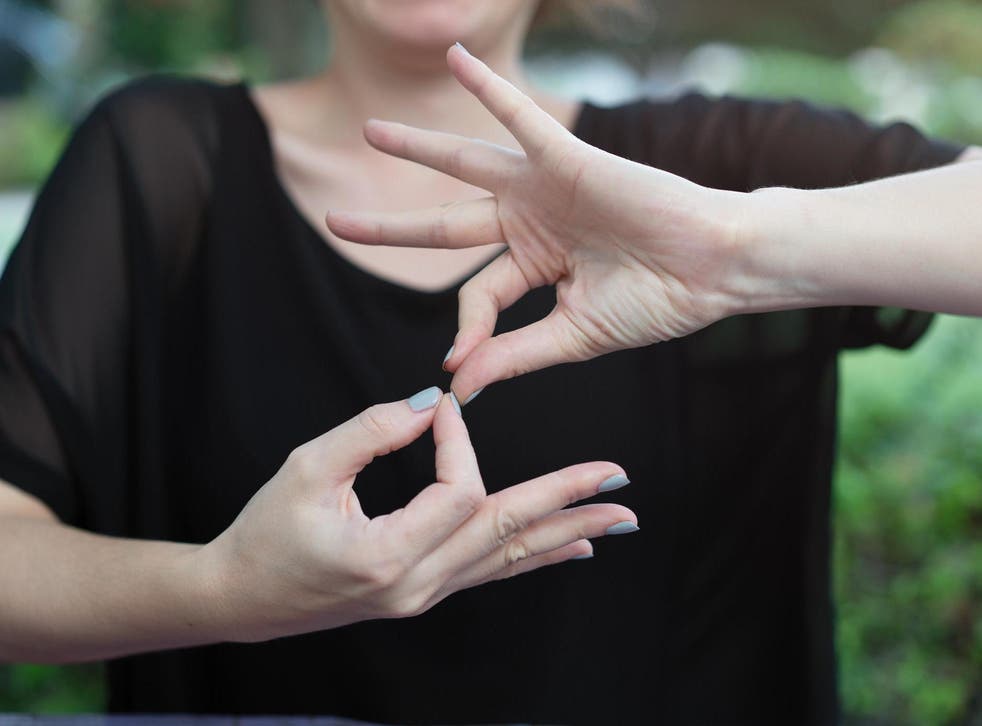 Coronavirus: UK government urged to include sign language interpreter in daily briefings
An aspiring teacher says UK should follow Scotland's example
Matt Mathers
Monday 06 April 2020 13:00 Comments
An aspiring teacher is calling on the UK government to include a sign language interpreter in its daily press briefing to help deaf people better understand the coronavirus pandemic.
Holly McConnell, a second-year at the University of Edinburgh, said she was moved to act after noticing that Scotland First Minister Nicola Sturgeon had been accompanied by an interpreter during Covid-19 press conferences.
"On the news when Boris Johnson was talking about the lockdown, he didn't have an interpreter which made me a wee bit annoyed because the subtitles at home weren't working," Ms McConnell said.
"Not all deaf people can understand English - the grammar structures in the languages are completely different so that caused issues because we were talking about fines and the law and health and safety."
Ms McConnell, 18, has been communicating the coronavirus updates to her profoundly deaf parents Shona, 49, and James 64, and recently decided to start teaching the public sign language for free through her YouTube channel.
"Luckily Nicola Sturgeon so far has had an interpreter with her, but obviously that's not accessible for people in the UK. So I initially made a video talking about that - like what Boris Johnson had said," she said.
"Then I thought 'well I'm not teaching at the university at the moment - why not just start doing YouTube videos?' I know a number of my friends wanted to learn and I feel like people should know it."
Ms McConnell's, a PE teacher, held her first lesson teaching the alphabet at the end of March. It has since been viewed thousands of times, with hundreds subscribing to her YouTube channel for further lessons.
"Obviously I want a lot of people to see it so they can maybe become a wee bit more deaf-aware - but I was just expecting my Facebook mates to share it or watch it," she said.
"I didn't expect so many people to want to learn and to be interested. Most of the people have been really supportive - hearing people are very, very supportive and there's a big group of deaf people that are also really supportive."
Ms McConnell, from Kilmarnock, has been campaigning to make BSL part of the curriculum in Scotland and wrote to Ms Sturgeon while at school. She wants to use her bilingual skill to raise awareness about BSL and the Deaf community.
"It's about making Deaf people feel more included in society," she said. "I want to spread awareness, I'm fed up of seeing my parents getting excluded."
Last month, BSL provider Deaf Umbrella called on the UK government to include an interpreter in its daily briefings so that deaf people could follow the latest Covid-19 guidance.
Around 151,000 individuals across the UK can use BSL, which is the preferred language of more than 87,000 deaf people in the UK, according to the British Deaf Association.
Those wanting to learn sign language can subscribe to Ms McConnell's YouTube by following this link.
Register for free to continue reading
Registration is a free and easy way to support our truly independent journalism
By registering, you will also enjoy limited access to Premium articles, exclusive newsletters, commenting, and virtual events with our leading journalists
Already have an account? sign in
Join our new commenting forum
Join thought-provoking conversations, follow other Independent readers and see their replies