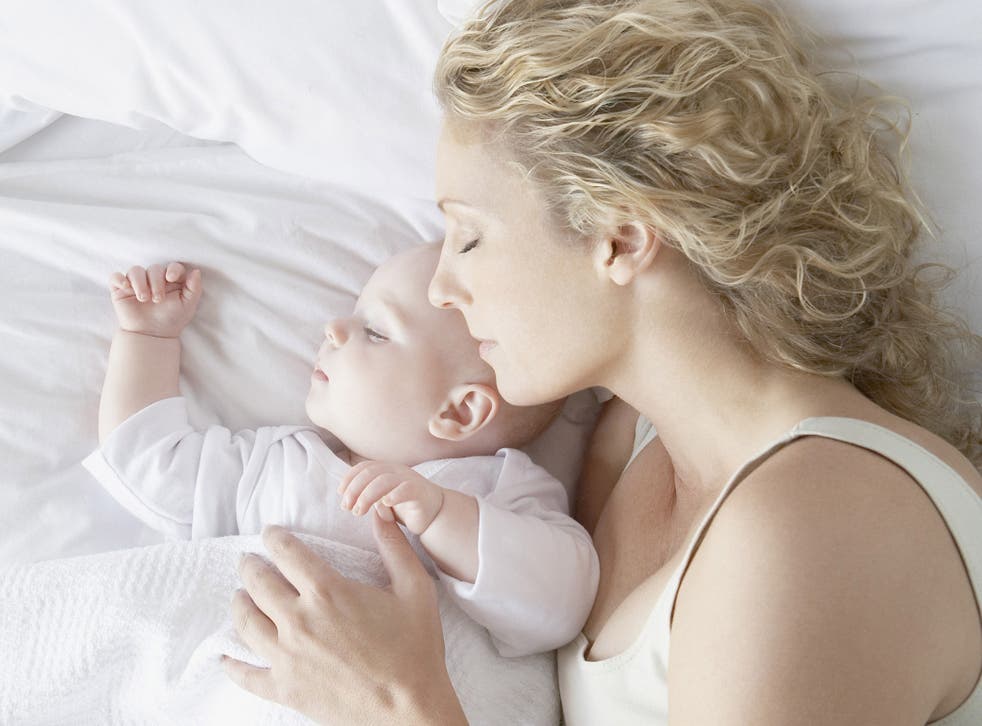 Co-sleeping with your baby can increase the risk of sudden infant death syndrome
Falling asleep with a baby in a bed, on a sofa or in an armchair is "risky", Government health advisors have said, in new guidance aimed at reducing the number of infants dying from 'cot death' each year.
Cot death, or sudden infant death syndrome (SIDS), is the unexplained death of an otherwise healthy baby. About 300 babies die suddenly and unexpectedly in the UK every year.
The exact causes are unknown, but new draft guidelines from the National Institute for Health and Care Excellence (NICE) has taken into account recent studies which have suggested that sharing a bed with a baby might be linked to a higher chance of SIDS.
Under the new guidance, midwives, GPs and health visitors will be expected to tell parents that "co-sleeping" could increase the risk, and that the dangers are likely to be higher if parents smoke or have recently drunk alcohol.
Risks are also higher if parents are drug-takers, or if the baby had a low birth-weight or was premature. However, studies up till now have only been able to show links between these factors and an increased risk – not actual causation.
"There is no universal agreement on the causes of sudden infant death syndrome," said Professor Mike Baker, NICE's clinical practice director. "We recognise that some parents may choose to share a bed with their baby because it could make breastfeeding easier, or for cultural reasons. Or they may be forced to co-sleep because they may not have the space or money for a cot."
He said it was important for parents to "understand what the risks are" adding that the new guidance was based on "the best available evidence".
Co-sleeping also carries a risk that parents could roll over their baby in their sleep and suffocate them, but deaths from SIDS are those which are unexplained and are separate to these cases.
Under the new guidance, advice over co-sleeping applies to parents of all babies under the age of one.
Jenny Ward, head of support and development at the Lullaby Trust, which campaigns for greater awareness of SIDS, said that the new guidance was welcome.
"It's universally agreed that the safest place [for a baby to sleep] is in a cot in your room for the first six months. Some parents will choose to bed-share beyond that," she said.
Parents should also put their babies to sleep on their backs, not on their fronts, she added.
Register for free to continue reading
Registration is a free and easy way to support our truly independent journalism
By registering, you will also enjoy limited access to Premium articles, exclusive newsletters, commenting, and virtual events with our leading journalists
Already have an account? sign in
Join our new commenting forum
Join thought-provoking conversations, follow other Independent readers and see their replies