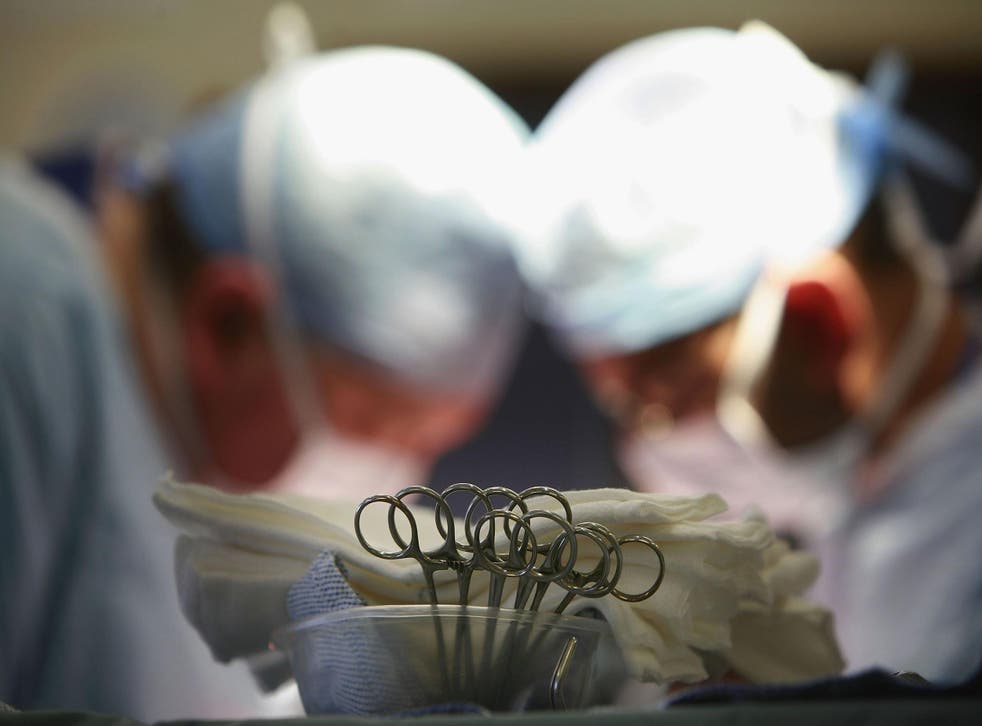 Women left in pain by 'botched cosmetic surgery' fear losing compensation as firms fold
Firms linked to The Hospital Group and Europe's biggest cosmetic surgery hospital are going into administration. Dozens of women fear they will get nothing while former owners 'paid themselves millions'
Scores of women whose lives were allegedly ruined by botched cosmetic surgery believe they will be left unable to claim a penny in compensation, it has been claimed, as it emerged that the UK trading companies behind Europe's biggest hospital for such procedures have gone into administration.
The Independent has been told that subsidiary trading companies of The Hospital Group, whose Dolan Park facility near Birmingham is Europe's largest purpose built cosmetic surgery hospital, were put into administration on 6 October, and seven more companies are expected top go into liquidation.
Despite concerns, a source connected to the group has told The Independent "it is business as usual": the hospital has not shut down and is still accepting patients for plastic surgery and weight loss operations.
The Hospital Group has been acquired by a German private equity firm, which has created its own holding company. This, it is claimed, will leave women who allege they have suffered the results of bungled operations unable to claim a penny from companies that were part of a UK group said to have generated £36m in revenue last year.
Meanwhile, MPs have been told that before they left the business, the former owners of the old Hospital Group companies were able to pay themselves dividends of £7.5m.
"I am absolutely appalled," said Dawn Knight, who says she has been left in constant discomfort after a 2012 eyelift operation. "Dozens and dozens of lawsuits will now be derailed. These are women who have had their lives decimated, and they are not going to see a penny."
In her opinion, she added: "The Hospital Group [companies] have said they have no assets, no money, there's nothing there and that's it."
The affair has already been discussed in Parliament and prompted the Labour MP Kevan Jones to introduce a private members bill for better regulation of the £3.5bn-a-year cosmetic surgery industry.
He told MPs that, as it stands, "the law allows any qualified doctor – they need not even be a surgeon – to perform cosmetic surgery without undertaking additional training or qualifications.
"Some of the [marketing] techniques that are used would be more appropriate for selling double glazing than cosmetic surgery. The whole thrust is to sell such procedures without any counselling or advice on whether it is appropriate.
"We have here a classic example of the market not only failing but being used to exploit people."
Mr Jones told MPs: "In 2012-13, the group's turnover was £44m and dividends of some £7.5m were paid to its directors."
Referring to the company liquidations, he told the Commons: "Some 80 per cent of creditors on the liquidator's list are solicitors representing former clients. One suspects that that structure was put in place to avoid any potential for former clients to sue the company for negligence."
He added: "Despite the fact that a large number of women now have no recourse to law, the Hospital Group continues to operate and sell its products."
Popular? You nose it: Duchess of Cambridge's nose is the most requested plastic surgery procedure

Show all 8
Describing the experiences of his constituent Ms Knight, who paid £3,500 for an operation in 2012, Mr Jones told MPs: "The surgery was sold to her with a lifetime aftercare package to take care of any complications.
"Following the surgery, Dawn was unable to close her eyes, and still, to this day, has to apply artificial tears to her eyes every two hours to stop them drying out. Dawn saw the surgeon, Arnaldo Paganelli, [an Italian surgeon then affiliated to the Hospital Group], who refused to admit there was a problem. When she contacted Hospital Medical Group about the aftercare package, it simply pointed out a clause in her contract that said that treatments could be undertaken only if the surgeon agreed to it. No further help was offered, making a complete sham of the aftercare plan."
Mr Jones added: "Although Hospital Medical Group promotes itself as a cosmetic surgery company, it is nothing of the sort. It is a facilities management company, simply providing the facilities where surgery takes place and marketing the procedures. When Dawn complained, she found out that her contract was not with Hospital Medical Group but with the surgeon who performed the procedure.
"In Dawn's case, her surgeon was a bankrupt, under-insured individual who was based in Italy and flew into the UK to work for Hospital Medical Group."
Ms Knight's case, he told MPs, was not an isolated one, and the NHS was now having to pick up the bill for her and others.
Ms Knight, 48, of Stanley, County Durham, told The Independent she was in contact with "dozens and dozens" of women who had operations "on every area of the body" performed by surgeons working with Hospital Group companies.
"The list just goes on and on," she said. "Three of them are registered disabled as a direct result – usually down to scar tissue causing restricted movement, depression, anxiety.
"I have counselling every fortnight because of the anxiety. All the people you thought would catch you when you fall. You find that actually there is no more lonely place to be. It is a horrific experience."
The Hospital Group of companies was acquired by the German investment group Aurelius in July. At the time, Aurelius declined to reveal the financial terms of the transaction, but said its new acquisition had approximately 300 employees and "generated revenues of almost €40m (£36m) in 2015."
Aurelius also said the Hospital Group deal meant it had "reached a leading position in the British market" because it already owned the Transform cosmetic surgery chain, which has 27 UK clinics.
The Hospital Group will continue to trade under the same name while being owned by the new holding company.
A spokesman for The Hospital Group declined to answer questions on how the business was structured. He said: "The Hospital Group is compliant with the strict rules set out by both Trading Standards and the Advertising Standards Authority.
"The ongoing care and wellbeing of our patients and customers is of paramount importance to The Hospital Group. We take our obligations to patients with the utmost seriousness and do our very best to ensure patients are cared for both during and after any medical procedure by maintaining the highest standards of care. In the latest patient satisfaction audit conducted at our Dolan Park facility, 93 per cent of respondents rated our service as 'excellent to good'."
He added: "We would like to reassure our patients and customers that all arrangements they have in place with The Hospital Group remain the same. All planned operations or procedures will go ahead as normal. The terms of our existing patients' aftercare packages are still valid."
Referring to Ms Knight's case, the spokesman said: "We have evidence that directly contradicts the claims made by Ms Knight. We have not however been given permission to disclose this information."
Aurelius declined to comment.
Register for free to continue reading
Registration is a free and easy way to support our truly independent journalism
By registering, you will also enjoy limited access to Premium articles, exclusive newsletters, commenting, and virtual events with our leading journalists
Already have an account? sign in