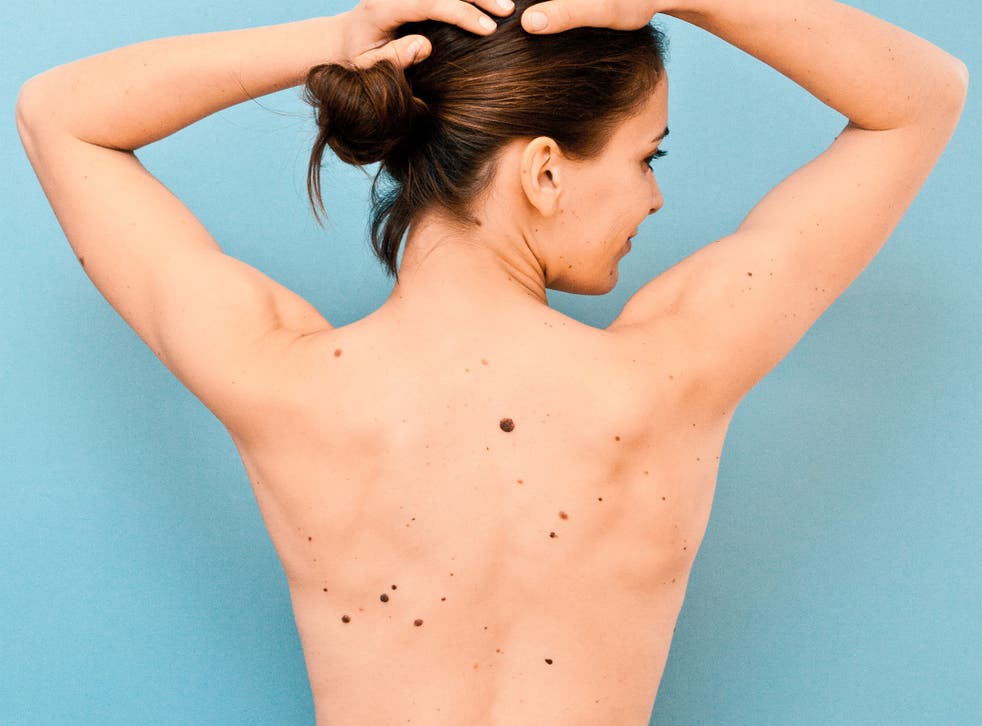 Counting moles on your arm may help to assess skin cancer risk, research says
Around 20 per cent to 40 per cent of melanoma is thought to arise from pre-existing moles
Jane Kirby
Monday 19 October 2015 00:14 Comments
People who have more than 11 moles on their right arm could have a higher risk of skin cancer, according to research which has provided a new way for GPs to quickly assess whether somebody may be at risk of developing melanoma.
Counting moles in a "proxy" body area such as the arm is a good marker for spotting potential problems, according to researchers from King's College London.
Around 20 per cent to 40 per cent of melanoma is thought to arise from pre-existing moles and having more than 100 moles on the body is a "strong predictor".
The study, funded by the Wellcome Trust, examined data from 3,594 female twins. Specially trained nurses from St Thomas' Hospital in London performed a mole count on 17 areas of each person's body. Skin type, hair and eye colour and freckles were also recorded for the research. The results were checked against a further study involving men and women. Scientists found that the count of moles on the right arm was most predictive of how many moles were on the entire body.
Those people with more than seven moles on their right arm had nine times the risk of having more than 50 moles on the whole body. Those with more than 11 on their right arm were more likely to have over 100 moles on their body.
The experts found that the area above the right elbow was particularly predictive of the total body count of moles. The legs were also strongly linked with the total count, while men's backs also highlighted an increased risk. The researchers concluded: "We demonstrated that an arm mole count of more than 11 is associated with a significant risk of having more than 100 moles, that is in itself a strong predictor of risk for melanoma."
Health news in pictures

Show all 40
Lead author Simone Ribero, of the department of twin research and genetic epidemiology, said the research was useful for GPs: "The findings could have a significant impact for primary care, allowing GPs to more accurately estimate the total number of moles in a patient extremely quickly via an easily accessible body part. This would mean that more patients at risk of melanoma can be identified and monitored."
The research was published in the British Journal of Dermatology. Dr Claire Knight, health information manager at Cancer Research UK, said: "It's important to know what's normal for your skin and to tell your doctor about any change in the size, shape, colour or feel of a mole."
Press Association
Register for free to continue reading
Registration is a free and easy way to support our truly independent journalism
By registering, you will also enjoy limited access to Premium articles, exclusive newsletters, commenting, and virtual events with our leading journalists
Already have an account? sign in
Join our new commenting forum
Join thought-provoking conversations, follow other Independent readers and see their replies