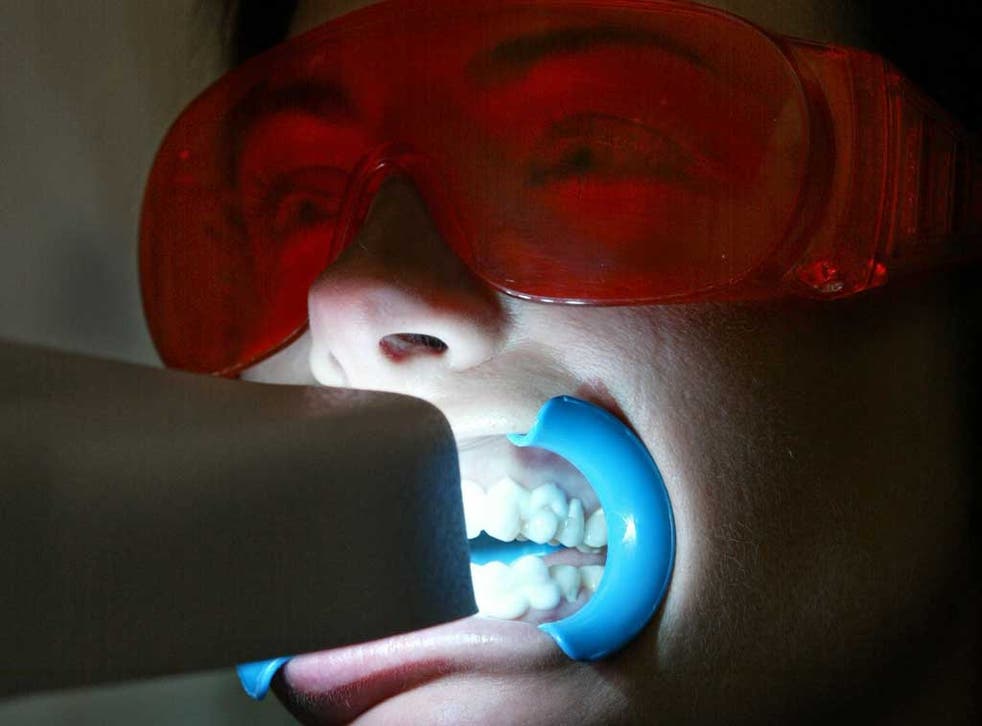 Crackdown due on 'hazardous' DIY tooth-whitening
Cut-price teeth-whitening products using dangerous levels of bleach face being banned after regulators received hundreds of complaints about botched treatments.
Ministers are promising "more explicit legislation" to help regulate the "potentially hazardous procedure", with the General Dental Council insisting only dental professionals should carry out the work.
Demand for whiter teeth has been fuelled by celebrity makeovers, with the likes of Simon Cowell sporting dazzling smiles. But as professional treatments can cost thousands of pounds, many people opt for kits costing less than £10 or take a risk with staff at tanning parlours, nail bars or hair salons. Research in 2010 found one in five people wanting whiter teeth would be willing to go to a beauty salon instead of a dentist.
Later this year the Government will adopt an EU directive limiting bleaching agents to 6 per cent hydrogen peroxide, after some firms were discovered to be using concentrations of up to 40 per cent, risking serious and permanent damage to teeth and gums. Anyone found in breach of the new 6 per cent limit faces prosecution. Registered dentists will be able to use stronger bleaching solutions.
But the Government is being urged to go further and ban teeth bleaching outside dental surgeries. Sir Paul Beresford, a Tory MP and dentist, said: "There was a gentleman in Kent who was a plasterer by day and at night did home visits bleaching teeth using 36 per cent hydrogen peroxide. That's quite dangerous."
Sir Paul also warned that a loophole means the use of chlorine dioxide will not be caught in the proposed law change, even though it "takes enamel off".
In December, Carl Espano, a "cosmetologist" from Torquay, who offered teeth whitening, pleaded guilty to practising dentistry when not registered with the GDC. Magistrates told him: "Should you have damaged the adult teeth, a patient only has one set. Accordingly we view this as a serious offence." He was ordered to pay a total of £1,872.
Lord Howe, a health minister, said: "We will be changing legislation later this year to protect patients by making sure tooth-whitening treatment uses the correct concentration of bleaching agent."
Register for free to continue reading
Registration is a free and easy way to support our truly independent journalism
By registering, you will also enjoy limited access to Premium articles, exclusive newsletters, commenting, and virtual events with our leading journalists
Already have an account? sign in
Join our new commenting forum
Join thought-provoking conversations, follow other Independent readers and see their replies