Dentists breach NHS rules with unclear pricing and guidance
Half of people who visited a dentist in the past six months did not see a price list, while one in five say they were not clear about exact charges ahead of receiving treatment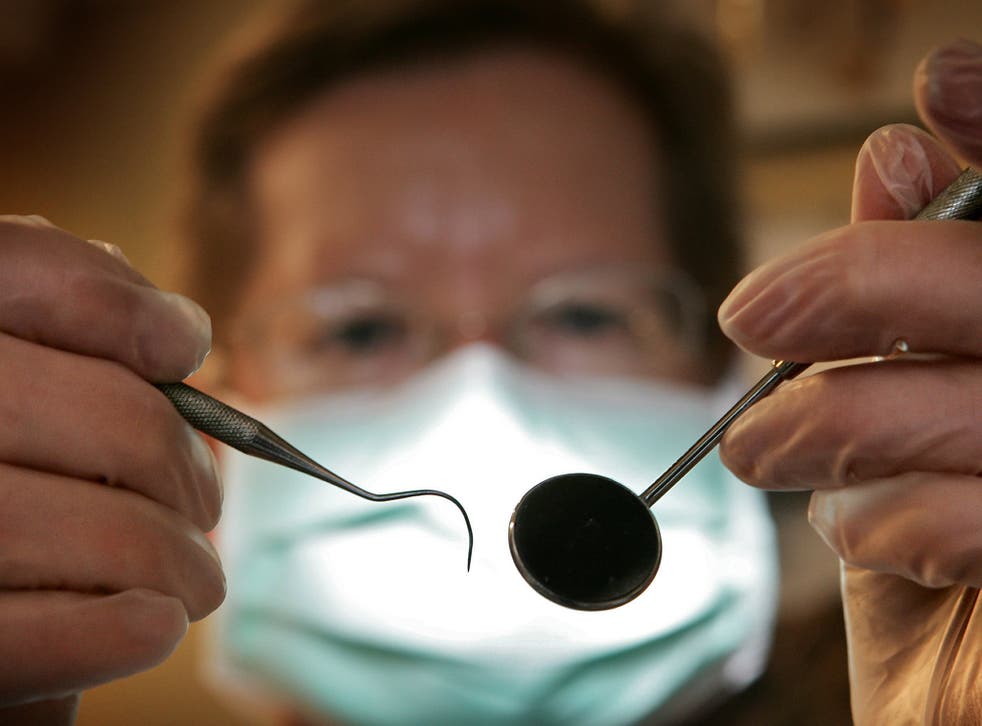 Some NHS dentists are breaching rules by failing to offer clear pricing information and automatically offering private treatment – potentially resulting in patients being overcharged, an investigation has revealed.
A survey by the consumer watchdog Which? found that 51 per cent of people who visited a dentist in the past six months did not see a price list. One in five (22 per cent) patients say they were not clear about exact charges ahead of receiving treatment.
Such findings are in breach of rules that state dentists must have a price list on prominent display in their surgery and set out treatment costs upfront.
In a separate investigation, just half of undercover researchers who visited practices offering both NHS and private treatment saw a price list on display. In addition, the majority of dental clinics did not display any private prices – making it difficult for people to compare costs between different practices and between NHS and private treatments.
Under current rules, patients requiring treatment from a dentist which offers both NHS and private options should not be asked to pay for it privately, although the dentist should explain suitable private options for consideration. Dentists are not allowed to refuse any treatment available on the NHS but then offer the same treatment privately.
But the poll found that a quarter of people (26 per cent) were still unsure about how NHS and private treatments differed and 40 per cent were unaware that all clinically necessary treatment should be provided by the NHS.
Which? said it was important that dentists were clear with their patients about cost and treatment options, noting that 31 per cent of people who paid for dental treatment said costs had put them off having treatment.
Under official rules, patients should only be asked to pay one charge for a course of treatment, even if they need to visit the dentist several times. But the study of 1,001 adults in England also found that many could be being overcharged, with one in five NHS patients (19 per cent) reporting that they had unnecessarily paid more than one charge for one course of treatment over the past two years.
The findings will compound concerns that, despite previous awareness efforts, many still remain confused about the difference between NHS and private treatment, with practices appearing to exploit, rather than rectify, consumer uncertainty.
An investigation by the Office of Fair Trading in 2012 found that patients had insufficient information to make decisions about their choice of dentist and treatments.
It concluded as many as 500,000 people a year may be wrongly told they cannot have NHS dental treatment and highlighted the lack of leaflets or posters providing information on NHS charges at their dentist.
Which? is now launching a campaign calling on NHS England and regulators to ensure all dentists comply with existing rules and make information on prices clearly available, explain the treatment options properly and make sure patients know whether or not their treatment is available on the NHS.
The group's executive director, Richard Lloyd, said: "Most of us will need dental treatment throughout our lives and it's important that when that happens people feel clear about the nature of the treatment and what it will cost upfront.
"We are calling on the NHS and the regulators to clean up dental costs and make sure the existing rules are put into practice consistently."
In response to the findings, Barry Cockcroft, the NHS's Chief Dental Officer, said: "Dentists have a duty to be open and honest about payment and treatment options, always considering the best interests of their patients."
Register for free to continue reading
Registration is a free and easy way to support our truly independent journalism
By registering, you will also enjoy limited access to Premium articles, exclusive newsletters, commenting, and virtual events with our leading journalists
Already have an account? sign in
Register for free to continue reading
Registration is a free and easy way to support our truly independent journalism
By registering, you will also enjoy limited access to Premium articles, exclusive newsletters, commenting, and virtual events with our leading journalists
Already have an account? sign in
Join our new commenting forum
Join thought-provoking conversations, follow other Independent readers and see their replies