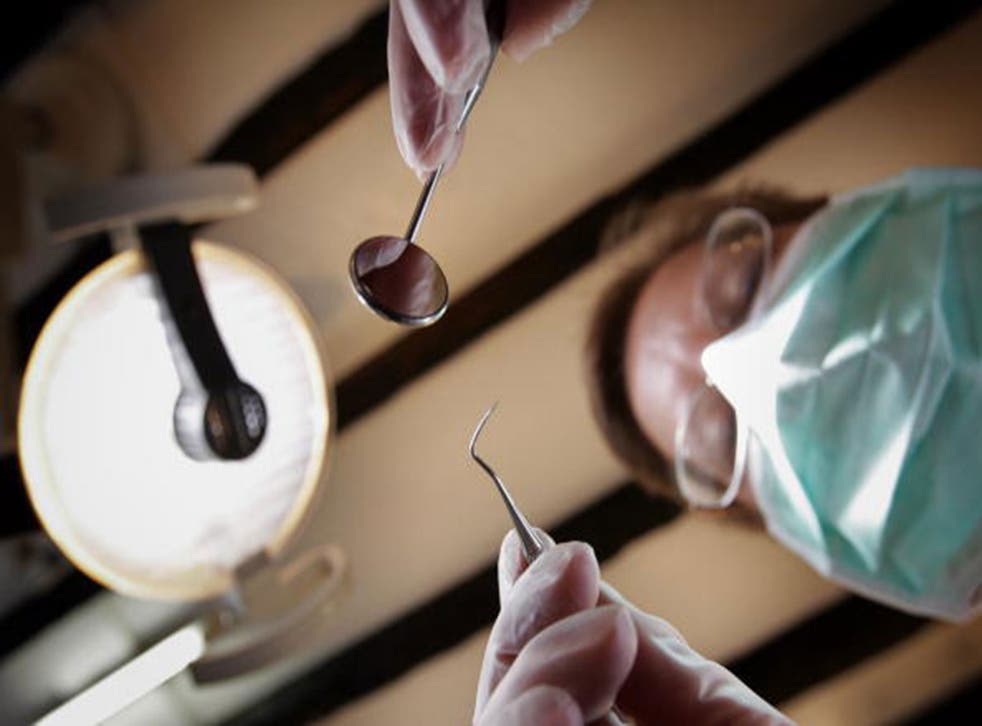 Dentists say government has 'failed' NHS patients with overcomplicated regulations
One in three NHS-listed dentist is refusing to take on new NHS patients
One in three NHS-listed dentists in England is refusing to take on any new NHS patients – and even those who offer appointments are making patients wait up to nine months.
The consumer group Which?, which carried out the investigation, said it was time for the Competition and Markets Authority to intervene to ensure dentists were complying with rules.
Regulations currently say that dentists must be clear about their availability and should not require new NHS patients to register before they can see a dentist.
However, dentists said the Government had "failed" NHS patients, with a complex payment system they said stops dentists from taking on extra patients as demand grows.
One leading dentist said NHS patients in parts of England were now having "real problems" getting treatment. Dr Nigel Carter, chief executive of the British Dental Health Foundation, said that the issue should be "seriously addressed imminently".
"The Government is going to have to address putting new money into NHS dentistry or we are going to see a repeat of queues round the block if somebody does manage to open a new NHS surgery," he said.
"Dentists would like to be doing more NHS work but are unable to because they're unable to get the contracts to do it."
The Which? study is based on findings from undercover researchers, who contacted 500 dental surgeries listed on the official NHS Choices website, posing as new NHS patients.
They found the website's information was very often inaccurate, with 31 per cent of surgeries turning them down for appointments.
Of those that could take new patients, more than a quarter could offer no appointments for at least two weeks.
Some practices required patients to fill out forms, or even to pay deposits before granting appointments, and some recommended that patients pay for private treatments instead.
Patient advocacy group Healthwatch England said that, according to its own data, in some parts of England only a fifth of surgeries are accepting new NHS patients, with some people even having to travel up to 40 miles to find a surgery offering appointments.
Only the under-18s, pregnant women and people receiving certain state benefits get free dental care on the NHS. Everyone else can choose between low-cost NHS care and often more expensive, but more readily available, private services.
Mick Armstrong, chair of the British Dental Association, said the "byzantine system" had failed dentists and patients.
A Department of Health spokesperson said: "It is not acceptable for dentists to mislead patients about their services. Practices need to be clear on whether they accept new patients, the length of their waiting lists and charges."
Serbjit Kaur, Acting Chief Dental Officer, NHS England, said: "This report looks at a random sample of 500 practices, whilst the most recent GP patient dental survey with a sample size of 246,773 (January 2015) found that of those who tried to obtain an appointment, 95 per cent said they were successful.
"However it's important that finding an NHS dentist should be a straightforward process and the report highlights the need for dental practices to ensure they are compliant with NHS contractual requirements and to do everything they can to make ongoing improvements to ensure a good quality service is available for all."
Register for free to continue reading
Registration is a free and easy way to support our truly independent journalism
By registering, you will also enjoy limited access to Premium articles, exclusive newsletters, commenting, and virtual events with our leading journalists
Already have an account? sign in
Register for free to continue reading
Registration is a free and easy way to support our truly independent journalism
By registering, you will also enjoy limited access to Premium articles, exclusive newsletters, commenting, and virtual events with our leading journalists
Already have an account? sign in
Join our new commenting forum
Join thought-provoking conversations, follow other Independent readers and see their replies